Doom Generation 4k Restoration
An uncensored director's cut of Doom Generation, a "heterosexual movie by Gregg Araki" shot "on
location in hell," premiered at Sundance for the first time since 1995 in April, and has just begun a theatrical run in Chicago and NYC. The second installment of Araki's Teenage Apocalypse series follows a Bonnie and Clyde-like ménage a trois between Jordan (James Duval), Xavier Red (Johnathon Schaech) and Amy Blue (Rose McGowan, pre dating Marilyn Manson and Me Too) as they murder and fuck their way through the convenience stores of America. Flooded with blood red lights and interiors, Doom Generation takes place in a post-war world where the wrong side won. Which it had: released in the wake of AIDS, you can barely hear the sounds of "victory" over the noise of the dead.
Critics panned Doom Generation for its supposed malaise (Robert Ebert gave it zero stars because of "the attitude"), but this is a short-sighted take: instead of being nihilist, Araki's movie examines the conditions which produces nihilism in the first place. As post-lockdown bimbocore fades into aggressively feeling like nothing matters, Doom Generation's re-release neither shame nor valorizes nihilism; instead, Araki asks why we are incentivized to feel that way in the first place, and to whose benefit. I don't want to give any spoilers, but let's just say that, in this movie, nothing matters until it very suddenly does.
Policy and philosophical discourses around sex work are plagued by reductionism. Either sex work is inherently liberating or inherently degrading. Either the people, mostly women, who are sex workers are completely stripped of agency, or they are somehow the only workers outside of capital's reach. Saskia Vogel resists these common false dichotomies in this excellent essay. She focuses on what she considers to be the origin of our contemporary conversation––Deep Throat, starring Linda Lovelace. There are conflicting accounts of the narrative surrounding this work that people leverage selectively towards their preconceptions of what pornography does or can do in society; mostly notably during the "porn wars" of the 1970s and 1980s. Vogel's thoughtful essay deserves a place in the canon of feminist porn writing that resolutely refuses dehumanization.
Keguro Macharia on Pose (2018)
Released two years into the Trump presidency, as the queer visibility bubble had begun to deflate, but prior to the pandemic, when the bubble finally burst, a show which seeks to positively portray poor trans people of color feels like Pride boosterism and, simultaneously, almost retro; a show like this could not get made in 2023. Keguro Macharia's review presciently navigates this breakdown. He is uneasy about the attempt to make Pose's characters "relatable" to audiences which, for the most part, have not experienced what poor black and brown trans women go through. "I am uneasy with the claim that 'Pose is about as mainstream as you can get' and even more uneasy with the idea that 'This is a culture, a community, and a history that deserves the prestige television treatment.' Mainstream? Deserves?" At the same time, Macharia does not lapse into the veiled internalized queerphobia which is currently in vogue. Instead, he's hopeful. "Perhaps as Pose continues and I encounter other responses to it, I will revisit my initial reservations. Perhaps as Pose continues, I will figure out the relationship between affirmative mainstream representation and the ongoing work of pursuing and practicing freedom."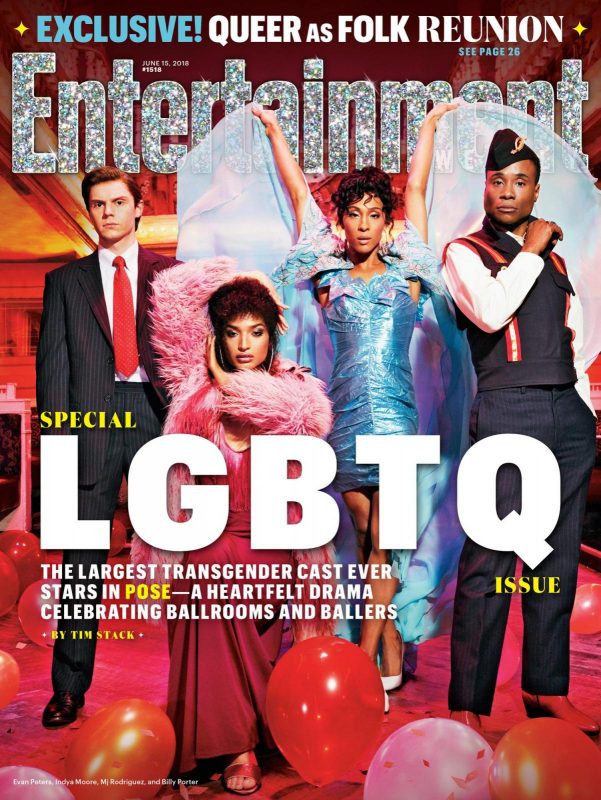 Pose begins in 1987, the year of the first AIDS vaccine trial. It would be years until the antiviral would gain wide distribution, and even longer until poor black and brown people like Blanca Rodriguez (MJ Rodriguez), Pose's protagonist, would have access to it (a dynamic which would, of course, be replicated with COVID). "Early in the first episode, Blanca… visits a clinic and is told she has HIV. It is, she knows, a death sentence. After a conversation with Pray Tell (Billy Porter), Blanca decides to form her own [ballroom] house, to seize as much life as she can while she still can."
As Macharia points out, much of the coverage of Pose focuses on the show's "fabulousness." On the one hand, this makes sense: instead of spectacularizing the trauma of AIDS, the show foregrounds the beauty and virtuosity of survival: the glamor of ballroom competitions, the familial love between members of the same house. But "much as I found the displays of fabulousness interesting," Macharia writes, "I was captured by the familiarity of institutional walls, waiting rooms, receiving test results, plotting a life or death after receiving test results. I am struck by Blanca's isolation: attending the clinic on her own, navigating disclosure." If Macharia appreciates the fabulousness, he also finds himself pulled by "a longstanding interest in the quotidian—the ordinary—[which] now manifests itself as an interest in work that is post- or anti-fabulous."
The piece opens with an Essex Hemphill quote:
Now we think
As we fuck
This nut
Might kill us.
In "The Summer of Love and the Holy Fair," TNI columnist Jaime Brooks looks at the nineteenth century evangelical camp meetings to twenty-first century Coachella-philia pipeline. Hosted by settler colonial preachers like James McGready, these "holy fairs," hosted across the then-Western boundary of the US, were designed to convert as many people as possible via the power of music. "The new evangelical movement that rose up to meet the growing public enthusiasm for camp meetings was less restrictive about music than Martin Luther or John Calvin had been. The frontier ministers leading the charge shared McGready's contention that volume and intensity were essential to their mission, but widespread illiteracy and a lack of songbooks meant they couldn't rely on communal singing of traditional hymns to get their message across." Instead, they lead their audience in song. "In practical terms," Brooks writes," the camp meetings of the Second Great Awakening were the first American music festivals…. This is where the idea that pop songs can save souls came from."
CANSEC, North America's largest military weapon's convention, concluded in Ottawa this weekend. Over a hundred peaceful protestors delayed the keynote speech by Canada's defense minister. The Canadian arms industry has boomed over the last decade, making weapons one of the nation's biggest industries and employers. Canada is now the second largest exporter of weapons to the Middle East, behind the US.
The promotional video for this year's CANSEC highlighted Israel, Peru, and Ecuador, regions where governments have used lethal violence to quell protests. From December to February, forty-nine Peruvian protestors were killed by security forces.
It's precisely through contracts with countries engaged in suppressing dissent that Canada has been able to make successful inroads into global arms trade. In November, Canada called for an investigation into the unlawful use of force against the Papuan protestors in Indonesia last summer. Canada has simultaneously continued to arm Indonesia with $30 million in "military goods."
Under Trudeau, Canadian arms sales have grown every single year minus 2020, which was still the third highest year on record for military exports. The sales are led by Saudi Arabia, which continues to wage war in Yemen, and Israel, which continues to enforce an apartheid regime in Palestine. Last year, sales to both Saudi Arabia and Israel increased by thirty percent.
Despite growing criticism from human rights organizations citing evidence that Canadian weapons are being used for war crimes, the Trudeau government remains intent on pursuing sales records. Over 10,000 people were reported to have attended CANSEC this year.
Forty-two people currently face charges since protesting Cop City. After a raid on the Atlanta Solidarity Fund, a new legal challenge on the grounds of free speech was filed this week on behalf of Ariel Ebaugh, one of the protestors charged with terrorism. If successful, the petition could land a blow to the 2017 terrorism statute being used against protestors. Of the forty-two charged with domestic terrorism, there are currently two protestors still in jail: Victor Puertas and Luke Harper, who were both arrested on March 5th. With the organizers of the Atlanta Solidarity Fund hobbled with dubious "charity fraud" and "money laundering" charges, the National Bail Fund Network remains available to Atlanta protestors. In summary, the response by Georgia police to Atlanta's vehement rejection of the appropriation of public land for a cop training facility has been to murder one protestor, arrest dozens more, and attempt to dismantle Atlanta's protest network through intimidation both lethal and law based.
We're currently looking for pitches on the subject of abortion rights. We're interested in original analysis and insight on the legal battle for reproductive justice, the recent precedents internationally in the fight (such as mobilizations in Ireland and Argentina) and the horizon of possibility for greater justice in the medical field. Please send pitches with a description of your argument to [email protected]. We are interested in cultural and theoretical analysis as well. We are not interested in any arguments against the right to abortion.
While we cannot respond to every pitch, we do read each one, and you'll hear back from us pending acceptance.
We publish 3k word essays and pay $150 per piece. To help us increase our pay rate, become a solidarity subscriber.