See Rushkoff's keynote at Rhizome's Seven on Seven on April 14, 2012 at the New Museum of Contemporary Art 
I don't exaggerate when I say [Rushkoff] takes the potentially dry notion of 'public advocacy' and shifts it into the realm of epiphany, and art. That puts him with few living writers–Lewis Hyde, perhaps, and the British psychoanalyst Adam Phillips. Yet Rushkoff is perhaps even braver, or anyway lighter on his feet, working without the protection of any sort of ivory tower. He occupies the ground of our most immediate perplexities, and his reports of what he finds are breaking news.
-Jonathan Lethem on Douglas Rushkoff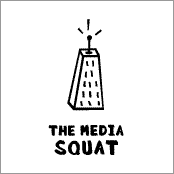 We are proud to announce Douglas Rushkoff as TNI's 9th blogger. On his blog, Rushkoff will be reviving and reimagining his WMFU radio show The Media-Squat as a multimedia textual/audio/visual blog and community project with the New Inquiry as its home.
Read Rushkoff's first post here.
Winner of the Media Ecology Association's first Neil Postman award for Career Achievement in Public Intellectual Activity, Douglas Rushkoff is an author, teacher, and documentarian who focuses on the ways people, cultures, and institutions create, share, and influence each other's values. He is technology and media commentator for CNN, and has taught and lectured around the world about media, technology, culture and economics.
Rushkoff has authored nearly a dozen best-selling books on new media and popular culture have been translated to over thirty languages. They include Life Inc., Program or Be Programmed: Ten Commands for a Digital Age, Cyberia, Media Virus, Playing the Future, Nothing Sacred: The Truth about Judaism, Get Back in the Box: Innovation from the Inside Out and Coercion, winner of the Marshall Mcluhan Award for best media book. Rushkoff also wrote the acclaimed novels Ecstasy Club and Exit Strategy and graphic novel, Club Zero-G. He wrote a series of graphic novels called Testament, and his new graphic novel, A.D.D., was just released by Vertigo. His forthcoming book, Present Shock will be released in early 2013.
He has written and hosted three award-winning PBS Frontline documentaries – The Merchants of Cool looked at the influence of corporations on youth culture, The Persuaders, about the cluttered landscape of marketing, and new efforts to overcome consumer resistance, and most recently, Digital Nation, about life on the virtual frontier.
His commentaries have aired on CBS Sunday Morning and NPR's All Things Considered, and have appeared in publications from The New York Times to Time magazine. He wrote the first syndicated column on cyberculture for The New York Times and The Guardian, as well as regular columns for Arthur, Discover Magazine and The Feature.
Rushkoff has taught regularly for NYU's Interactive Telecommunications Program, The New School University, the MaybeLogic Academy and the Esalen Institute. He also lectures about media, art, society, and change at conferences and universities around the world.
He has served on the National Advisory Board of the National Association for Media Literacy Education, the Board of Directors of the Media Ecology Association, The Center for Cognitive Liberty and Ethics, the United Nations Commission on World Culture, and as a founding member of Technorealism. He is on the Advisory Boards of MeetUp.com and HyperWords. He has been awarded a Fullbright Scholarship, and Senior Fellowships by the Markle Foundation, the Center for Global Communications, and the International University of Japan. He served as an Advisor to the United Nations Commission on World Culture and regularly appears on TV shows from NBC Nightly News and Larry King to the Colbert Report and Bill Maher.
Rushkoff has also been a significant influence on the personal philosophy and overall worldview of TNI's editor-in-chief, Rachel Rosenfelt.