A WHILE AGO I DECIDED TO EAT
------------------------------------------
INTERNET BASED SOUND / TEXT COMPOSITION, 2006.
Interactive composition and webpage. 22 voice and text loops, activated by clicking on the icons.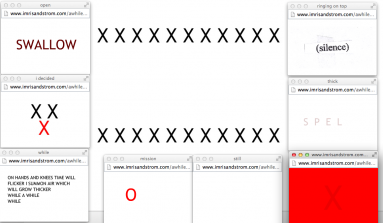 Imri Sandström (1980) is a Malmö based artist whose practice includes text, sound, still and moving image, often interwoven in the shape of musical intermedia performances. She uses multifaceted composition in exploring historical and literary linkages, acts of reading and writing, and intersecting aspects of voice and spatiality. Invested in historical thinking, musical organization and religious language, her work re-visits and re-works historical phenomena and narrative positionings.