For his Spring 2007 collection, fashion designer Alexander McQueen staged his presentation in the round at the Cirque d'hiver-Bouglione, the legendary circus in Paris. A group of classical musicians played Handel underneath a dusty chandelier, while models circled about in exquisite Edwardian dresses and expertly tailored suits. But the final look stole the show: a high-necked dress made of the most resplendent flowers—multiple shades of purple, dusty pink and sage green, a combination of real and silk ones. As the model walked a few of the flowers fell to the ground. At that moment, her gown revealed to be more than just this pretty dress: It was a living, dying, transient thing. When asked about the dress, McQueen said, "Things rot. … I used flowers because they die. My mood was darkly romantic at the time."
Throughout his 19-year career, Alexander McQueen, who killed himself on Feb. 11, 2010, at the age of 40, was known as an enfant terrible. He bragged that he once, while working as a tailor on London's esteemed Savile Row in the '80s, scrawled the C-word into the lining of a jacket he cut for Prince Charles. (McQueen was Scottish on his father's side, and a staunch anti-monarchist.) The collection that made him famous, 1995's Highland Rape, depicted women in ragged lace dresses and ill-fitting tartan suits that exposed their breasts. At various occasions, he sent models down the runway dragging skeletons or wearing trash bags on their head. Yet McQueen was actually an unabashed romantic. His was a particularly dark romance—strange and Gothic and tinged with melancholy and tragedy. (He listed Marie Antoinette, Joan of Arc and Catherine the Great among his muses.)
"Alexander McQueen: Savage Beauty," the Metropolitan Museum of Art's enormously popular retrospective of the designer's work, closed on Aug. 7, as well as the catalog of the same name, published by Yale University Press, explores McQueen's romanticism, both the dark and the light. It also—more than any museum exhibition I have seen—makes a convincing case for fashion as an art form on equal footing with painting and literature. It does this through spectacle (100 dresses, 70 accessories, several videos and a hologram all in stunning tableaux and spanning seven galleries), as well as rigorous scholarship. But it also cements McQueen's reputation as an artist by, ironically, largely ignoring fashion altogether, opting to compare his work to 19th century Romantics like Poe and Byron, instead of to other artist-designers.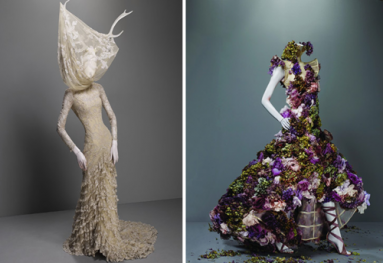 Left: dress from Widows of Culloden, autumn/winter 2006. Right: dress of fresh flowers from Sarabande, spring/summer 2007
Baudelaire defined romanticism as "situated neither in choice of subject nor exact truth, but in the way of feeling." McQueen was such a skilled craftsman, thanks to his years at Savile Row, that he could let his feelings and emotions guide his collections—even the most historical ones. His Highland Rape collection, for example, got its violent charge not just through its subject matter—England's massacre of the Scottish Highland people—but also, primarily, through McQueen's connection with the subject. "We're not talking about models' personal feelings here," he said after critics accused the collection of misogyny, "we're talking about mine. … Scotland for me is a harsh, cold and bitter place. … It's marketed the world over as, you know, fucking haggis, fucking bagpipes. But no one ever puts anything back into it. … There is nothing romantic about its history." In 2006, in a much more sedate mood, he revisited the subject, turning to the widows whose loved ones died during the Jacobite uprising, and creating endless riffs on tartan plaid—draping it, embroidering it, decorating it with lace, tailoring it so severely that it would look like armor. "The collection is romantic, luxurious but melancholic and austere at the same time. It was gentle but you could still feel the bite of the cold, the nip of the ice on the end of your nose."
McQueen's clothes are powerful enough on their own—walking through the galleries devoted to his two Scottish collections at the Met put a lump in my throat. But McQueen used the runway and performance art tactics to provoke even more extreme, visceral responses from his audience. "I don't want to do a cocktail party; I'd rather people left my shows and vomited," he said. In addition to featuring skeletons and garbage-bag hats, he once set a runway aflame (appropriately, for a collection based on Joan of Arc), staged a show on a frozen pond (the models wore ice skates), had his girls wear garish black clown makeup and vamp on a merry-go-round, and did an entire collection as a choreographed dance (based on Sydney Pollack's The Shoot Horses, Don't They?). His shows inspired a range of emotions, from horror and revulsion to sorrow and joy. Often they transcended the merely beautiful or horrible to the sublime—that tantalizing, unsettling mixture of the grotesque and terrifying with wonder and awe that captured the Romantics' imaginations.
Joan, autumn/winter 1998
This is the crux of "Savage Beauty." Its rooms dedicated to the grotesque and sublime are shocking, transfixing and emotionally exhausting—in a good way. The first of these galleries is a gilded mirrored room, with gothic light fixtures and creepy mood music. The first dress is a tight leather dress, with a complicated leather harness over it, and enormous fur sleeves. Then there's endless mourning dresses in black taffeta with jet beading, a hooded body suit with exaggerated shoulders made of duck feathers, another leather dress with a collar of pheasant feathers with two resin vulture skulls sitting on the shoulders. ("There's something … kind of Edgar Allan Poe … about [my] collections," the designer once stated. No kidding.) At the other end of the room is a glass case with the dresses from McQueen's last collection—draped gowns in golden hues printed with Flemish paintings of a suffering Christ and heavenly angels. The adjoining room, a cabinet of curiosities stacked floor-to-ceiling with fetishistic bondage gear, outlandish hats and perilously high footwear, is even more awesome and horrifying. Videos show snippets from some of McQueen's presentations.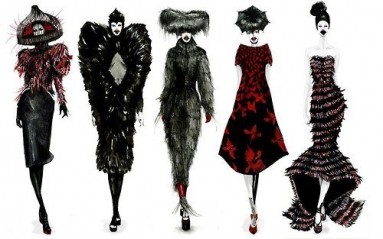 Sketches from The Horn of Plenty, autumn/winter 2009
Other facets of Romanticism are explored as well. There's nationalism (exemplified in his Scottish collections), naturalism (live-flower gowns, burlap dresses, butterfly hats), exoticism (endless riffs on the Japanese kimono) and Darwinism. McQueen actually based two collections on The Origin of Species, one of which imagined a future where water would engulf the earth and humans would have to adapt to life under the sea. His fierce sea creature hybrids wear severe, sculpted minis in extreme hourglass shapes, covered in a psychedelic scaly print. Their hair looks like goat horns, and their feet are covered in iridescent, enormous armadillo-shaped shoes (the ones Lady Gaga wore in her video for "Bad Romance"). With this 2010 collection, McQueen brought his Romantic sublime into the postmodern world.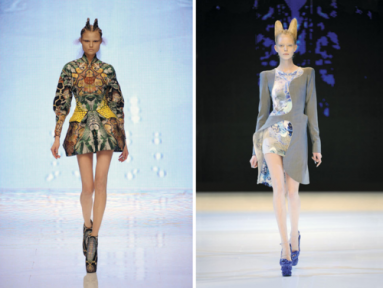 Dresses from Plato's Atlantis, spring/summer 2010. Based on the Origin of Species.
McQueen's unwavering belief in his instincts and his confidence in his talents allowed him to create such bold art. Individualism was important to McQueen. He not only wanted his collections to be different, but to be extensions of himself. For his master's thesis collection, in 1992, based on Jack the Ripper, he sewed his own hair into the lining of each garment—a signature he would develop for all his early collections. He established his design aesthetic early on—strict tailoring, mixed with romanticism, drama, and a narrative drive—and though he developed it, he never strayed from it. The exhibition, and the accompanying essay by curator Answer Bolton, argues this kind of conviction elevates him to the ranks of hero-artists who staunchly follow the dictates of their imaginations—such geniuses as Lord Byron, the French painter Eugene Delacroix and Ludwig van Beethoven.
While McQueen's sartorial rendering of the sublime places him among those geniuses, Yale's Savage Beauty presents McQueen sundered from fashion's history. Surely Romanticism enjoyed adherents in the contemporary fashion world besides McQueen. Savage Beauty makes little mention, for instance, of John Galliano. Galliano was also a romantic who shocked the fashion world with his lavish runway presentations and outré designs (he was recently arrested for making anti-Semitic statements at a Paris bar, and subsequently fired from Dior). In the late '90s, he and McQueen were the reigning bad boys of Parisian haute couture, and both have been beneficiaries of public personas based on the mad genius of Romantic lore. A stronger comparison between McQueen and Galliano might have revealed the ways in which nineties fashion shaped itself around dramatic, sometimes tragic, personalities.
Still, even if McQueen wasn't the only fashion designer to embrace Romanticism,Savage Beauty shows that he clearly made it his own, bringing it into the 21st century and radicalizing the fashion world in the process. Indeed, he may have proved too radical for his time. The fashion—and art worlds—are still catching up.