Sarah Abu Abdallah, Saudi Automobile (2012)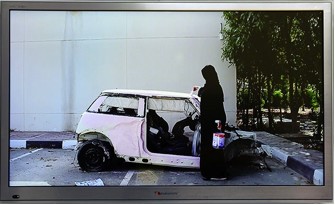 "American imperialism occupied the heart of the Arabian Peninsula, exploited our soil, set up the Dhahran Air Base where atomic bombs are stored... American imperialism has turned King Saud into an American phonograph record publicizing anything that comes from the United States. It advertises the luxurious American Cadillac automobile. King Saud even gave a prize to a poet for his ode to a Cadillac... Oh Amir of music sing us a song, and drive us in the Cadillac slowly along." —Voice of the Arabs, 13 November 1961†
†Quoted in Robert Vitalis, America's Kingdom, p. 127.
In 2013 I designed and taught a course on the history, literature, and visual culture of contemporary Saudi Arabia. We focused on the period following the discovery of oil until the current moment. The course—particularly enriched by the cultural and linguistic access of a highly motivated Saudi student, who first approached me about organizing it—covered a wide perimeter of primary and secondary sources including fiction, film/video, poetry, visual art, public speeches, historical documents, theoretical treatments, among others. The initial challenge of collating diverse sources—meanwhile, coming across no more than two lecturers who had taught a full course on the topic—provoked me to circulate the material I put together in the hopes that others might find it useful.
Some caveats: Much of the following was consulted offline, but where online availability exists, I link to it here. All the Arabic novels were read in the original language, but at least three are forthcoming in English translation in 2014. While the course was conceived as unapologetically multidisciplinary, in the limited time given it could not cover every conceivable positioning. Thus, the transregional relationships I wanted my students to investigate (particularly the Kingdom's historical and geographical bearings with respect to Syria, Israel, Iran, Jordan, and the Gulf states) would be on a wish list for the future.
The themes we examined fell under three units, which I'm collapsing into a quick-view list below.
The first unit focused on the political economies of Saudi Arabia and the United States, particularly in relation to the Arabian American Oil Company (Aramco). As the largest American private investment abroad, the company serves as a lens into claims of American neo-imperialism and Saudi Arabia's growth into a major political agent following the discovery of oil.
Robert Vitalis, America's Kingom: Mythmaking on the Saudi Oil Frontier (Stanford University Press, 2006)
Toby Craig Jones, Desert Kingdom: How Oil and Water Forged Modern Saudi Arabia (Harvard University Press, 2010)
Abdul Rahman Munif, Cities of Salt (Trans. Peter Theroux, Vintage, 1989)
Saudi Aramco World magazine back issues
Scott Anderson, Lawrence in Arabia: War, Deceit, Imperial Folly and the Making of the Modern Middle East (Doubleday, 2013)
"Histories of Oil and Urban Modernity in the Middle East," special issue, Comparative Studies of South Asia, Africa and the Middle East ("88 pages essential reading about urban history in the Gulf" —Portal 9)
Craig Unger, House of Bush, House of Saud: The Secret Relationship Between the World's Two Most Powerful Dynasties (Scribner, 2004)
Steffen Hertog, Princes, Brokers, and Bureaucrats: Oil and the State in Saudi Arabia (Cornell University Press, 2011)

In the second unit, the readings explored the roles of gender, religious practice, cultural heritage, and ideology. These themes exposed a tension between Saudi Arabia's twin global identity, as market-driven capitalist and U.S. ally, and its status as the leader of an Islamic ummah and protector of the Holy Mosques. We sought to explore the evolution of Saudi religious ideologies and traditions along with—or perhaps, due to—changes in the Saudi-American relationship. 
Sarah Abu Abdallah, "Saudi Automobile" (2012) and "The Salad Zone" (2013), video/installation
Eman Al-Nafjan, Saudiwoman, blog
Manal Al-Sharif, "Drive for Freedom," speeches at Oslo Freedom Forum/TED
Madawi Al-Rasheed, A Most Masculine State: Gender, Politics and Religion in Saudi Arabia (Cambridge University Press, 2013)
Raja'a Al-Sane'a, Girls of Riyadh (Trans. Marilyn Booth, Penguin, 2008)
Ahd Kamel, Sanctity, film
Haifa Mansour, Wadjda, film
Hamid Algar, Wahabbism: A Critical Essay (Islamic Publications International, 2002)
Yousef Al-Mohaimeed, Al-Hamam La Yatiru Fi Buraydah (Where Pigeons Don't Fly, trans. Robin Moger, forthcoming, Bloomsbury, 2014)
Engseng Ho, "Empire through Diasporic Eyes: A View from the Other Boat" (2004)
Hunna (television talk show): "Women's Views - Religious Police in the Kingdom of Saudi Arabia"
Radio interview, "The Mufti of Saudi Arabia about Muhammad Al-Arifi's View of the Injustice of the Leader"
Raja'a Alem, Tawq al-Hamam (The Dove's Necklace, forthcoming, Overlook Press, 2014)
Abdulnasser Gharem, "Road to Makkah," ink, industrial paint, various materials (2011)
"I Sang Mecca" (poem in Arabic) (sung by Fairouz)
Jerome Taylor, "Mecca for the rich: Islam's holiest site 'turning into Vegas'" (The Independent, 2011)

The final unit examined aspects of identity, class, and national aspirations in the Kingdom. What does belonging to the Al Saud monarchy entail? How does labor—among both local and foreign workers—play a role in determining citizenship and social status? Above all this probing was meant to tackle what it means to become Saudi, especially in light of Aramco's pivotal part in creating the modern Saudi state.
Joseph Kostiner, The Making of Saudi Arabia 1916-1936: From Chieftancy to Monarchical State (Oxford University Press, 1993)
Robert Lacey, Inside the Kingdom: Kings, Clerics, Modernists, Terrorists, and the Struggle for Saudi Arabia (Viking, 2009)
Yaroslav Trofimov, The Siege of Mecca: The 1979 Uprising at Islam's Holiest Shrine (Anchor, 2008)
Benyamin, Goat Days (Trans. from Malayalam by Joseph Koyippally, Penguin, 2012)
As'ad AbuKhalil, The Battle for Saudi Arabia: Royalty, Fundamentalism, and Global Power (Seven Stories Press, 2003)
Abdo Khal, Tarmi Bi Sharar (Throwing Sparks, trans. Maia Tabet and Michael K. Scott, forthcoming, Bloomsbury, 2014)
PBS Frontline, The House of Saud, documentary film
Madawi Al-Rasheed, Contesting the Saudi State: Islamic Voices from a New Generation (Cambridge University Press, 2006)
Million's Poet, television competition, selected poetry recitals by Hissa Hilal, Aidah Al Jahani, and Ziyad bin Hajib bin Nuhait
Official Ministry of Education middle school textbooks for Ijtima'iat (social studies) and Tawhid (monotheism) curriculum
Tash Ma Tash, television comedy show, selected episodes: "Salon Al Hay'ya" (Committee's Saloon), "Budoon Mahram" (No Guardian), and "September 11" 1992-
Wajih Al-Sahafa interview with Tash Ma Tash creators Nasser Al-Qasabi and Abdullah Al-Sadhan
Pascal Menoret, "Rebels Without a Cause? A Politics of Deviance in Saudi Arabia" (in Being Young and Muslim: New Cultural Politics in the Global South and North, Oxford University Press, 2010).