EEK!
In 2009, speculations that ??????? might attempt to kill Imp Kerr intensified. Intelligence officials warned that ??????? had arranged her "imminent physical elimination," in Manhattan, in this town, and the massacre of her memory, verbatim and gist. When an airplane crashed near the Buffalo Niagara International Airport, killing all the passengers, ??????? decided that Kerr was onboard and died in that crash. A communiqué reporting her "tragic death" circulated via fictitious announcements on official web sites and bogus articles in newspapers. She got a new name and new authentic documentation with her new identity, was removed to an undisclosed location, never returned to New York.
??????????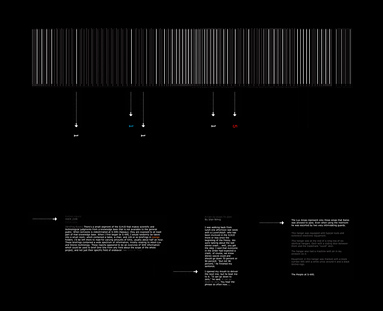 The "stereohell portfolio" was acquired by Steve DePatie upon Imp Kerr's death in 2009.
The folios were numbered from 1 to 115, yielding a total of 222 pages. The text was approximately 45,000 words in length. It used a lexicon of 23,046 words. It was divided into sections, which were broken into segments which were broken into paragraphs. The number of segments was changing at each new reading — from five to around five hundred chapters, depending on how many times you read the entire text.
Further examination of the structure of the text revealed patterns similar to female hormonal cycles. Twenty-seven different styles of writing were identified, and each segment (or stage) could be decomposed into six disjoint levels (a senary system of waves, or parallel planes)–the "randomness" at which the levels were interlaced is not fully explained; for example, in the segment titled HOPE, reproduced herein, one inactive level is "randomly" reactivated twice, before undergoing recombination with three other levels.
A fragmentary and unauthorized publication of stereohell was made by Kirsopp Snake in 2010. It was a full-sized black and white facsimile of 46 pages of the portfolio, made by editing bits collected online. Snake did not have access to the portfolio, which is still in the possession of Steve DePatie.
These 46 pages concern principally S-52 and the activities that took place at Wax & Bobs (WB) and its vicinities. Punctuation and gramma errors are included. Individual facsimiles should be read for greater comprehension.
??????????
PROTOCOLS
The S-52 protocol has been revised to reflect the following correction:
- initiate contact on more than one occasion
?- contact you for no particular reason
- ask your advice
- apologize more than once
- sew your mouth together at the inside of the lips (the needle is brought out through one of your nostrils)
- drain the contents of your abdominal and chest cavities with a trocar and replace the removed matter with cavity fluid
The S-52 hyperprotocol (ten times faster):
- torch your future
DISPATCH
In the late 90s, the fortune dispatched gritty Chiquita in the MPD to institute ?????. After many a summer and considerable tribulations, she started the Wax & Bobs phase. In 2002 and onward she brought to her aid the assistance of T-Symmetric, Malibu, and Billie, whose girlfriend, a dream interpreter, was named Joanna. The girls were extremely secretive, identifying themselves and their routine by assumed simple words – Chiquita was You, the headquarters was Green, New York City was The Angry Dragon, T-Symmetric was Exact, etc. Dates were given in a sort of retro-code, phone numbers were translated into peptide sequences. The admission procedure was binary and consisted of 1) Five fuck off, and 2) Pain. Wax & Bobs was very popular and attracted a disproportionate percentage of males. By July 2007, it had 158 names on its rolls. A connection was made the same year in Dumbo, through Covert, a highly sensual and intellectual young woman, and Ingrid Warm, daughter of R. Warm, and in 2008, Chiquita was introduced to Kerr, who received full access to all of Chiquita's material in 2009.
S-52
A dozen of female "caretakers" were working at S-52 (initially S-56). They were cutting firewood, entertaining "patrons," working up pavlovian theories. They were told that "taste is made of a thousand distastes."
As the WB letterhead put it, the S-52 provided "?????? systems and services in the MPD"; Or, in the words of ???????, "It was similar to a private stereohell."
S-52 was a small facility constructed on a trapezoid-shaped children cemetery from the early 19th Century, around a wolf's den, located on Little West 12 Street. It had three floors and a basement level. All the six large rooms were separated by bulletproof doors. It was originally a cantina providing 75,000 kilocalories per day, before being refurbished into a shrine devoted to kinks. It is mentioned by Novalis — Heinrich von Ofterdingen was Henrich von S-52 — and in 1848, Fyodor Michelino Dostoyevsky, the "underground man," strangled a raunchy skank with a choking fetish in the kitchen, stabbed him in the freezer and cooked him, wholly, with duck and puttana sauce. The dish was named Siberia Rockefeller. The recipe is found in The Aspern Papers. Its sorbet variant was patented in 1975 by J. F. Shelton (Hereafter – Billy Gumm) under the name Force 5 Nu York Fyodor®.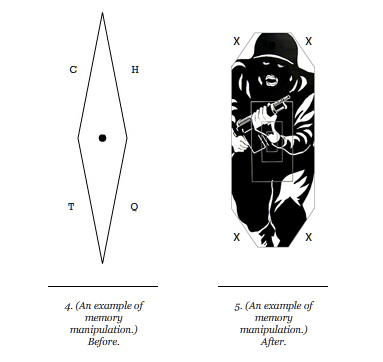 ????????? decided to close down S-52 following a major incident of "subversion." The inspection report mentioned "cross contaminations," disgust, boredom, and death. S*H//1 security unit raided S-52 and found BDSM safety manuals, ropes, dentist utensils, broken bones and wax materials inside the freezers, a machine with an X-ray emblem on it, classified documents stored in conditions conductive to propagation, and high dose mixtures of midazolam and ketamine in close proximity to threaded plunger syringes (with traces of blood shouting "memory manipulation").
Chiquita reopened S-52 in 2002. First she hired T-Symmetric, at the time when she was banging asses in video booths for 50 bucks a pop. She learned bondage by doing it and before long she could make the Williamsburg Bridge out of ropes. She recruited Malibu in 2005. Malibu had milking nipples. She was nicknamed Terminator after midnight. She recruited Billie in 2006, an expert in cupping, verbal abuse, subversive sexuality, jeet kune do, and hair pulling. Sixty percent of her body was tattooed. They were all pre-op and on hormones for years. Among the big time regulars was Jimmy Brodkey, a loner, a "retired" FBI profiler, an out-of-controller. The man was bearing a pompadour, smiling yellow teeth, smelling like shrimp. He was living on his FBI pension, up in the Upper West Side. He was insidious. He was like, Honk honk! Meep meep! Tut tut! He was calling the girls "the aged sisters," and before paying, "the aged sisters draw us into life: over us dead they bend." He was wiird. He was a "beast of burden," fuming, ineffectual, bi-dual, internecine. He was a broken TV screen. He was serving as a symbol of the universe as a struggle between sinvilisation and gross. He was that one bruise you don't know how you got, a side-effect of your medication, a Pyrrhic victory, an ectoparasite enamored of you, a sit-down and a discussion about his self and your sad self. He was using "busty" as a noun. He had a bank account at WaMu. The horror. And so they thought he was engaged in "the collection of information for the purpose of subversion." He was recording his voice, he was recording her voice. And he was declaring, My name is not Billy Gumm, my name is not Dart Vo, Zan Bames, Fritz "Freez" de la Fuente, I don't want your sympathy. How many years have you been there, Billie?
Billie was valiant, for one thing. She had a busty, munificently tattooed. She was callipygian. She was lettered. She had green eyes. She was dilating all his orifices. Her new tattoo project was: "This pain is your true place." And he was panting, sweating, puffing, nolo contendere, nolo contendere.
And so Billie hated it. And so calmly she clutched Kant's mane, and a generous clump of Derrida's pubes, and enraptured, radiant, she dragged him down. So pretty turbulent a stage, in which her spirit was acting like a crazy fang, an infinite myriad of fangs, a slow vitriol, conniption. Sublime. Yet this did not translate into something new. She wanted to read Difference and Repetition.
"Know the knee!" she hurled, "Know the toe!"
"Nolo contendere, nolo contendere…"
Inflicting pain was easy. The difficulty was to always make the right decision about when to stop. To keep the client alive. It was not about remorse. It was edge play. Where does darkness fall? Where are the folds? Where does it crush the horizons? How does it decenter limits? In the real world these things were disapproved, but at S-52, it was really what they did hope they would get. And we knew if they had health issues, and they signed "at my own risk" papers. And happier than the girls they were. His first time he was like (testing), "Is there a happy ending? I like the smell of balls, too…" Shit lickin' pussy bitch! Already she wanted to sew his mouth shut. And so she taught him, first physically, in Grandeur 70, how to restrain himself from touching her, talking to her, looking at her, loving her. It was like folds. Noes are like folds. Aren't they, Jimmy?
HOPE
Billie moved from Liverpool, United Kingdom of Great Britain, to Brooklyn in the New York of the United States, when she was 19. She had always been a woman but now she was experiencing insultancies and victimizations from patrons in the street which was a place where she was unknown and where she was forced to function in squalid conditions, ladies and gentlemen, in the rain, the cobblestones, the boots of shiny leather. My animus and my anima are glowing in the dark, said she. My will is falling across the land. SOS! Extreme distress! She was hopeful, but she was freaked out. Wow, Lady Billie, I'd blow your brains out. Thinking they could win, thinking something grim and inverse would occur.