NBC's poster for Stars Earn Stripes.
Stars Earn Stripes is a freshly pressed NBC drag show reality television series which debuts its two-hour premiere on 13 August, or 'Monday after the Olympics at 8/7c!' as its promotional spots blared all throughout the station's Olympic Games coverage. The emphatic promise of militarytainment—a real NATO ex-general, real ex-Navy SEALS, real ex-Delta Force commanders, real ex-Green Berets, real celebrities, etc.—outranks previous shows of its ilk. It also makes the Pentagon Channel look like the army version of the perpetuated congressional yawn that is C-SPAN.
Here is the show's self-description:
Hosted by General Wesley Clark (retired) and Samantha Harris, "Stars Earn Stripes" is an action-packed competition show that pays homage to the men and women who serve in the U.S. Armed Forces and our first-responder services. The star-studded cast includes four-time undefeated world boxing champion Laila Ali, actor Dean Cain ("Out of Time," Five Days of War"), actor and former National Football League player Terry Crews ("The Expendables 2," "The Newsroom"), multi-platinum recording artist, actor, producer and television personality Nick Lachey (NBC's "The Sing-Off"), Alaska businessman and four-time Iron Dog snowmobile race champion Todd Palin, NBC's "The Biggest Loser" trainer Dolvett Quince, Olympic gold medalist Picabo Street, and WWE diva, Eve Torres.

In this fast-paced competition, the eight celebrities will gather at a remote training facility where they will be challenged to execute complicated missions inspired by real military exercises. From helicopter drops into water to long-range weapons fire, the contestants will be tested physically, mentally and emotionally. Each will be paired with a special operative from a military branch or one of our first-responder forces, including former U.S. Army Delta Force and Green Berets, U.S. Navy SEALS, U.S. Marines and police officers, who train alongside their partners and compete in the missions with them. Each of the teams is competing for a cash prize on behalf of a military, veterans or first-responder charity.
Take any of the day's popular television series and you'll notice they have one claim in common: authenticity. Reality shows based on human affect fundamentally rely on 'drama' (let's imagine it on a spectrum ranging from Dostoevsky to 1980s Mexican soap operas) and not a single one fails to remind viewers how authentic the drama is. Real people generate real emotions that generate real drama. (For a contemporary paragon look no further than Love & Hip Hop Atlanta, and its paratexts.)

Yet unlike other reality shows Stars Earn Stripes cannot and does not aim for authenticity. It can only aim for realness. Realness is the perfect execution of an imitation of the real.
Toward that goal, SES has spared no prop nor expense, even hiring retired General Wesley Clark as a co-host. As Supreme Allied Commander Europe Clark commanded the NATO air bombing campaign of Yugoslavia. He is also a former Rhodes Scholar, Democratic Party presidential candidate, and author of Waging Modern War and Winning Modern Wars. He is not filled with hay as some reports suggest.
Clark is an essential realness ingredient, and gravely assures viewers, 'There are no stunt doubles. This is real.' Then he punctuates that promise: 'Real ammunition. Real explosives. Real danger.' Skier Picabo Street was quoted on the show's Twitter feed: 'I rode a real fine line between show & reality. What defined that line was the live ammunition.' In case you needed more reassurance (after all, how could we trust that Wesley Clark is not some silver-haired cardboard simulacrum if the show's advertisement spots didn't constantly remind us he was a 'real' general?) producer Mark Burnett says:
As you know I am a veteran and served in the [British Army] Parachute Regiments. I love the military. What this show is, and what you'll see, is a love letter, in a fun way, to those who protect and serve us, showing how hard it is to do their job.
Since SES bills itself as a competition show, it could favor a little theatrical pre-game we might call Real v. Realness. I chose three items, but the possibilities are nearly limitless.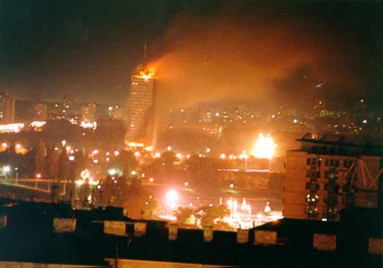 Source: Wikimedia Commons.
Real: Uš?e Tower, the tallest skyscraper in Belgrade, as it caught fire during Operation Allied Force's large-scale air bombing campaign in 1999 under General Clark.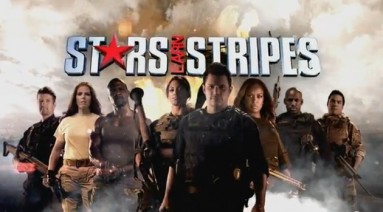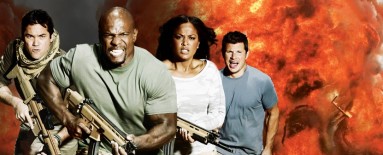 Realness: The show's promotional photos show (top) a giant explosion behind all eight celebrities and (bottom) Dean Cain, Terry Crews, Laila Ali, and Nick Lachey (curiously the only contestant without a rifle in both pictures, as though not carrying a gun was stipulated in his contract). An unidentified blast mushrooms in the background next to the tagline, 'They're not in Hollywood anymore.'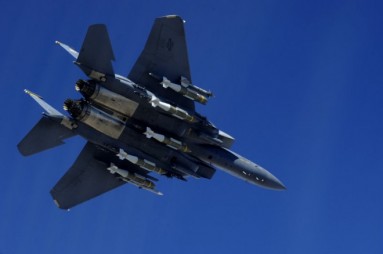 Real: U.S. aircrafts leading the air war in Afghanistan.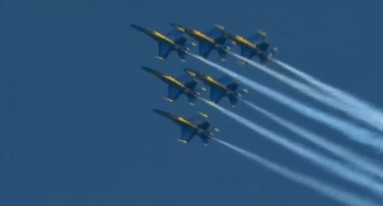 Screen grab by author.
Realness: A Stars Earn Stripes air show.
Yet the ultimate moment of realness is a three-second clip at :40. The sequence is simultaneously aware and aloof about its performance of the real, a phenomenon so weird it actually ends in a giggle.
All screen grabs by author.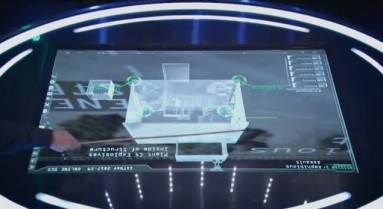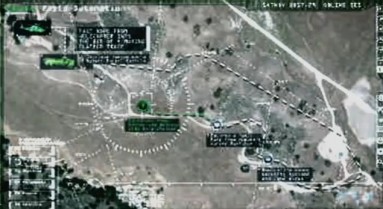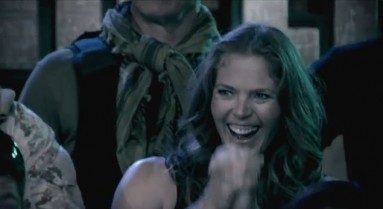 From top to bottom, with numbers representing seconds: (1) A military operative points at a simulated explosion onscreen. (2) His android voice utters, 'Remotely detonate for total destruction.' (3) A celebrity contestant bites her knuckles playfully and laughs.
What this clip registers—despite its brief, barely noticeable appearance—is that the consequence of realness is the absence of danger or worry. War is merely a way of seeing. Targeted strikes and killings are never about people (plus their families and their homes) but buildings to be demolished. War studies scholar Derek Gregory calls this territory of mere targets the 'object-space.' This premise sits perfectly at home with the cliché of reality television whose participants ubiquitously announce, 'I'm not here to make friends.' In object-oriented battle there's no telling friend from foe, and everyone becomes an enemy.
The show does little to detract from the point that it has a purpose and a job to do (which it articulates firstly as a gesture of appreciation to soldiers and law enforcers, and secondly as a vehicle to provoke other employers to hire veterans). It goes without saying that its primary affect is Army Strong masculine, on the polar-opposite range of supposedly frilly (feminine?) Basketball Wives-style reality television fare. After all, the pay-off is in shaping up 'soft' celebrity into hard soldier.
It is on that point that I find my own reading of the show challenged. SES runs the obligatory gamut of explosions and trite one-liners ('This is epic,' 'true bravery,' etc.) yet its realest realness is derived from one element that cannot be faked: former combatants. In place of the absence of thousands of casualties in NATO-led wars on Yugoslavia and Afghanistan we find the active presence of flesh-and-blood veterans.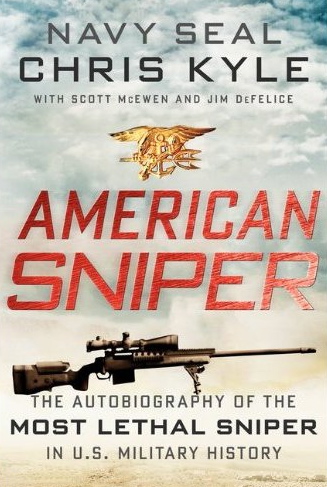 One of the most prominent operatives is former U.S. Navy SEAL Chris Kyle. The flap jacket of his book American Sniper boasts that he 'recorded the most career sniper kills in United States military history.' He turned childhood hunting trips with his father into 2,100-year 'personal record' kill shots in Baghdad. The Daily Mail includes Kyle in their 'Deadly Hall of Fame.'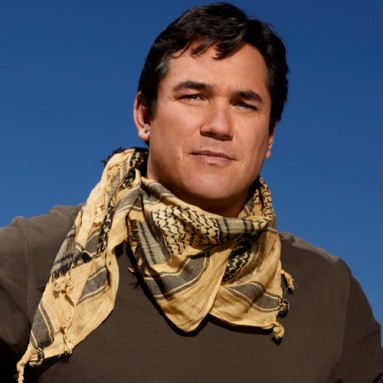 On the other side there's Superman voguing in a kuffiyah.
Pairing the realness of celebrity participants with the real of former combatants like Kyle has generated the most mainstream military drag show in American television history.