What's going on in beauty this week, from head to toe and everything in between.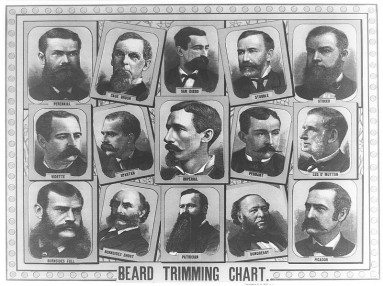 This, too, can be yours.
From Head...
In your face: A new sector of the Arab health and beauty market is officially booming: facial hair transplants.
...To Toe...
Teeter totter: I tend to raise my eyebrows at evolutionary psychology, but I'm still intrigued the the notion of "supernormal stimulus"—that is, an artifically exaggerated version of a stimulus found in nature—because it seems to apply to both nature and nurture. That is, if you're conditioned to find something attractive, an exaggerated version of it may well exaggerate that attraction, regardless of its origins. With that in mind: the evo-psych reasoning for why we find high heels sexy. (Thanks to Nancy Friedman for the link.)
Changing the tune: Is the brand Yes to Carrots attempting to keep its ties to Israel hush-hush?
Scent of home: Interesting, oddly poignant paper that looks at the use of cosmetics, perfumes, and skin care products as ways for refugees to maintain connections to their homeland even when in exile. (Thanks to Eden Beth for the link.)
Flex: I've been resistant to MAC Cosmetics' ever-shifting, ever-unconventional campaigns, even as I've also enjoyed them. But with this ad featuring a heavily muscular female—in, as Blisstree points out, a way that's elegant, beautiful, and without a hint of mockery—I'm ready to throw in the gloves. MAC, you win. It's the first time I've ever seen a product targeting women using strength as a hook that actually depicts...you know, strength.
"Most PR people don't have sinister plans to trick editors into loving some horrible product": I'm late on it, but love this Hairpin interview with a PR manager for a beauty company, in particular because it nicely lays out the gray areas of the relationship between the editorial content of women's magazines and the advertisers that make them possible.
Face value: The last time I consciously connected prettiness to the ability to land or keep a partner, I was probably 15 or so. But the last time I did it subconsciously was probably, oh, last week (not that I would know because, well, subconscious). So this post from Kate is a good reminder that the two, indeed, are separate.
Plastic fantastic: "I can be sitting there quietly at a dinner party and somebody says, 'Joan covers plastic surgery.' And then—bam!—I'm surrounded." Sparkling video and profile of Joan Kron, a journalist who covers plastic surgery for Allure. (via Deep Glamour)