What's going on in beauty this week, from head to toe and everything in between.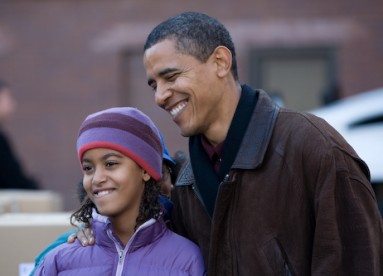 From Head...
POTUS style: President Obama on styling Malia's hair. Awwww! (via Yoruba Girl)
...To Toe...
For the record, Team No Socks all the way: You Look Fab asks a surprisingly divisive question: socks or no socks?
...And Everything In Between:
What women want: Interesting interview with Revlon marketing executive. "Scientifically, we know that women want colour that stays, things that are easy to use, products that feel light on their skin, don't crease. But there are some instances where a woman can't articulate what she wants." Voila, lip butter.

Makeup opportunists: Coty attempts to buy Avon while the latter company is foundering; Avon says Coty's undervaluing the company; Coty may keep asking for Avon's hand in marriage anyway via a hostile bid. Ah, young love!

Check out the nail polish haul: Beauty products are a frequent target of the individual shoplifter, but the busting of an eight-person shoplifting ring based in Austin showed that collaboration yields the same results. Isn't cooperation nice?

Hairy situation: The latest Turkish shampoo spokesman: Adolf Hitler.

Boycott: A major Norwegian retail chain, VITA, stops carrying Ahava products, joining a Japanese distributor in boycotting the company based in the West Bank settlement/occupation of Mitzpe Shalem.

Corny: Corn cosmetics take first place at the Indiana Soybean Alliance and the Indiana Corn Marketing Council's contest about innovative corn and soybean products.

Unlike: Could Facebook be added to other triggers for eating disorders? The Center for Eating Disorders at Sheppard Pratt in Maryland has research that indicates Facebook increases self-consciousness about weight. Last year, Facebook was "proven" to increase self-esteem, so I conclude that in odd-numbered years it's safe to use Facebook. Science, prove me wrong.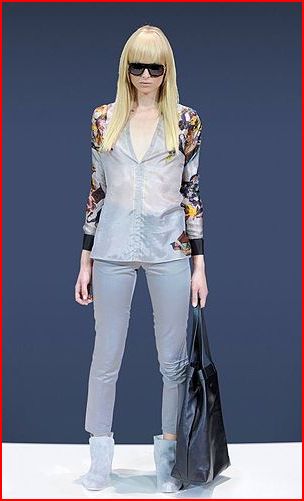 It Person: Combine a look at (pangender?) model Andrej Pejic with criticism from Ashley Mears and it's basically my Christmas.

Barber Barbie: Mattel to make bald Barbie to help children coping with hair loss and alopecia, available only through hospitals. (As if we didn't all take scissors to that girl's head at some point or another.) Technically it's a "friend of Barbie," sort of like friend of Dorothy except for kids with cancer?
"It's like shopping!":
Interesting
piece at The Blind Hem
about fashion blogs and the curation of taste: "So, if fashion blogs create a market-space that does not depend on price, then what is the mechanism of competition?"
Make the punishment suit the crime:
What sort of criminal sentence would involve not being allowed to carry scissors? One in which the charge was
cutting off strangers' hair.
Hungry eyes: Hamburger eyeshadow.

Women's work: I challenge you to read this Sarah Nicole Prickett piece on appearance and female artists, hinging upon Cindy Sherman, without getting goosebumps. "And so much of what is deemed 'women's art' is really about "women's work," which involves not only the work we do, but the work we do to get the work. ... Meanwhile...money and power free [men] from the pressure to be attractive. I do not think women ever earn that freedom. Sherman, who wears makeup like a mask, has not earned that freedom, and knows it. We know she knows it. In a recent Economist profile, she was quoted mimicking the voice of the male art collector: 'Is she behind that mask? I only want it if she is in there!'"
Extra extra!:
Big week in pageant news! The Miss Universe competition is
reversing its earlier decision to exclude a transgender contestant
, and the
Hooker Beauty Pageant
was a success last week in L.A. Trivia time! Which pageant did Dave Navarro judge?
Fairest of them all:
Liz Greenwood's
review of Mirror Mirror
, and why it refashioned Snow White the way it did, will undoubtedly serve as a compelling viewing aid for the film—including the unsettling but accurate allusion to aging actresses as being funneled into the role of the aging Queen, with her perilous vanity that has been somewhat refashioned for the film.
Hungry for more:
I disagree with what The Last Psychiatrist is saying here about how
feminists have basically been faked out into liking Katniss
in
The Hunger Games
, but it's an interesting viewpoint anyway, and since I've unofficially banned myself from further comment on
The Hunger Games
I'm just eager to point y'all toward smart commentary elsewhere on it.
Samantha Brick: Exists.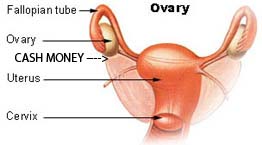 Bad science: Hey, remember that study about how strippers who are ovulating earn higher tips? And how quirky and fun and memorable it was? Yeah, the study involved 18 dancers. Tits and Sass debunks.

Sample sale: Will cosmetic sample subscriptions, à la Birchbox, work for women of color? As Karim Orange points out, dark-skinned women often have a more difficult time finding shades that match, opening up the market for subscription services targeted specifically toward women of color.

She scores: Caitlin Constantine on NCAA basketball star Brittney Griner and the gender police. "Our culture expects women's--and men's--bodies to be a certain way. People are very invested in the idea that Men Look Like This and Women Look Like That and Never the Twain Shall Meet. Well, guess what? Nature doesn't give a fuck about your sexual binary."

"The Heavy": I find the case of "the Vogue mom" who put her 7-year-old daughter on a diet and then had a story in Vogue (and now a book deal) about the whole ordeal—including accounts of denying her dinner—just too depressing to get into. But Virginia Sole-Smith and Beauty Redefined are stronger than I and have some great stuff to say. Virginia reminds us that our obsession with weight is what allowed this story to be a story, and Beauty Redefined shows alternate approaches one can take with childhood health.

Plague nails: Passover manicure, featuring locusts, pestilence, rivers of blood, and more!

Shaved: In my corner of the blogosphere there's frequently talk about rebelling against the beauty standard, something we beauty-conscious feminists tend to get all laudatory about. But as this writer points out, appearing to rebel against the beauty standard isn't necesarily what it seems. "If you were to see me now, I look like any other woman. I have long hair, I wear make up, get manicures and love shopping. But that shaved headed girl is always inside, looking out, knowing that our identity is just a haircut away from being taken away." (via Gala Darling)

We wear short shorts: Elissa at Dress With Courage on shorts and sagging knees. "As women, our bodies seem defined by change."

Getting over it: Kate looks at what's behind the phrase "get over it," specifically how it applies to body image: "'Get over it' is a cruel phrase. It means, 'Not only do I not care about how you feel, if you were smarter, you wouldn't care either.' 'Just get over it' places all of the responsibility on the person being told, and establishes the teller as the authority. It liberates the teller from any obligation to listen."