What's going on in beauty this week, from head to toe and everything in between.
Back and forth: 
Will and Jada Pinkett Smith basically rock it on the bodily autonomy front with daughter Willow: "We let Willow cut her hair. When you have a little girl, it's like 
how can you teach her that you're in control of her body?
 If I teach her that I'm in charge of whether or not she can touch her hair, she's going to replace me with some other man when she goes out in the world. She can't cut my hair but that's her hair."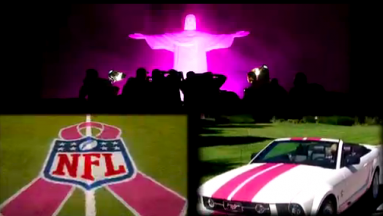 ...And Everything In Between:
Pink Inc: The documentary Pink Ribbons, Inc., opens in New York and Los Angeles today. Pinkwashing is horrifying on so many levels—commodifying women's health issues while simultaneously depoliticizing the underlying issues is just about the cheapest way for a company to appear pro-woman, and I'm thrilled that the issue has gotten more attention. This film interviews the original creator of the pink ribbon, Charlotte Haley, who created it as a grassroots appeal to focus on prevention, only to have it usurped against her wishes by Self magazine.