What's going on in beauty this week, from head to toe and everything in between.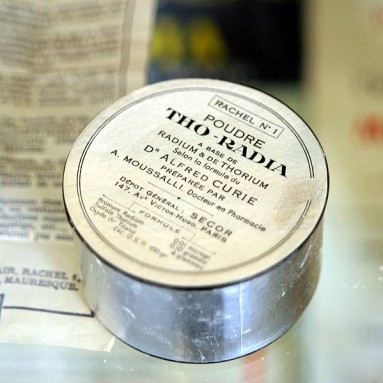 From Head...
Radio lab: Radioactive beauty products, for real, back in the day. Isn't it fantastic that we now have laws and stringent federal regulations against putting poisonous crap in our cosmetics?
...To Toe...
Made for walking: Virginia Postrel on our collective fascination with shoes (including a follow-up from the poll from a couple of weeks ago about how many pairs of shoes you own): "[The] distinction between media manipulation and personal meaning hints at the bigger issues at stake in all this talk about shoes: How do we understand life in a commercial, consumer-oriented society?"
...And Everything In Between:
Rock on: Procter & Gamble is partnering with the United Negro College Fund and Black Girls Rock! (you know they really rock because of the exclamation point) to "document the current state of black beauty with an in-depth look at the influences—people, fashion, music, education, pop culture—and provide tools and resources to foster a greater sense of self and confidence within the next generation of young black girls." Undoubtedly at least some of the findings will include ways that Pantene, Head & Shoulders, and Olay can be integrated into the lives of black girls—but if this initiative actually listens to what young black women are saying about their lives, then I'll try not to raise my eyebrows too high. Deal?
Global beauty: No matter how many times I see this kind of piece, I'm a sucker for it every time: makeup, beauty, and skin care trends across the world. Why are women in Japan concerned about the shape of their face? Why do women in Russia play matchy-matchy? Why do New Yorkers love their weirdo nail polish colors? (I thought this was everywhere, but of course we New Yorkers think New York is ur-everywhere, so.)