What's going on in beauty this week, from head to toe and everything in between.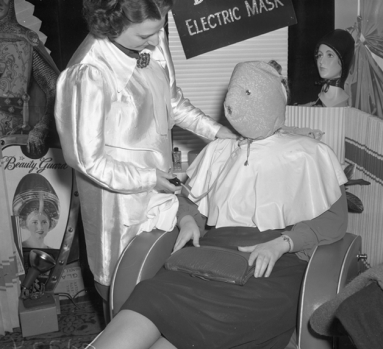 We've come a long way, baby?
From Head...
Masquerade: The invention of the beauty mask—which, charmingly enough, was onceuponatime called a "toilet mask." (via Makeup Museum)
...To Toe...
If the shoe fits: I adore Jane Marie at The Hairpin, and I adore my local cobbler, so when Jane Marie answered a recent question about cobbling, I became happier than anyone really should about cobbling. (Except, perhaps, Daniel Day-Lewis.) Bonus: Video with second-generation cobbler!
...And Everything In Between:
Targeted: Estee Lauder is suing Target in Australia for selling counterfeit MAC products. Not only are the products allegedly not actual MAC products, but Target was never an authorized MAC retailer. Oops! Target is claiming that the products came from a legitimate source in a practice known as parallel importing, in which genuine products are imported from overseas wholesalers, which is legal in Australia.