What's going on in beauty this week, from head to toe and everything in between.
From Head...
The short story: A tale of three haircuts shines a light on how our hair can feel like an extension of our agency.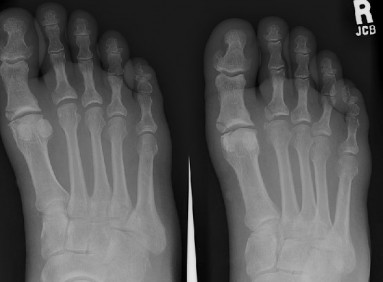 In SATC III, Carrie has high arches, Charlotte gets a stress fracture,
Samantha is corny, and Miranda stays callus.
Metatarsals and the city: We all knew that high heels can lead to permanent damage to your feet, but I'd never stopped to consider what that means when wearing high heels is literally a part of your job—as in, you play Carrie Bradshaw.
...And Everything In Between:
Vampirical evidence: The Kardashian sisters' Khroma cosmetics line is on the losing end of a trademark infringement case involving a line called Kroma, whose representative had met with the Kardashian team before the Khroma line became a reality in order to talk collaboration. In related news, Kim got a blood facial.
Ch-ch-ch-changes: 
Shiseido president is 
stepping down for health reasons
, leaving the current chair to figure out what to do in the midst of a projected 52% cut in revenue.
Avon's calling: 
Avon emerged from their conclave with 
a refinancing plan
, which should help get them out of their lingering debt.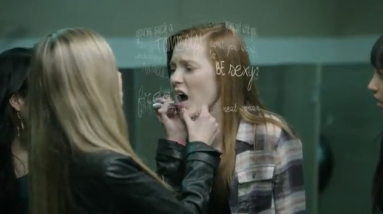 Les Authentiques: 
Color me bowled over that Jennifer Lawrence and Anne Hathaway have inspired so much thoughtful ink on how we view women. From Christianity Today, 
this piece on "authenticity"
: "The more we mock and dissect the 'falseness' of women like Anne Hathaway, the more we force each other to downplay our actual, authentic selves in favor of an impression of a girl who's 'keeping it real.' We can't all be that person. In truth, most of us respond to the pressure and judgment of others more like Anne Hathaway than the perfectly 'real' Ms. Lawrence."
Quantity, not quality: 
I don't think it's random that the writer of 
this reflective post on self-quantification
—that is, tracking activities and habits à la exercise journals—begins with an anecdote about calorie tracking. The point here is that as much as we believe we rely on the "just the facts" quality of self-qualification, in truth we bring our desired narratives to self-quantification and interpret the data accordingly. And we bring a 
lot
 of desired narratives to calorie tracking, eh?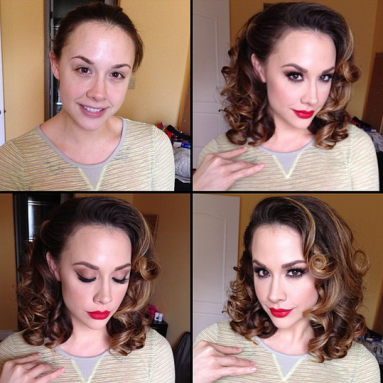 Money shots: 
It's one thing to stereotype porn performers as false-eyelashed, spray-tanned, and petunia-lipped (though we already know 
the average porn actress is a 5'5" B-cupped brunette
), but it's quite another to see exactly how that look comes to life on smiling, just-washed faces. 
These fascinating before-and-after shots
 from makeup artist 
Melissa Murphy
 featuring adult actresses show exactly how manufactured the porn "look" is, and what goes into creating it. I wonder what the experience of being made up is like for the performers—does sitting in the makeup chair allow you to get into character? does looking in the mirror post-makeup?
Miss takes: 
Excellent 
reporting from Katie J.M. Baker at Jezebel on sexual coercion in exchange for breaks in Miss USA pageants.
 It's easy for us—okay, me—to laugh at pageants because, well, do I really have to explain? But they remain a source of capital, status, pride, and identity for a good swath of women, and treating them like a circus doesn't help. What's galling here is that the perpetrators don't seem to understand how unethical their actions are: "She told me she would do whatever it takes, and now she's throwing my help in her face," says one of the men in the article (though he denies asking directly for sexual favors).
Natural beauty: 
I'm glad to see someone 
challenging the idea that "natural" beauty products are better because they just are
, but I wish the writer had looked at other ways natural products influence how we could think about beauty. I remember interviewing Siobhan O'Connor, coauthor of natural beauty guide 
No More Dirty Looks
, and digging 
what she had to say about the connection between feeling good about her products and feeling good about herself
: "Something inside both of us transformed over the course of writing and constantly thinking about beauty and our relationship to it—every woman's relationship to it. We've seen a lot of people fight their natural look. And it's cheesy to say, but you know what it's like when you see a really healthy woman, regardless of the shape of her nose or her body, and you're like, 
whoa
. There's health and joy, smiles and truth—it's one of the most beautiful things in the world. Natural beauty can go beyond products; it's about stripping all that other stuff away and just taking joy in the natural curl of your hair or the natural glow of your skin. It's about not hiding."
Objection: 
Laurie Penny for Jacobin disabuses us of the notion of the news reporter's "view from nowhere" by giving 
a sliver of how her sources interact with her, a young, attractive female journalist
: "I was wearing my second-nicest tights and a bit of makeup and holding a recorder, and hence appeared old enough and professionally polished enough to be someone they felt the need to impress—but not so much older and more polished that they didn't suspect there might be an outside chance of me shagging one of them in the hostel bathrooms later on."
Inspired: 
As someone with zero skill in putting together outfits (why do you think I wear dresses so frequently, skirts never?), I'm forever mystified by those "get this outfit inspired by_______" pages in magazines. So I love 
this piece from The Closet Feminist
 that shows exactly what "inspiration" can mean, from a variety of perspectives.
Pretty Smart: Something that comes up in conversation a lot when I mention what I write about is the idea of not-beautiful people "compensating" for their lack of beauty by becoming smart or funny or talented or whatever—the unspoken (and sometimes spoken) equivalent being that gorgeous creatures don't develop those traits. But as Elisa points out: "Guess what, all the combinations are possible! It's just that when you start selecting for rare traits (very beautiful, very funny, very intelligent, etc.) it starts to get unlikely that you'll run across people with multiple 'gifts.' That's not sociology or psychology, it's statistics."