By Jessica Jacolbe
Today in Brooklyn Heights John A. Roebling, the architect of the Brooklyn Bridge, is the namesake of many streets, bars, and restaurants. "Roebling" usually refers to John Roebling or his son, Washington Roebling, who became the Chief Engineer of the Brooklyn Bridge after his father's death. Emily Warren Roebling, however, was the only Roebling to see the bridge through completion in 1883. She took over her husband Washington's responsibilities when he became too ill to finish the project. Examining Emily Roebling's role in the construction of the Brooklyn Bridge challenges traditional heroic narratives of urban architecture and demonstrates the important work women played behind the scenes in accomplishing major engineering feats.
While a plaque on the bridge dedicated to the memory of Emily Warren Roebling says that the construction was completed with her "faith and courage," a closer look at her work on the project reveals much more than just that. In David McCullough's The Great Bridge, one of the definitive biographies of the Brooklyn Bridge, he writes of Emily: "Everywhere about her, lesser men, witless, vulgar, corrupt, men of narrow ambition and the cheapest of values, were prospering as never before, grabbing up power, money, or just about anything else they hungered for."
During the Gilded Age, men chased after power and prestige and recognized that their wealth symbolized their legacy. Emily understood this dynamic. In an 1898 letter to her son from Marian Betancourt's Heroes of New York Harbor: Tales From the City's Port, Emily wrote, "I have more brains, common sense, and know-how, generally than any two engineers civil or uncivil that I have ever met, and but for me, the Brooklyn Bridge, would never have had the name Roebling in any way connected to it!" Emily understood the significance of her place in history and recognized that had she not been involved the Roebling legacy would have been lost.
---
In an 1898 letter to her son Emily wrote, "I have more brains, common sense, and know-how, generally than any two engineers civil or uncivil that I have ever met, and but for me, the Brooklyn Bridge, would never have had the name Roebling in any way connected to it!"
---
Emily had been interested in engineering long before she met and married Washington Roebling. She grew up in the upper Hudson Valley of New York where the water system was an integral part of her informal education. Emily Warren received her secondary school education at Georgetown Academy of the Visitation. Soon after, her husband, father-in-law, and the bridge project furthered her engineering education by proximity. Emily's role in building the Brooklyn Bridge stemmed from her duty as a wife. At the beginning of her marriage, Emily turned her home with Washington Roebling at the northern tip of Brooklyn Heights into the center of her world. A year into their marriage, Washington took over the role of Chief Engineer, and three years later, he fell ill and became completely dependent on Emily. Washington often referred to her as his "strong tower." Through a telescope through his window, he watched the bridge of his father's design being built.
Even before it was finished, the ambitious Roeblings viewed the Brooklyn Bridge as a major accomplishment as one of the world's longest suspension bridges. John Roebling, who was often called "a man of iron," boasted about its greatness before anyone contributed a dollar to his idea. Building a bridge between Brooklyn and Manhattan, desperately needed due to traffic and congestion, required an enormous amount of planning and labor. The construction of the bridge represented masculine prowess and ingenuity, not only over nature but also over the urban environment. Heroic narratives associated with the project highlighted the workplace dangers, such as the infamous caissons disease that, according to The Great Bridge, led to the death of over two-dozen workers. Emily's husband Washington fell ill from "the bends," a mysterious disease that resulted from working on the caissons, or the unique architectural foundation of the bridge.
Although not formally acknowledged as the lead architect, Emily managed the project behind the scenes during this time. Emily explained detailed instructions to manufacturers using drawings and her highly developed skills in mathematics. Bridge officials and field engineers addressed their concerns to her over the phone. She gave interviews, overlooked contracts, and visited the bridge to monitor its progress. Emily's authority was unusual compared to women's traditional roles, leaving her vulnerable to newspaper gossip about an over involved woman potentially usurping power over the greatest architectural project of the century.
After Emily succeeded in finishing the Brooklyn Bridge, cementing her husband and father-in-law's legacy as architectural heroes, she turned to creating her own. Emily became involved in charities and civic institutions such as the Daughters of the American Revolution. After the bridge's opening in 1883, Emily graduated from New York University's law school at 59 years old. Her work on the engineering project has finally been publicly recognized more than one hundred years later, with a street corner in Brooklyn Heights being named after her.
---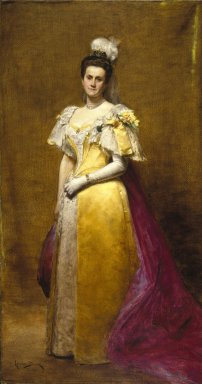 Portrait of Emily Warren Roebling, Charles-Émile-Auguste Carolus-Duran, 1896 | Creative Commons via Brooklyn Museum
---
A large, imposing portrait of Emily hangs in the Brooklyn Museum. There we see her wearing a canary yellow petticoat with a royal purple trail, not the kind of clothing usually associated with a construction site. Emily's sensibilities as a woman, wife, and mother enabled her to engage and complete the Eighth Wonder of the World. Her father-in-law, John Roebling, wrote about the bridge's design in Scientific American, describing the tension among the steel cables as a harmony of opposite forces, "A force is at rest because it is balanced by some other force or by its own reaction." Women working alongside men in massive urban engineering projects are the invisible forces that equalize a project. The Brooklyn Bridge, an icon of strength and perseverance with its network of wires and iron bars, represents the labor of Emily Warren Roebling, who held her own amid infighting, corruption, and construction challenges and became one of the women who built New York.
Further reading
Marian Betancourt, Heroes of New York Harbor: Tales from the City's Port (2016)
David McCullough, The Great Bridge: The Epic Story of the Building of the Brooklyn Bridge (1972)
---
Jessica Jacolbe is a writer based in Brooklyn. She studied Journalism and Economics at St. Joseph's College.
Lady Science is an independent magazine that focuses on the history of women and gender in science, technology, and medicine and provides an accessible and inclusive platform for writing about women on the web. For more articles, information on pitching, and to subscribe to our newsletter, visit ladyscience.com.