A theory blog that promises to examine "why it matters so much to be beautiful, and why we have these particular ideas of what beauty is"—well, can you think of any reason not to read it? When I found Carina Hart's wonderful blog, Beautiful in Theory, I was thrilled to find a kindred spirit who loves to marry beauty with unlikely concepts. Whether she's looking at the "Frankenbabe" idea in which women are looked at as parts instead of a whole, examining how individual women have shaped our narratives of beauty with her "Biographies of Sin and Beauty", or considering the noteworthy lack of boobs in Scandinavian noir television, she's consistently seeking out alternate perspectives on beauty, helping each of us continue to form our own theory on beauty. Her work is informed by the research behind her PhD at the University of East Anglia (UK), which she devoted to studying images of beauty in post-1980 fiction. And we're lucky that Beautiful in Theory doesn't stop there. I'm fortunate enough to host a guest post from Carina today.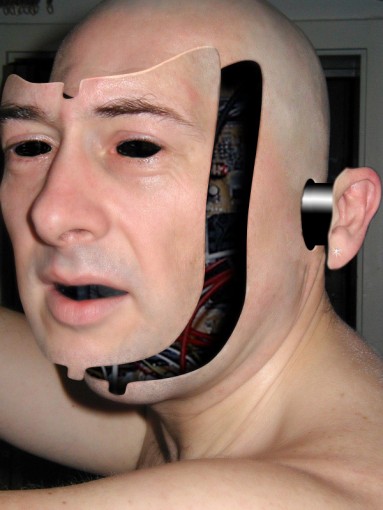 Why do we consider skin to be the barrier of "permissible" beauty work?
Recently I got into an argument with a male friend who couldn't see the difference between makeup, clothes, and jewelery when it came to beauty work and feminism. I thought the difference was obvious, but being forced to explain it properly I settled on the argument that it came down to adornment vs alteration. Makeup sits right on your skin and changes the way you look, and it isn't always easy to see that it's there. Clothes can alter your shape and general appearance, but they are more separate from you than makeup; jewelery is more separate still, not actually changing the way you look but merely adorning you with sparkles.
At the time I was quite pleased with this argument, but now I wonder. When does adornment become alteration? I'm not sure that the boundary is as clear as I had assumed—after all, do we then have to draw a distinction between BB creams and bright red lipstick, on the grounds that lipstick is obvious and artificial, and therefore falls more into the adornment camp, whereas BB cream is a deceptive alteration of your skin (or at least its appearance)?
I've certainly never heard anyone argue that wearing jewelery is part of the patriarchal oppression of women by pressuring them to be beautiful. But it is something that women do, with the purpose of enhancing their beauty. Does that mean a feminist should rethink her earrings, giving them the same weight of consideration many might give makeup?
I think that skin is the key player here. Skin is the barrier between inside and outside, and making changes inside the skin is a more difficult, committed, and often more permanent process than an outside change: say, liposuction vs Spanx. This barrier is also crucial to the way we think about beauty work, so that cosmetic surgery has a much higher moral, emotional, and political charge than a wardrobe makeover. We have this potent desire for self-transformation, but in practice a truly drastic, inside-and-out transformation makes us queasy as well as some combination of impressed, fascinated, and jealous.
Of course our sense of self is heavily invested in our bodies, and it is intensely disconcerting to adjust our sense of our own identity or someone else's after a dramatic physical change. We may say that beauty is on the inside, that it's someone's personality that makes them who they are, but we find it extremely difficult to separate identities from bodies. I guess that's why we keep saying those things, because we want them to be more true than they are.
That's probably also why we are uncomfortable with under-the-skin, invasive changes like surgery, and why we're likelier to brand it as "bad" beauty work. But diets are equally internal processes, and while we may tsk-tsk diets as a form of policing women's bodies, we don't quite put it in the same camp as cosmetic surgery. This is where another binary comes out to play: natural and artificial. This has been around for centuries, and the best example comes from way back in 1734, when Jonathan Swift wrote a delightful poem called "A Beautiful Young Nymph Going to Bed." Starting with the lovely "Corinna, Pride of Drury Lane" retiring to bed, Swift proceeds to deconstruct her beauty both literally and figuratively:
Then, seated on a three-legg'd Chair,

Takes off her artificial Hair:

Now, picking out a Crystal Eye,

She wipes it clean, and lays it by.

Her Eye-Brows from a Mouse's Hyde,

Stuck on with Art on either Side,

Pulls off with Care…
… You get the picture. Swift's deconstruction is intended to reveal the artifice of feminine beauty, and it achieves its discomfiting effect by messing with that questionable boundary, the skin. Hair, eyes, and brows are features with whose alteration we are familiar—hair coloring, makeup, brow plucking—but Swift takes this a step further and makes them completely artificial. Corinna's eyebrows, instead of growing out of her skin and then being enhanced, are actually glued-on bits of mouse hide, both separate from and part of her body in a very disturbing way. The skin is an unreliable barrier, and I think we would prefer that it wasn't.
Inside and outside, natural and artificial: As soon as you examine these concepts closely they start to unravel. What about the fact that much of the food we now eat can hardly be described as natural? What about vitamin pills? Does a facial count as inside or outside? What about diets promising glowing skin as their main benefit, or pills promising healthier hair? Is long-term skin maintenance with SPF and moisturiser natural or artificial? How about piercings and tattoos? Sheesh.
Donna Haraway's famous "Cyborg Manifesto" (1985) uses the cyborg as an "ironic political myth" to describe the way traditional human boundaries are coming unstuck. Human-animal, human-machine, inside-outside, natural-artificial: It is even more true now than it was in 1985 that we live within very blurred lines. Photoshopped selfies of ourselves in Spanx and full makeup are fast becoming the foundation of our identities, in our virtual-real lives. It's funny how "natural" used be the ideal image of beauty—though frequently with artificial help, beauty was at least supposed to look spontaneous. Now "natural" can be used as a word of dread, deployed by glossy magazines to describe the nightmare in which someone sees you sans foundation; or it's a word used to sell BB creams and other faux-natural effects. Artificial is all the rage, in our eyelashes, hair color and extensions, nails and tans.
Does this matter? It certainly did to Jonathan Swift, and it did to Naomi Wolf, who argued in The Beauty Myth how useful the artificial beauty ideal is to patriarchal capitalism. It does cost women a lot of time and money. Haraway's open-minded discussion of the cyborg is a good counterpoint to the knee-jerk fear surrounding any threat to traditional ideas of what it is to be human, and if a decent SPF face cream and some vitamin pills make me a cyborg then I'm fine with that (yes, there are better reasons to embrace cyborg life, such as prosthetic limbs, but hey). 
And if an acceptance of our "posthuman" cyborg existence (Haraway again) helps us become less squeamish about the unpredictable boundary of our skin, then that is also good. It might mean that we can question the role of surgery, dietary supplements, and makeup in our world in a more clear-minded way, and perhaps make our relationship with beauty less fraught. At the moment I think that we do judge beauty work partly by where it sits on the spectrum between adornment and alteration, and that it is definitely a problem when societal pressure makes people want to change themselves from the inside out. It would take at least another essay to discuss that other unreliable binary, free and unfree choice, to determine the motives for the beauty work that we do (am I really plucking my eyebrows for me? Really?), and all beauty work comes under the shadow of oppression along with its undeniable joys.
But I still think earrings are OK.
____________________________________________