All images provided by the authors.
The following is a guest post by Christina Kral and Adriana Valdez Young. 

Southdale Mall, Siam Paragon, The Avenues Mall Kuwait, Bahrain City Centre, US Embassy in Baghdad, Westfield Stratford City London.

SETTING
The U.S. Embassy in Baghdad has a desk space for 1,000 staff and 619 blast-proof apartments, the sealed compound includes a cinema and retail complex, a food court, schools, and medical facilities as well as its own power generation and water purification systems. A perfect American container city within a war-torn Baghdad.
The first shopping mall was born in post-World War II America. Émigré architect Victor Gruen was nostalgic for his home city of Vienna, which he had fled in 1938 after it was annexed by Germany. In 1956, he created the Southdale Center in Edina Minnesota, the world's first enclosed shopping mall. Gruen had a dream of the mall as a harmonious city. He planned for schools, apartments, cultural institutes, hospitals, parks and more to be attached to the mall - making a complete pop-up city. His vision for an urban utopia, however—a Vienna in a box—was never implemented.
As hard as it strives to be a safer, sanitized version of the city, the shopping mall cannot escape the city or its conflicts. In 2010, anti-government protestors in Bangkok burned down the Siam Paragon Mall, one of the biggest malls in Asia. In February 2011, a Taliban suicide bomber attacked the high-end supermarket of a shopping mall and hotel complex in Kabul. In September 2011, pro-democracy protestors demanding government reforms staged a rally in the atrium of Bahrain's City Centre mall. In October 2011, Gaddafi's mutilated corpse was temporarily stored in a shopping center in Misrata, stashed in the cold storage area of a vegetable market. In November 2011, on 'Black Friday'—America's busiest shopping day—a woman at a Southern California Walmart used pepper spray to attack other shoppers and improve her chances of securing a discounted xBox.
Staging to restore the Paris of the Middle East. Beirut Souks (2010).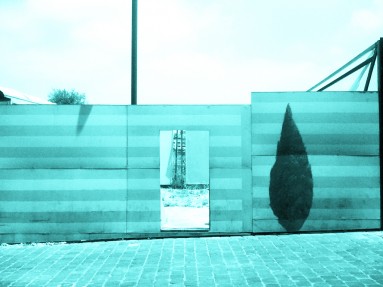 The shopping is done. Marina Mall, Kuwait (2010).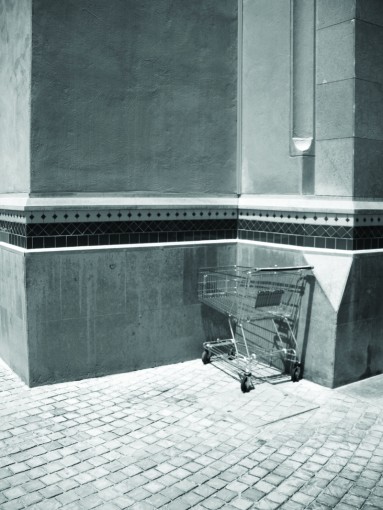 In between the malls. Kuwait (2010).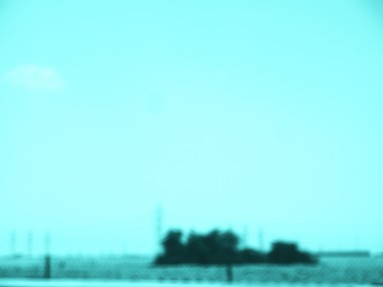 CONVERSATION
"Letters To The Editor," The New York Times (2007).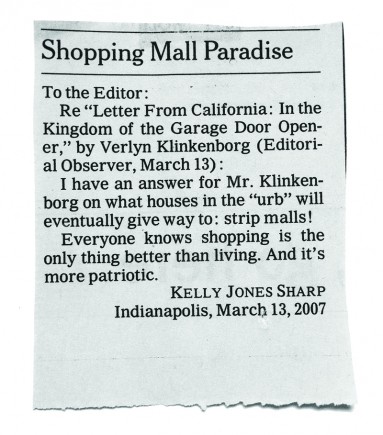 What is the relationship between war and shopping?
C: Both can be quite aggressive and at the same time appear to be innocent or absolutely necessary. As we shop or war, we serve a greater other. There are seasons for shopping and seasons for war. Both keep us busy and controlled, it is a Beschäftigung (activity, occupation, service), a Zeitvertreib (pastime, amusement, vocation). What would people do if going to war or to the mall wasn't an option anymore?
A: In places like Kuwait and Dubai, going to the mall is like going outside. The mall is the city and nature in one. Going shopping is rooted in this desire to explore: to see beautiful people and things, and to locate oneself within this landscape of desire. This is innocent enough. But I think there is something much more primal about going shopping and going to war. Both come from a hunger to be our best, to compete, to exercise a right or a belief. As we saw from the post-9/11 patriotic calls to shop and support the economy, there was a fear that if Americans stopped consuming that the terrorists would win.
The US Army also had more direct mall-based, anti-terror strategies. As part of the 'Shock and Awe' campaign in 2003, the U.S. military attacked three government-run shopping malls and two major markets in Baghdad. The assumption was that if Iraqis could no longer go shopping, then they would be less likely to resist American occupation—why fight if you can't shop? The U.S. military utilized abandoned or injured shopping centers as their bases. Once the military had pacified that part of the city, the mall would be turned back to its owners for regeneration as a shopping space. As the war continues, there is ongoing real estate speculation and construction for new shopping complexes throughout Iraq. New real estate development signifies a recovery phase - a sign of resilience, prosperity and the new democracy.
In the future, will we shop and fight in the same space?
C: I immediately connect sports as a domesticated form of warfare. It makes me think of the gyms that display bodies as well as the machines. It suggests that we need the machines to shape our bodies and the machines need us to set them into motion. Our workout is technofied and stylized. Gyms are located in shopping malls, mostly on the top level with huge glass windows. First we sweat and then we shop—sweat shop. And the spa smoothies are always located on the way to the exit—any exit. And then there are video arcades. Maybe war has to be purified and put into the mall in between skincare and parking.
A: Did I tell you about the Army Experience Store? It's a U.S. Army recruitment center stationed in a discount mall in the suburbs of Philadelphia, an actual example of war and shopping taking the same space. It was open for two years (2008-10). Actually, it replaced a Bally's Gym, so its interior shell—the layout, dim lighting, grey tile, etc.—betrayed its past identity as a workout zone. The program of the store included a free video arcade, where young people could play first-person shooter games in various war-time scenarios. It also had separate themed rooms to simulate the experience of flying a Blackhawk helicopter and driving a Hummer. The more serious parts were a testing center where young people could take the exams to qualify for enlistment. So here, the mall and the war are one. The young person is given the opportunity to go through a series of phase changes: from shopper to game player to real life warrior. Now that's one-stop shopping.
C: If one critique of shopping is that we get further separated from how goods are produced and distributed, then this is also true for warfare. Internet shopping and drone flying can happen in the same remote space anywhere in the world. Remote control shopping—remote control war. How will future warfare be designed? Will it develop in sync with our shopping rituals? Will it become further displaced and disconnected from our personal experience? How will we know when to stop?
Better choices. Tel Aviv (2007).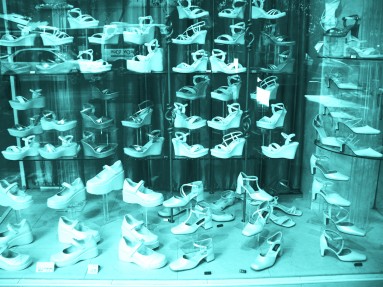 An electric palm tree is natural. Navi Mumbai (2008).
Will We Shop Forever?
C: Your question makes me wonder again what we would do if we weren't to shop anymore. As long as consumption is the answer to urgent problems, will we somehow shop forever or find an equivalent to it? What is the beauty of shopping?
A: Shopping is an exercise in aspiration and expectation. We want and we hope, and so we shop. It is an outlet of basic human expression. We will always want more and if we are lucky, we find it in the right size.
The mannequins are ready. Beirut Souks (2010).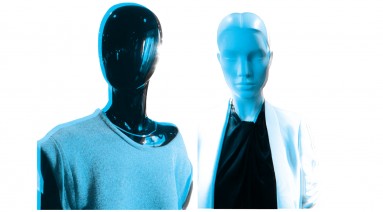 SUGGESTED EXERCISE

Enter a store and pick up a shopping basket.
Fill it with all the items you desire.
Don't stop until the basket becomes too heavy to bare.
Place everything back where you found it and return the basket.
Leave the store.