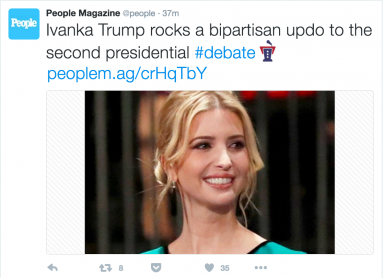 People magazine tweeted today about the "bipartisan updo" Ivanka Trump sported at the second presidential debate. I guffawed, assuming it was a comment about the party affiliation of the hairstyle—it's an updo, so it's conservative! but it has tendrils, so it's liberal! It turns out neither tweet nor hairstyle had anything to do with ideology; the article the tweet linked to mentioned how Trump's hairstylist for the night was a Democrat. But it did get me thinking: Is there any connection between political ideology and hairstyle? In fact, is there such a thing as a "bipartisan updo"?
Oddly, I couldn't find any studies that looked at hairstyle and political leanings. Most of the studies on appearance and ideology are more focused on faces—a continuance of our fascination with physiognomy.That said, there's some evidence showing that some politicians, particularly Republicans, may benefit from simply looking Republican (what exactly that means was unclear, as I couldn't access the full study, but I'm guessing that for male politicians—which the majority of Republican candidates are—it cross-references with masculine markers like a square jaw and prominent nose). So even if we leave aside entirely the question of whether our politics actually show up on our faces, it seems as though there's evidence, however thin, showing that we have ideas of whether someone looks liberal or conservative, simply by their face. And that's just our faces, which we have little control over. It only makes sense that we'd extend our judgment to hairstyles, since the wearer does have control over that aspect of appearance.
In the absence of studies I can't really say what we as a culture think of as "Republican hair," much less whether that actually holds true in how women style their hair. Looking at the hairstyles of various politicians, I'm not seeing any hard-and-fast rules about hairstyle, but by the time you're a United States Senator you've probably had your hair focus-grouped to death, so I'm not putting much stock in that. But when you picture a Republican woman—particularly the moneyed, patrician sort, as opposed to the core of low-earning whites who make up the Trump base—chances are you picture quite a different woman than you do if asked to envision a Democrat. In fact, when I picture that sort of conservative voter, I do indeed picture a woman with an updo, perched high on the head, with no softening tendrils. She might also have a very neat bob, or an intricate set style of waves or curls, but the rich Republican woman in my mind's eye doesn't have a shaggy bob, hair longer than mid-back (particularly if she's over 40), a spiky pixie, blunt bangs, or unnatural dye colors. In other words: conservative hair.
Most of the time, when we're talking about "conservative hairstyles," we're not talking about politics, but rather about a look that's appropriate for working at a bank or something. The idea behind "conservative hair" is that it's inoffensive, generic enough to look good on most people, and bland enough that you don't stand out too much as an individual. (Ha, but in that sense, isn't it communists who should all have "conservative hair," lest their individualism come to the fore at the sake of the collective?) So, yes: an updo for long-haired women, a neat bob on others, perhaps even a close-cropped style, but one so regular and even it might not even qualify as a pixie cut. This kind of "conservative hair" is indeed "Republican hair," or at least the stereotype of Republican hair, even though the term refers to a different type of conservatism.
But it's not a mere accident that the word "conservative" applies to political leanings as well. Modern conservatism, particularly of the Trumpian variety, is less about fiscal conservatism and more about reverting back to a time when things weren't in as much flux as they are now. "Make America Great Again," Trump's critics (of which I am one) will say, is code for "Make America White and Heteronormative Again"—in other words, like the Norman Rockwell version of the 1950s. And what's the leading iconography of the 1950s? A woman, in the kitchen, wearing a shirtdress, with very neat hair of a short-middle length. If she's going out at night, she might well wear an updo. Contrast that with the social upheaval of the 1960s, what with women's hair going loose and free and in their faces*, and voilà—tendrils are liberal; the updos behind them, conservative. So sure, why not? Ivanka Trump wore a bipartisan updo.
Of course, America was never a Norman Rockwell painting, but wepicture midcentury American life through that lens, and there's great appeal there for the conservative voter. It only makes sense that one's hairstyle would speak to that yen.
_____________________________
*It's also worth noting that women with gray hair are likelier to be identified as feminists. Another finding: Women with conservative political leanings preferred men with short hair, while women with liberal leanings preferred men with long hair—in 1976. Times have changed since then but I'd argue that they haven't changed that much, and that if you're a wealthy Republican there's still cultural cachet to short hair on men.