By Kate Sheppard
Kate Sheppard (1847-1934) is well-known historically as a suffragist and temperance union leader in New Zealand. There are monuments to her memory all over New Zealand: buildings, schools, and days to honor her. She also appears on the $10 note.
---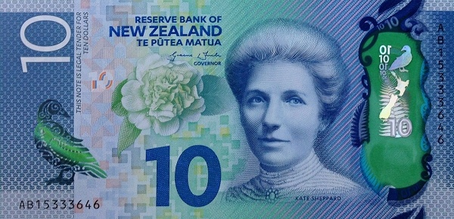 $10 note, Reserve Bank of New Zealand. Original publication: 1999 (Creative Commons)
---
Her work to bring the right to vote to women in New Zealand was successful in 1893, making New Zealand the first country to allow women equal franchise (but still not equal right to hold elected office). This was a crucial feat, which continues to have repercussions for women's rights and gender equality in New Zealand.
For Sheppard and her cohort, advancing women's education was central to being successful in being treated as equals to men, and yet historians focus mostly on her work in temperance and suffrage. I do not wish to shift Sheppard's story away from being "the most well-known member" of the suffrage movement in New Zealand and the world's first successful suffragist; instead I wish to highlight her specific work in advocating for science education for women in New Zealand.
The connection between women's access to education and the subsequent granting of their right to vote is not uncommon in the British imperial sphere of influence. However, New Zealand was both well outside the British imperial sphere as well as completely bound up in it. Sheppard's case demonstrates both the similarities to and the disparities from other parts of the British Empire that New Zealand dealt with. Because it was far away from the colonial center, New Zealand was also further from the social and class norms that held sway in London.
The 1840 Treaty of Waitangi between the British Crown and Maori chiefs made New Zealand a part of the British Empire. For the rest of the 19th century and into the 20th, British subjects migrated to New Zealand with hopes of land, gold, and a better life for their families. Those arriving in the 1860s and 1870s, at the height of the colony's economic boom, wished to build a "better Britain." First, they were aware that the same socio-economic dynamics that rankled the middle and working classes in London had yet to take hold at the edge of the empire, so the settlers coming from the middle classes in Britain could become the new gentry of New Zealand. Further, Dorothy Page and other historians have argued that those in the colony were feeling more connected to the new, more egalitarian world and wished to be more like the United States, rather than replicating the Old World they had just left. As a result, the ideals of liberal individualism and equality were taking hold, and feminism gained a strong following.
Kate Sheppard and her family moved to Christchurch, thought to be a little utopia in itself, right in the middle of all of this social and political change. Born Kate Malcolm in 1847 in Liverpool, England, she moved to Scotland to live with and be educated by an uncle who was a Minister in the Free Church of Scotland. Her father died in 1862 and her mother decided to move the family to New Zealand in 1868. They followed Kate's sister, Marie, who had moved there with her husband two years earlier. Marie's letters home told of the opportunities the more liberal-minded New Zealand could offer, and so they went. Comfortably middle class, the family settled in Christchurch, and Kate married Walter Sheppard, a merchant, in 1871.
From the start of her time in New Zealand, Sheppard was involved with the church as well as the temperance movement. She was one of the founding members of the New Zealand Women's Christian Temperance Union (WCTU) in 1885, and by 1887, she was the national superintendent of the Union. Early on, however, she and her colleagues realized that a temperance measure would pass much more readily in New Zealand's Parliament if women had the right to vote and hold office. Importantly, in her 1888 pamphlet Ten Reasons Why the Women of New Zealand Should Vote, Sheppard plainly stated in reason two that "[b]ecause it has not yet been proved that the intelligence of women is only equal to that of children, nor that their intelligence is on a part with that of lunatics and criminals." For Sheppard, temperance was the end; science education and the vote were the means to get there.
---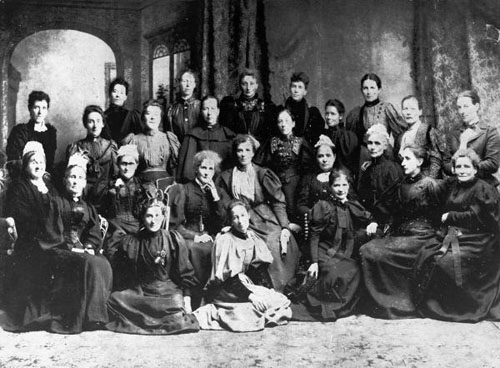 National Council of Women, 1896 (Wikimedia Commons | Public Domain)
---
There was no franchise league established in Christchurch, but instead the Canterbury Women's Institute (CWI) was founded in the province in November 1892. According to Judith Devaliant in her biography of Sheppard, in working with the CWI, Sheppard aimed to "achieve greater equality between men and women by working to remove the inequalities that kept men and women on a different footing." Namely, education. The CWI established four departments — domestic science, health, economics, and literature — that, at this point in time, were all included under the purview of science education, especially for women. Together they worked as a unit to educate women who, as Devaliant says, would be equipped with "knowledge, cultivation, and refinement" and would, in turn, vote for progressive legislation.
Domestic science concerned more than teaching the skills of sewing and cooking. It included nutrition, dietetics, chemistry, accounting, and hygiene as important areas of study. Literature developed social and political ideas by having women read intellectual works rather than novels, which were generally considered entertainment. The Health department got women walking for exercise and thinking about clothing. They held the opinion that the corset was a terrible choice for women's health. Sheppard was in charge of the Economics department, which worked to widen women's influence in the economy by teaching women home accounting and how to keep a budget, as well as training them for jobs.
New Zealand women earned the vote in September of 1893, so franchise leagues transitioned into social and political leagues in the movement for temperance. The CWI then took on a greater push for education, so that women could more readily participate in the public sphere. By 1896, the CWI endorsed a resolution that "the wife's demand for a just share of her husband's earnings for her separate use" was fair and reasonable, considering that the wife "earns her living, in many cases far more hardly than her husband does." More importantly,  Sheppard argued that women, rather than strictly being mothers, had a wider role to play in the newly industrializing New Zealand and that women should have more choice in their occupation.
Before the franchise was granted, Sheppard and others had already argued that the roles of women were changing. In a December 1892 issue of The Prohibitionist, Sheppard wrote that, in order to meet those demands, a woman's "body, mind, heart, and hand should alike receive education and training, to be used in the service of a further self-evolution, for the strengthening of domestic ties, for the performance of national duties, and for betterment of humanity generally." These, she claimed, were the goals of the women "who are seeking to make actual, rather than potential, ideals of womanhood."
---
For Sheppard, temperance was the end; science education and the vote were the means to get there.
---
After the franchise, New Zealand's first women-run newspaper, The White Ribbon, was delighted to report on women in the professions. Sheppard, the paper's inaugural editor, interviewed a number of women who had earned university degrees in order to argue against women's perceived physical and mental weaknesses, their real lack of access to education, money, and more. In August of 1897, Ethel Benjamin was featured as "New Zealand's First Lady Lawyer," who took firsts in all of her exams while taking the bare minimum time to complete her studies, four years. She had even done so "with such credit, and evidently so little mental or physical strain."
More exemplary women appeared in the pages of the paper. In the April 1900 edition, an interview with New Zealand's first Lady Doctor, Margaret Cruickshank, appeared. She had earned her medical degree from the University of Dunedin and began practicing in a little town called Waimate. At first, few people wanted to have a woman doctor, so Dr. Cruickshank "went quietly on her way, helping those who would accept her help," and soon she was in high demand. These shining examples of women, who had survived being educated, pursuing professions, and experiencing success, encouraged other women to pursue education and professional lives outside the home.
Sheppard spent most of her working life working for other women. Even though New Zealand never passed a prohibition bill, she and her cohort achieved their other goals of science education, equal legal standing, and suffrage for women.
In 1919, the same year women were allowed to be elected to the House of Representatives in New Zealand, as President of the National Council of Women, Sheppard addressed the greatest need in a world torn apart by war and in the process of trying to rebuild. In her "President's Address," subsequently published in the periodical The Woman Question, Sheppard argued that the world needed women, especially "those that are well and healthily born, well nourished, and well educated." As active and productive members of society, women could make the world a better place, and a place in which the brutality of war could be a distant memory. But it was only through equality in society, in politics, and in power that this could happen. It was for those rights she fought her whole life, and it was those rights that she saw come to fruition before her death.
Further Reading
Judith Devaliant, Kate Sheppard: A Biography (Auckland: Penguin Books, 1992)

Margaret Lovell-Smith, ed. The Woman Question: Writings by the Women who Won the Vote (Auckland, NZ: New Women's Press, 1992).
---
Lady Science is an independent magazine that focuses on the history of women and gender in science, technology, and medicine and provides an accessible and inclusive platform for writing about women on the web. For more articles, information on pitching, and to subscribe to our newsletter, visit ladyscience.com.