A few quick thoughts on this story, of how Belgian soccer fan Axelle Despiegelaere, who attended the Belgium-Russia World Cup game, is now modeling for L'Oréal after being singled out in photos of the match: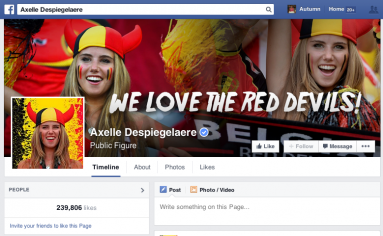 You'll notice her unofficial fan page, created not long after the June 22 match, has more than 230,000 "likes," which I know can happen in a matter of hours but which is remarkable nonetheless. It's being spun as a fairy tale of sorts, along the lines of how film star Lana Turner was discovered at a Los Angeles drugstore. But I have to wonder how much this fairy tale is really a benefit to Despiegelaere, versus how much it's a benefit to L'Oréal. By seizing upon something that has much of the world in a frenzy* for a full month
*Myself included, as evidenced by
The World Hair Cup
. It's in the final round at last—
vote now!
Finalists are Côte d'Ivoire, Portugal, Chile, and Ghana. That's some remarkable hair, folks.
, the company A) gets exposure without having to actually sponsor anything in the World Cup, B) gets to seem particularly savvy, and C) plants itself inside the fantasy of many a pretty young woman of being "discovered" simply by being herself. It gives us a backstory, and should the Belgian's contract land her in a major campaign, it lets viewers associate a neat story with their product (and if any particular viewer doesn't know the backstory, no worries; it's still a beautiful young woman). It's brilliant.
The story is actually just a commodified extension of the way games are broadcast. Sports games are televised with plenty of crowd shots interspersed, in the hopes of transporting the home viewer into the stadium; the painted faces of hopeful or disappointed fans are a stand-in for ourselves. By plucking a lovely young creature out of those fan shots, that sense of proxy is doubled, except now there's the commodification of fandom involved. And let's not forget that it's commodification of female fandom, and that a solid third of the fan shots used in game broadcasts feature stunningly beautiful female fans (made all the easier by not only the internationalism of the tournament but by its location in Brazil, which exports many a young woman who suits the current tastes of the American modeling market). Turning women into one of the benefits of sports played by men has a long history, whether we're talking cheerleaders or the publicity given to WAGs. This World Cup has seen the connection cemented with two Kia commercials that show Adriana Lima and other Brazilian beauties seductively telling gaga male American football fans that their football—that is, what Americans know as soccer—is superior. The commercials annoy me for any number of reasons, primarily that I doubt men watch any particular sport on the basis of how pretty its female fans are (and that it ignores how many women across the world love the sport), but it's not like the agency that created the ads dreamed up "sex sells" all on its own.
But Despiegelaere's story isn't being marketed to men; it's a product and story squarely aimed at women. This fairy tale—normal girl is spotted and becomes internationally famous—is one that fits particularly nicely with the reality-show ethos that we find ourselves surrounded with: Anyone can become famous if you land yourself in the right kind of outlet. Frankly, I'm wondering why we don't see this narrative exploited more often by beauty lines. Who doesn't love a local girl made good, even if "local" is Belgium or Brazil? When it's a tale like this—of someone landing something generally seen as out of the reach of normal people, despite being a normal person herself—everyone becomes local.