Bayt Mahsir, 1932, photographed by Ukrainian immigrant Haim Berger (
YNet
).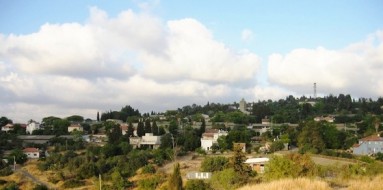 Beit Meir, photographed by Daniel Ventura (Wikimedia Commons).
1948
8-9 May. As part of Operation Maccabi (launched by the Haganah) the Harel Brigade sets out to attack and conquer the village of Beit Mahsir.
10 May. The village of Beit Mahsir is occupied.
?     ?     ?
Soon, those of us for whom the 'place that has left its place' is cause for heartache will also vanish, and the old landscape will be totally erased from the collective memory of those who already have succeeed in transforming it almost beyond recognition. One need only read Israeli textbooks or see the albums with 'before and after' photos—the Land before 1948 and today—to realize how close we are to the point when the vanished Arab landscape will be considered just a piece of Arab propaganda, a fabrication aimed at the destruction of Israel through incitment of 'The Return.'
—Meron Benvenisti, Sacred Landscape: The Buried History of the Holy Land Since 1948 (trans. Maxine Kaufman-Lacusta, UC Press, 2000) 4.
?     ?     ?
The two books about the village of Bayt Mahsir are from refugees living in Jordan; one was written in calligraphic longhand and published in al-Baq'a refugee camp in 1988, the second was published in 2002. These books inform me that the villages have been largely destroyed, and replaced by two Israeli towns: Bayt Mahsir is now named Beit Meir and is a religious moshav (cooperative farm), and Suba has become Kibbutz Tzova.

I locate contemporary maps of the areas west of Jerusalem and discover that Kibbutz Tzova/Suba and Beit Meir/Bayt Mahsir are located in the Martyrs' Forest (Ya'ar HaKdoshim). Established by the Jewish National Fund (JNF) in 1951, the Martyrs' Forest commemorates the six million European Jews who died in the Holocaust. The JNF map of the Martyrs' Forest shows the commemorative locations, along with picnic areas, biking paths, archaeological sites, and the Israeli towns that have been built there. The geography is such that without knowledge of the Palestinian villages' existence in the past it would be impossible to know that they were once here.
—Rochelle A. Davis, Palestinian Village Histories: Geographies of the Displaced (Stanford University Press, 2011) 1-2.
?     ?     ?
Several village houses have been spared, and are for the most part interspersed among the houses of the settlement of Beyt Me'ir. Two large, rectangular-shaped, almost identical houses built of limestone rise above the Israeli settlement's cabin-like residences. The remains of a flourmill, a metal machine with flywheels fitted over a stone structure, can still be seen. There is a wild forest of old trees on the eastern edge of the village site, on top of the mountain. The tomb of al-'Ajami, together with other graves, are among the trees.
—Walid Khalidi, Bayt Mahsir