I'm terrifically excited for Kjerstin Gruys' literary debut, Mirror, Mirror Off the Wall: How I Learned to Love My Body After Not Looking at It for a Year—which, for the record, is fantastic (and which you have a chance to win; scroll down)—so when she did a shoutout for bloggers to follow in her footsteps and go a day without looking in the mirror, of course I wanted to participate. But as longtime readers of this blog may remember, I've already taken a month-long break from mirrors—twice—and honestly, I didn't think I'd get much more out of abstaining from my reflection for a day.
So instead, I took a different route: Instead of refusing my reflection, I'd take it in mindfully. Every time I looked in the mirror on the chosen day, I took note of my first reaction to what I saw, and snapped a photograph, the idea being I could later compare my reaction with the "reality" of the photograph. Stripped of the context of my mood, would I actually see any difference in how I looked? Obviously this is full of flaws as an actual experiment: Each time I approached the mirror, I knew I'd be recording whatever crossed my mind, which naturally colored my reaction. Plus, overlaying my mirror-face with my photo-face means that the static photographs aren't necessarily representative of what I initially witnessed (though to be sure, I still have my mirror face, despite my best efforts to rid myself of it). Still, it was an interesting exercise. The results: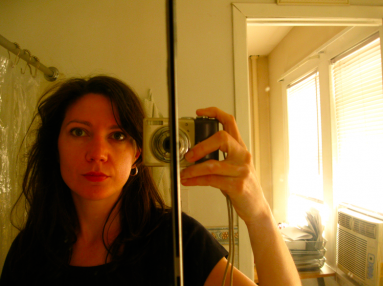 7:24 a.m., wake-up call: So fucking metal. (I don't normally sleep in my earrings but as my "so fucking metal" initial reaction implies, it was quite a night.)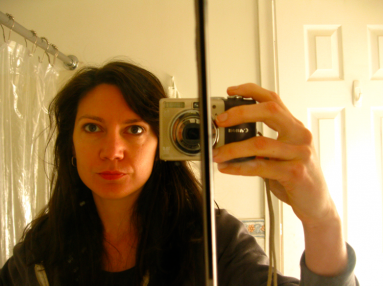 8:07 a.m.: When did I get dark circles between my eyes?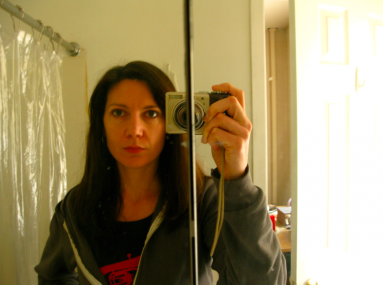 11:05 a.m.: Have my eyes gotten closer together? Is that even possible?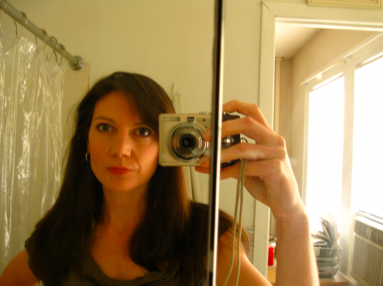 11:38 a.m., post-makeup: Much better.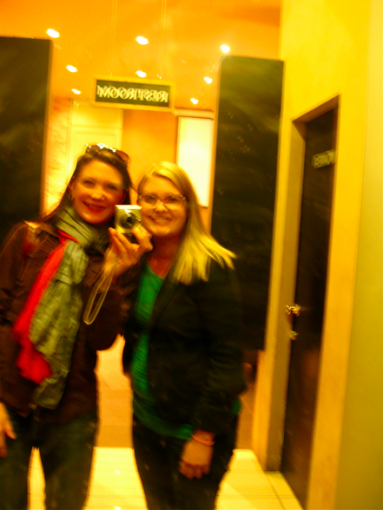 2:40 p.m., with Kjerstin: Happiness! (I actually didn't plan it this way, but my "mirror diary" day happened to be on the same day Kjerstin was in New York for her Good Morning America appearance. Obviously we couldn't resist taking a mirror photo of the two of us together, given our mutual abstinence. As Kjerstin pointed out later, isn't it sort of poetic that the photo is blurry?)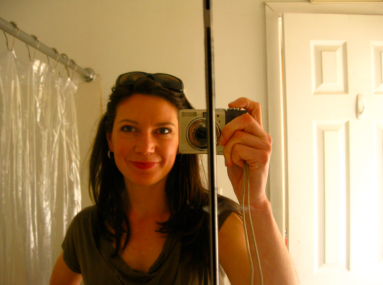 5:18 p.m.: Healthy. Why do sunglasses perched atop one's head make one look both brimming with good health and a tad glamorous?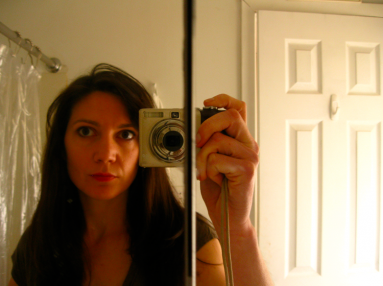 6:34 p.m.: I look hungry, but I'm actually not. Do I look this way when I really am hungry? Eyes look big.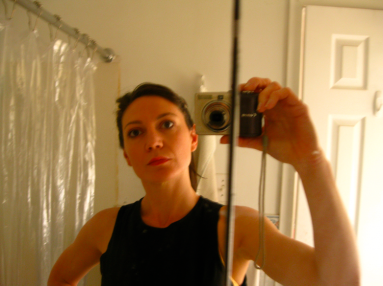 6:39 p.m., pre-workout: Maybe I just look pale, not hungry. Take your iron pills.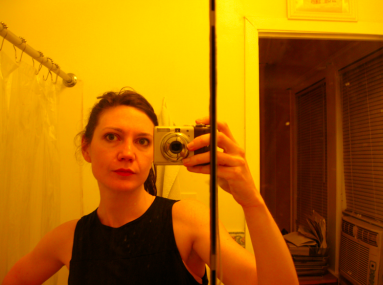 8:52 p.m., post-workout: Girlish! Not like girly like feminine, just girlish like young.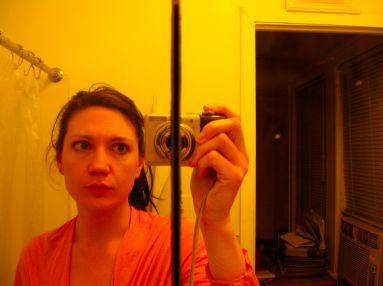 10:11 p.m.: Tired, look it. Face looks rounder than it did earlier today? Round but pleasant.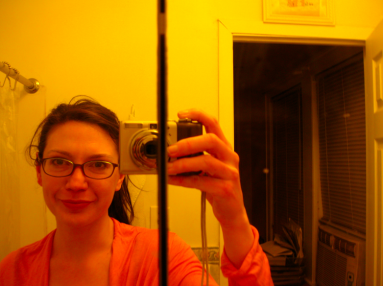 11:38 p.m., pre-bedtime: I look like a compassionate librarian.
A few thoughts:
1) There might be a daily cycle of how I feel about my looks. I'm surprised to see that there was an arc to how I felt on this day—beginning in a self-critical mode, then switching to more appreciative, neutral, or merely observant as the day went on. My suspicion had been that every time I looked in the mirror it was actually reflective of my mood—feel bad, "look" bad; feel good, "look" good, even though my face doesn't actually change all that much. But I was actually in a neutral-to-moderate mood all day long, including the morning, when I was particularly critical of my looks.
2) The things I notice now in these photographs aren't the things I noticed when I was taking the photograph. Again, part of this is just the nature of how being observed—even just by ourselves, or by a camera—changes us. But still: There seems to be zero connection between what I saw then and what I see now. I think I look worse in the nighttime photos than I do in the morning snapshots (and I look older than usual in my "girlish" photo), but my thoughts toward the end of the day weren't nearly as self-critical. I don't actually look any more pale in the pre-workout photo than I do in the others. (I maintain, however, that I indeed looked so fucking metal in the morning.)
3) My activities, more than my mood, influenced what I saw.
 I didn't smile in these photos because I don't usually smile at myself in the mirror, and obviously it would have been a little weird if I'd not been smiling in the joint photo of Kjerstin and me. But beyond the smile or lack thereof, it's clear that I'm joyful in Kjerstin's company—a feeling that lasted upon my return home, even though I was groggy and disconnected (I'd fallen asleep on the subway ride home).
4) I "appear," even to myself.
 About a third of my thoughts had something to do with putting on a persona, even though I didn't consciously approach the mirror with play-acting in mind. Metal chick, sunny glamourpuss, youthful girl, compassionate librarian (no idea where that came from, but I share it with you in the name of dutiful reporting): None of these are how I would identify myself, but I saw each of these types in the mirror at various points.
At the end of my first mirror fast, I wrote about how I found that I was more aware of my emotional labor
 in regards to other people because I hadn't had the "warm-up" of 
appearing
—if only to myself—in the mirror. I'd forgotten about that finding of the experiment until I saw how much play-acting I was unconsciously doing in the mirror with this experiment. What's interesting, though, is that I'm seeing that there's a whimsy to it that I hadn't previously seen. I wasn't 
trying
 to be any of the momentary personae that I spotted (okay maybe I like to play glamouspuss every so often); they just appeared. There was no comparison to some standard I'd dreamed up, because there was no standard in my mind. Instead I was just having a little moment of fun—which I hadn't recognized until I recorded my thoughts for this exercise.
5) The mirror is more tied to my eating patterns than I'd like to believe. 
I don't write about this much on here for a variety of reasons, but I have a history of disordered eating. (If you're interested, you can read my ladymag version of it 
here
.) And one of the reasons I don't write about it here is because 
I'm firm in my belief that we as a culture have overconnected eating disorders to a wish to be thinner or better-looking
—and that doing so masks the deeper, murkier reasons some of us develop eating disorders and some of us don't, even though we're all subject to the same cultural pressures surrounding thinness. So when it first became apparent to me during my mirror fast that 
there was a connection between the mirror and my eating
, I was reluctant to admit any connection between the mirror and my eating history. But just as eating disorders don't neatly fit inside the frame of beauty, neither do they neatly exist outside of it.
So when I looked in the mirror and thought, I look hungry, even though I wasn't hungry, I knew it signaled something. What, I'm not quite sure. But here is what I notice now: That photo is rather flattering. It was a time of evening when the light becomes honeyed and soft; my hair was loose, the way I prefer it; the slight below-the-eyes puff that springtime allergies give me had receded, making my eyes look larger than they had. And yes, what I see in the photo now may not be what I saw then (see item #2). But I have to wonder how much I still connect looking pretty with being hungry. And if I happen to not be hungry, as was the case when I took the photo? I can still look hungry. Which means, in the mind of a disordered eater, I just might look thin.
Consciously, I know better. I know that hunger does not equal thinness, and that thinness does not equal prettiness, and that therefore hunger cannot equal prettiness, and that absent other physical signs there's really no such thing as "looking hungry." And perhaps I'm overanalyzing this, or misanalyzing it—maybe I was conscious of not wanting to be hungry since I was about to hit the gym and wanted to make sure I was fueled up, or maybe part of my brain had been planning dinner and the messages just got jumbled up in that moment, or maybe it was just as random as the "compassionate librarian" thought that entered my mind at bedtime. (Which, really, random.) But once a part of your brain connects disordered eating to beauty—which mine definitely did, for some time—I'm not sure the two can ever be wholly unharnessed. Unearthed, examined, monitored—yes, of course. Yet for me, in some small way, as much as I consciously reject it, the two remain in tandem.
*     *     *
But! The purpose here is to examine how mirrors affect the way we walk through the world, and I'm looking forward to seeing how other bloggers participating in Kjerstin's challenge handle it. (Get a head start with Meli Pennington, whose 
musings at Wild Beauty World on her weeklong mirror abstinence
 are consistently intriguing.)
 If you're interested in the least in exploring our connection with mirrors, Mirror, Mirror Off the Wall is a must-read, and lucky you, I'll be giving away a copy.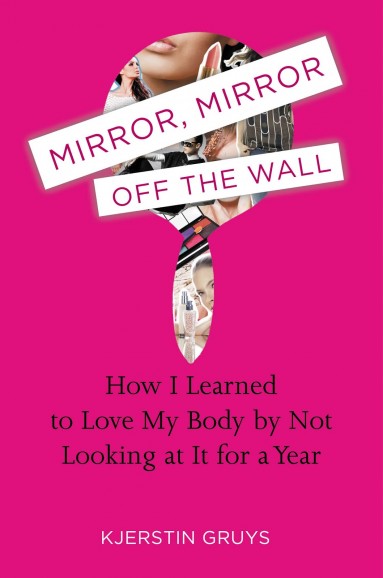 To enter, leave a comment (karma points if you share your thoughts on mirror abstinence—or mirror diaries, but not necessary to enter/win) on this post by 11:59 p.m. EST Sunday, May 12. I'll select a winner via a random number generator (comments assigned number in chronological order, beginning with comments at the-beheld.com, followed by comments left at The New Inquiry). Enjoy!