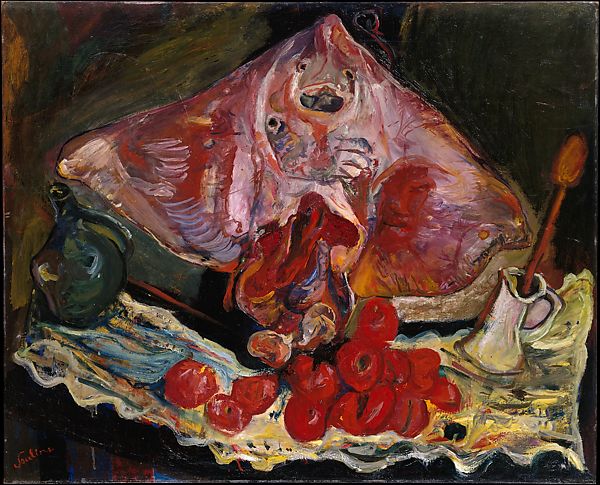 Chaïm Soutine, Still Life with Rayfish. c. 1924. The Met.
Back from traveling—several days of not fasting—to menstruation. Not fasting today either. It feels a bit strange to sit in a café in the middle of the day. The soft sound of spring rain permeates the raucous batucada percussion of the Brazilian music playing indoors.  
Eating midday for almost a week during the fasting month felt like a break I didn't entirely want or deserve. But we had planned this vacation a long time ago, C. and I.
♦
It feels hyperbolic to say but this month may have changed how I look at meals forever. On the plane yesterday, we were offered Ritz Bits Cheese Crackers. Since the crackers contained milk, I offered them to my seatmate. "Vegan," I smiled. She took them and smiled back.
The flight attendant didn't have vegan snacks, but I felt silly for asking. "Don't worry about it," I insisted. Nobody needs snacks, I reassured myself. It doesn't even sound like a real word, and certainly not an etymological curiosity like maverick. Snacks are simply a part of the automated set of conditioned behaviors to which we adjust! I garnered a small triumphant warmth in the constraint.

Then the flight attendant returned with pretzel bags stuffed in her apron. She handed me two packets. I took them both.
♦
The rain has turned into an outright storm now. From inside the café I can see people jumping over flooded sewage drains and clutching broken umbrellas. Soaring alarms from two ambulances trumpet away.
I've been actively reconnecting with friends since moving to New York, and one particular name pops into mind without warning. I write her a quick, enthusiastic email.
♦
The email bounces back. Hmm. I'm surprised because Gmail addresses rarely do. I decide to see if I can reach her some other way, like through a social media account. Though nearly all of mine are disabled or deactivated, I want to find her. I search Google.
That's when my eyes affix to an obituary.
♦
From: Linda Rodriguez
Subject: Wishing you many paintings and poems in 2013!
Date: December 31, 2012 at 09:18
◊ Found in Saved Mailbox

Con cariño, Linda

"Chaïm Soutine (1893-1943) admired the canvas and painted his own version ("Nature morte à la raie") after making pilgrimages to see it, too. I wish I could write poems that conveyed the same intense realism as this painting, in which Chardin proves that a still-life is not an inferior genre. He was breaking a mold. The work is meticulously observed, in the manner of Flemish painting, and unafraid of disgust. I like that food—an ugly sea creature—is its subject.

No subject should be too low for a painting or a poem."
Jean Baptiste Sim
é
on Chardin,
Still-Life with Cat and Rayfish
. 1728. Museo Nacional Thyssen-Bornemisza, Madrid.
This was the last email I ever received from Linda Rodriguez. The image of the Chardin painting sits at the center-right of the email.
Linda and I shared an office together at a Latin America research center. We were both doctoral students, writing (or fretting about writing) in close proximity for an entire year. Even though we graduated from different fields, we made plans to walk at graduation together. She is in every single one of my graduation photos, nudging me to take my shades off or pressing even more people into the photo.
She isn't here anymore. And I can't believe she isn't here anymore.