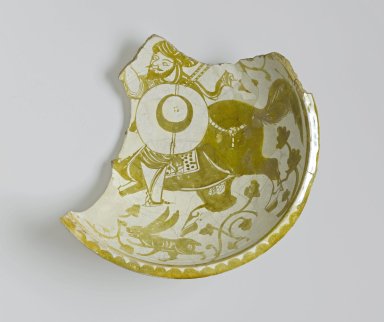 Undetermined artist. Fragment of a Bowl Depicting a Mounted Warrior, 11th century. Found in Fustat, Egypt, Fatimid Period. Brooklyn Museum.
The third day of this piercing caffeine withdrawal. I'm not embarrassed by the smallness of this problem, the symptoms are too large to ignore, a dull ache penetrating my muscles with a threatening I'm not done with you yet. Maybe going cold-turkey wasn't ideal. I'll smuggle a sip of coffee in later, but know myself enough to know that only a clean break will give me satisfaction.
Daunte Wright was killed yesterday. He was assassinated at close range by a police chief. Her name is often followed by a hail of laudable adjectives, "veteran officer," etc., and scrambles to justify Wright's killing, "she didn't mean to reach for her gun," etc.
Chauvin had 18 complaints on his official record, two of which ended in discipline, including official letters of reprimand. On September 4, 2017, Chauvin was among officers responding to a complaint by the mother of two young children. Videos from the scene were said to show Chauvin hitting a 14-year-old black boy in the head with a flashlight so hard he required stitches, then holding him down with his knee for nearly 17 minutes, ignoring the boy's complaints that he couldn't breathe.
One week from today Chauvin will become the first white Minnesota police officer to be convicted of murdering a Black person. But that will only transpire after 42 days of a national gas-lighting project in which George Floyd's character is on trial. That we didn't see what we saw. That our eyes were lying to us. That it was a drug, a fake dollar bill, a heart problem. Anything to deflect from a live lynching on video. Sometimes I wonder whether the defense lawyers ever deflate spiritually for trying a murdered man for his own murder, but that's beside the point. By all means let's keep talking about "good" versus "bad" cops.
What if Ma'Khia Bryant were a 16-year-old white girl?
How the killing of Ma'Khia Bryant was influenced by race, perceptions of dangerousnes and policing itself. "Black girls, specifically, are viewed as less innocent and more adult-like than white girls, which leads to harsher penalties and greater uses of force."
On this same day, 30 minutes before the Chauvin guilty verdict is delivered, Ma'Khia Bryant (a child) is assassinated in Columbus, Ohio,
Paula Bryant, Ma'Khia's mother: "Words can't explain how I feel right now that I have to bury my beautiful daughter."
Angela Moore, Ma'Khia's foster mother: "I never in my worst nightmare would have thought it would ever come to this."
Into the night I work for a few disjointed hours.
Consumed: 1/4 of a baguette; vegan butter; wild berry jam; a tiny cup of Turkish coffee; a bowl of khichdi topped with fried onions and sriracha; Shirazi salad with a spoonful of tahini dressing; hot rose tea; one dark chocolate square.