"African fiction" contemporary -NYC
***
What Tope Folarin has been missing from "much of the African fiction [he's] been reading of late" is:
"This restlessness, this stopping and starting and landing on something new, then moving past the new to something almost incomprehensible but not quite, this initial inaccessibility that coalesces into something almost transcendent."
It's a lovely sentence. I'm not completely sure what it means, and that might be why he uses the work of an installation artist as a figure for what he wants from African fiction. The barrier to be cleared—between one media and another, between things known and strange—is the point of the metaphor, and in an essay "against accessibility," he wants an "initial inaccessibility" in the work itself. He wants fiction that breaks through, and goes somewhere new. In his judgement, today, "much" of it doesn't.
Instead, he argues that when a black writer or artist "breaks through" and becomes acceptable to the mostly white literary marketplace—as Chinua Achebe and Chimamanda Ngozi Adichie did—the effect of their achievement will be to standardize a form of blackness that subsequent black writers and artists must imitate if their work is to be legible (again, to the mostly white literary marketplace). As he uses the term, then, "accessibility" becomes the measure of a black artist's familiarity, of the extent to which a new work matches the old works (or old work, singular) which have become recognizable. "Western society has, for the most part, proven itself incapable of recognizing multiple forms of black greatness," he argues; instead there is a rule of one:
"We get Sidney Poitier and everyone else. Lorraine Hansberry and everyone else. Langston Hughes and everyone else. August Wilson and everyone else. Jean-Michel Basquiat and everyone else. Spike Lee and everyone else. And, with respect to African novelists, we get Chinua Achebe and everyone else."
And it's hard to deny that banal racism produces a double-bind for "minority" artists. When white readers lack the tools and experience (or interest and patience) to read non-white writers well—and they do tend to lack these things—successful black artists find themselves tasked with being both exceptional and exemplary, at the same time. As the black exception to the white rule, they are also the example that all other black artists must emulate: they must be different from the majority, therefore, but different in the same way. Thus, once Achebe established what it meant to be an African novelist, all other African novelists had to follow his example, or go unread; when Adichie more recently established what it meant to be an African novelist now, in 2003 and after, all new African novelists had to follow her example (or go unread).
Tope Folarin: "It is important at this juncture that I describe what I mean by "accessible." I don't mean easy, or non-threatening, or artistically bereft. Another word I could use, perhaps, is expected. But this word doesn't quite capture the relationship of the minority artist in the West — the black artist, the African artist — to a society that only grudgingly accepts her and the art she produces. It can be said that black artists who live in the United States or produce art that is consumed in the United States are "expected" to create certain kinds of art, but the reason these expectations exist is because some black artist has produced a pioneering work that, for any number of reasons, garners significant attention and is thus perceived by a predominantly white Western audience as the height of black achievement, the precise standard that every other black artist in the same field must strive to achieve in order for their work to be accessible to an audience that otherwise knows next to nothing about the community the black artist has emerged from.
In another context, I might write a less eloquent version of exactly the same point Folarin is making. And thinking about "accessibility" as a relationship to an evolving marketplace—rather than as a formal description of the work-in-itself—is a subtle conceptual move that I plan to steal. So, as a description of structural tendencies in the American marketplace for Anglophone African fiction, I want to say from the start that he's absolutely right: Big publishers are risk-averse and because publishing is
always
about speculation from precedent and potential, then past successes will be enormously important and influential. Since Achebe and Adichie have been rare exceptions to the otherwise depressingly reliable rule that Americans don't read African writers, they are naturally the examples that non-African publishers will use when trying to sell African books to non-African markets. In this way, Folarin is describing a real and depressing pattern, one that applies just as well to writers and artists that are put in other "minority" categories. Once upon a time, after all, Gabriel Garcia Marquez was the one Latin American writer, who defined what that meant for the American market (magical realism); at some point, Roberto Bolaño become the new Latin American writer, such that, to be "accessible," Latin American writers had to be "the new Bolaño."
And yet… Folarin's point is so sharp that it becomes narrow, and there's a begged question that holds together everything that follows: What African fiction has he "been reading of late"? Who has he been reading and finding wanting? Other than Achebe, Adichie, and Imbolo Mbue—the ostensible subject of the review—Folarin mentions Dinaw Mengestu, NoViolet Bulawayo, and Teju Cole as among the "number of other terrifically talented African writers" that have "signed lucrative book deals over the past five years or so." But while he is probably right that they "would not have received as much money as they did if Adichie did not prove that African fiction is a viable commercial venture," I'm not sure if they are meant to stand as exemplifying the Adichification of African fiction that he is complaining about, or if they are exceptions to the rule of the exceptional. This is the essay's limitation: it is a polemic against a genre of writing—a hegemony of single stories of Africa—in which it is hard to tell who exactly he is polemicizing about.
For one thing, Mengestu, Bulawayo, and Cole are not watered-down Adichie imitations. And yet, they did they get "lucrative book deals." How? Can his strong claim survive—that the only form of writing available to African writers are the "two dominant strands of accessible contemporary African fiction"
"One is a drama that takes place somewhere in Africa, often involving conflict of the household or national variety. The other is a tale about immigrants journeying to the United States."
identified with Adichie—if these three writers somehow managed to step outside of it?
And
still get paid?
But the chronology complicates things. Mengestu's first novel about African immigrants in the US was published in 2007, Cole's Open City was published in 2011, and although Adichie had written a few short stories about African immigrants, Americanah was published the same year as Bulawayo's We Need New Names, 2013 (a year after Mengestu's Macarthur "Genius" grant). 2013 was a banner year for African immigrant narratives: along with Americanah, it was the year that Taiye Selasi's Ghana Must Go, Chinelo Okparanta's Happiness, Like Water, and Sefi Atta's A Bit of Difference were all published, not to mention that it was that the year that a talented American-born newcomer named Tope Folarin won the Caine Prize for African Writing (for a lovely short story about a Nigerian Pentecostal service in Texas). Then, in 2014, we saw the publication of Dinaw Mengestu's All Our Names, Chris Abani's The Secret History Of Las Vegas, and Okey Ndibe's Foreign Gods, Inc, all concerning African immigrants in the USA.
My argument would be that Adichie didn't create or establish this minor trend towards the "African immigration narrative" in American publishing, nor has it ever been all about her. If anything, she was a latecomer to it, who consolidated or surpassed what other writers had already done or were doing, and stands so tall because she's on the shoulders of an entire cohort. So if Imbolo Mbue's Behold the Dreamers reminds us of Americanah, if Americanah is the only novel of these that we've read, that comparison falls apart if we've read them all. Some lines I would draw: A huge part of Americanah is set in Nigeria, for example, while Behold the Dreamers is completely set in the US. Like Sefi Atta's A Bit of Difference, Americanah is about Nigerians abroad, but not only in America; the UK sections of both novels are just as important as the US portions, and Nigeria is always the focal point. By contrast, Mbue's novel expresses class as the underside of the American dream; it's an American novel, in ways that Americanah really isn't. For me, Mbue's emphasis on the fictionality of the immigrant experience—the way an identity must be crafted to meet a hostile, nativist world—stands next to Dinaw Mengestu's first two novels (and Bulawayo's). Plus, Americanah is fundamentally a protagonist-centric romance novel, not a family story; in that respect, Behold the Dreamer much more resembles Taiye Selasi's Ghana Must Go.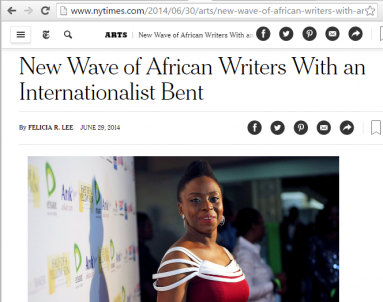 I could go on. Adichie is one of many in the constellation of "African immigrant" writing that has emerged in the last few years--to significant backlash--but something crucial is lost if we frame Imbolo Mbue as Adichie-redux. If her success might make Mbue's novel more "accessible," what I would argue has changed since 2003 is that there is now a surprising abundance of African writers in American publishing, and an interesting openness to African immigrant narratives. In 2003, when Adichie (and fellow Nigerians Chris Abani, Sefi Atta, Helon Habila, and Chika Unigwe) were collectively hailed as the newest new generation of African writers, there simply was no "African immigrant in America" genre; now there clearly is. But if we only see imitation in that generic formation, I think we're missing the conversation it's driving, the dialogue about what it means to be African in American that these books are conducting, precisely, by their points of contact and connection. The glass is half full of the questions they have in common, but it's half empty with the answers they don't.
***
The problem with generalizing about institutionalized structure, I think, is that especially when structural generalizations are well-founded, they rarely do justice to individual cases. Folarin spotlights a general tendency of a risk-averse and market-oriented complex of publishers, agents, and writing programs to reinforce and reproduce singular narratives of The African Experience in America, to seize on simple "single stories" and to look for more of the same. But this perspective pulls his analysis away from the novels themselves, and serves as a better excuse for not reading them than an analysis of what they are actually doing. To be blunt, he wrote a much more subtle and careful analysis of American publishing than he did of Imbolo Mbue's novel.
But there's another problem. The fact that "the vast majority of staffers at the major American publishing houses are white and female," and that this group "is responsible for selecting, editing, and publishing a great deal of the African and immigrant fiction that will find its way to readers," certainly does raise questions. But the answers are more complicated than he allows. It's worth noting, for example, that of the ten African writers I've named in this essay, five are women and five are men: if US publishing is numerically dominated by women—and Folarin links to the study showing that it is—then the result has been something more like basic gender parity, not the dominance by women that he, at several points, seems to suggest. (And given the historical masculinity of African literature, this is definitely not a bad thing; indeed, since women simply read more books than men, it's not even surprising.) But there's still a begged question lost in this raising of questions: if the Big Five publishers are market-driven profit-oriented capitalist enterprises—and their customers are American consumers—and if nothing would be more predictable than that the books they publish will confirm rather than challenge our "single stories" about Africa, well, there is still a burden of proof here. Do they?
I'm not convinced. For one thing, more Americans are buying books by African writers than ever have. Achebe was commonly assigned in a variety of university classes—and when Ben Okri won the Booker Prize for The Famished Road, a lot of people read that—but beyond those exceptional figures, African literature has always been incredibly marginal in the US. What is different, now, is that Adichie is not marginal in the American literary scene—and ways that Achebe always still was—and her status as bestseller has opened a door for other writers (or represents the opening that others are crossing through). We can certainly criticize the American publishing industry for its whiteness, and for what that whiteness produces. And yet the profit-motive also works against that subtle and banal racism. The Big Five publishers decided that "Chimamanda Ngozi Adichie" is the shape of things to come in African fiction, basically, because a lot of people have bought and read and liked Chimamanda Ngozi Adichie's books. Her popularity is not an effect of the whiteness of publishing executives; it is a brute fact, one that—as a bookseller—I experience regularly: people buy more of her books because they like her books. But while well-capitalized publishers are risk-averse because they are capitalists—investing in books that they think will sell, and looking for "the next Adichie" because she has sold a lot of books—this risk-aversion is also, simply, reactive: whatever their personal inclinations, sometimes, they just follow the readers.
At the same time, if publishers have their ears to the ground, they are not simply market-driven profit-oriented capitalist enterprises, even the very biggest ones. Being mindful of the bottom line is not the same as being driven and defined by it, and this is another brute fact that—as a bookseller—I experience regularly: to clear space for the books that lack compulsive economic viability—to make it possible to sell the literary fiction, the translations, the political poetry, and anything from any "minority" tradition—you need to sell a lot of everything else to stay in business, especially the popular, commercial, and "accessible" stuff. At the same time, if everyone looks for and needs bestsellers, no one really knows what will sell, and everyone knows they don't know: good speculation is smart diversification, and it's better to take chances on a lot of different things than only to bet on the sure thing. So you take chances, and you have to, and partly this is the entire point of the business: everyone wants to publish the books they personally love—especially anyone who has devoted their life to the business of books, which is no one who is out to make money—and to do that, you have to try to sell a lot of all of the other kinds of books.
But let's go deeper. What does it mean to say that publishing is a "market-driven profit-oriented capitalist enterprise"? In the USA, the "Big Five" publishers are Penguin Random House, Macmillan, Hachette, Harpercollins, and Simon and Schuster's, New York-based divisions of enormous capitalist corporations, mostly located in Europe, which quietly own and oversee a variety of publishing imprints (which can make the publishing landscape seem a little less consolidated than it is).
Hachette is a division of a French publishing company, Harpercollins is a subsidiary of Rupert Murdoch's News Corp, Macmillan is an imprint of the German company Verlagsgruppe Georg von Holtzbrinck, Penguin Random House is jointly owned by Bertelsmann (Germany) and Pearson PLC (UK), and Simon and Schuster's is owned by CBS. Names can be deceiving: Little, Brown and Company is a division of Hachette, Ecco Books is a division of HarperCollins, Farrar, Strauss, and Giroux is a part of MacMillan, Knopf is a part of Penguin Random House, and so on.
Since they are all profit-seeking companies and since their decision-making is accountable to the single-minded capital that owns them, a different version of Folarin's polemic could be directed, for example, at Penguin Random House who published Imbolo Mbue's
Behold the Dreamers,
Adichie's
Americanah
, Dinaw Mengestu's novels, Teju Cole's
Open City,
Taiye Selasi's
Ghana Must Go,
and Chris Abani's
The Secret History Of Las Vegas
. Of the rest, Bulawayo's
We Need New Names
was published by a Hachette imprint and Chinelo Okparanta was published by Houghton Mifflin Harcourt (not-quite-Big-Five, but still biggish). And to top it off, many of these writers also share the same agency: if they have the same representation, that might be related to the ways they
are
represented to the market.
If contemporary African fiction is trapped in an Adichie-shaped model, then this tight complex of NYC-based publishers would be one explanation for why that is. But again: I'm not sure it is. For one thing, I'm glad these books got published, I'm glad their authors got advances, and I think Adichie's success makes it easier, not harder, for other African writers to get published in the US (and I want them to be). I think these novels are all more different from each other (and from their own marketing) than a polemic can give them credit for, and I think that arguing about which novels the publishing industry favors is a huge improvement over the conventional wisdom that preceded it: that Americans wouldn't buy African literature at all. Achebe wrote four of his five novels in the 1960's and Adichie wrote her first in 2003; in the period in between, the American market was mostly ignoring African literature altogether. It's good to see that changing.
One sign of that change was Penguin Random House's publication of Yvonne Adhiambo Owuor's Dust, a novel that resembles Adichie's books in no particular way. It's the most unapologetically Kenyan novel I've ever read, and yet there it was, being sold and marketed in the United States like that was something an American reader would want.
But I think the most important place where I'd dissent with Folarin's polemic—where he's saying half-empty and I'd say half-full—is his focus on big NYC publishing. There is a publishing world outside of the big five: Sefi Atta's A Bit of Difference and Okey Ndibe's Foreign Gods, Inc., for instance, were published by "independent" presses (Interlink and Soho), which is why they're the two novels I've mentioned that you're most likely never to have heard of or read. But especially as we back away from the big advances and the hype that accompanied the publication of Behold the Dreamers, taking in the broader range of independent publishers—especially publishers that are actual non-profits—we start to get us a very different picture of what "African fiction" looks like, today, in the United States. To go back to the issue of "the African fiction I've been reading of late," there is a world outside of the books published by Penguin Random House.
If I were to tell the story of African literature in the 21st century, these books that were published first in New York—that were acquired by big publishers like Penguin Random House, through the same system of agents and acquisitions editors as the rest of their catalog—would be an important part of the story, but only part of it. Anglophone African fiction published first in the US is not the same thing as African literature. It isn't even the same as the American market's share of African literature. For my money, the most interesting and innovative fiction that we Americans get from Africa comes from small presses—both "independent" and non-profits—who tend to re-publish work that was already published, first, in Africa itself.
For example, A. Igoni Barrett's Blackass was published this year by Graywolf in Minneapolis, a 510c(3) non-profit; Cincinnati-based Two Dollar Radio published Masande Ntshanga's The Reactive, and Transit Books (here in Oakland!) will publish Jennifer Nansubuga Makumbi's Kintu next year. All three were published on the continent first: they were edited, first, by African editors, and published, first, by African publishers: Farafina Books in Nigeria, Random House Struik in South Africa, and Kwani Trust, in Kenya. And as far as I'm concerned, this is where the action for American publishers of African fiction: small presses that take their cues, first, from the continent.
If we de-center big NYC publishing, a different geography for contemporary African fiction begins to emerge. In Los Angeles, Phoneme Media's 2016 catalog includes Roland Rugero's Baho! and Richard Ali A. Mutu's Mr. Fix-It, the first Burundian novel translated into English and the first novel in Lingala translated into English, respectively (both already published). Unnamed Press (also LA) will put out Henrietta Rose-Innes' Nineveh in November, a book that was first published by Umuzi (Random House Struik), in South Africa, in 2011. In Dallas, Deep Vellum has given us Fiston Mwanza Mujila's Tram 83, Fouad Laroui's The Curious Case of Dassoukine's Trousers, and Ananda Devi's Eve Out of Her Ruins, all of which were translated from the French originals published in Paris. And though Archipelago Books is technically a NYC publisher—well, Brooklyn—I'll forgive them that since they've published translations of Jose Eduardo Agualusa's A General Theory of Oblivion and Paulina Chiziane's The First Wife from the Portuguese, within the last year, and also Scholastique Mukasonga's Cockroaches from French.
There are also the University Presses holding it down: within the last year, Indiana University Press's Global African Voices series just brought us Boubacar Boris Diop's Kaveena and Wilfried N'Sondé's The Heart of the Leopard Children, while Ohio University Press's Modern African Writing series did Imraan Coovadia's Tales of the Metric System and Tendai Huchu's The Maestro, the Magistrate & the Mathematician. Oh, and Syracuse University Press's publication of Muhammad Zafzaf's The Elusive Fox.
All of the books I've just mentioned, in the preceding three paragraphs, were published in the last year, or are on the horizon, and not one of them looks anything like what Tope Folarin's generalizations would lead us to expect them all to be. Which is not to say that he's wrong, ultimately, just that the space in which he's right is more limited than it can seem when a half-dozen writers stand in for a continent's literature. Generalizations get very tricky, very fast: all of these books are "African Fiction" in a clear and direct way, and yet that category doesn't really denote anything generically similar about these wildly different books that come from wildly different places. Which is simply to say, not only is Penguin Random House's catalog of African writers not the same as "African Literature"—and not even close!—but any sense of insularity one might find in the scene is a function much more of that location than of the broader category. Because "African fiction" is bursting at the seams, even the (relatively small) part of it that's getting (re) published in the US; the NYC-centric, "Big 5" version of Anglophone American African Fiction—which I've even argued is actually more vibrant than it sometimes gets credit for—is a category within a category within a category.