With a tagline like "Not your average beauty blog," it's hardly a surprise that I'm a fan of re: thinking beauty. Yassira L. Diggs's experience as both a makeup artist and writer ensures her work has a candid, sharp, informed insight; in particular, her breadth of work on natural hair has heightened my understanding of the issue. After reading a piece in which she mentioned her thoughts on the word nappy, I asked her if she'd be willing to elaborate on her ideas surrounding this ever-potent word--and much to my delight, she agreed. Besides maintaining re: thinking beauty, Yassira also writes about thrifting at The Thrifted, and you can learn more about her skills as a makeup artist at carbonmade.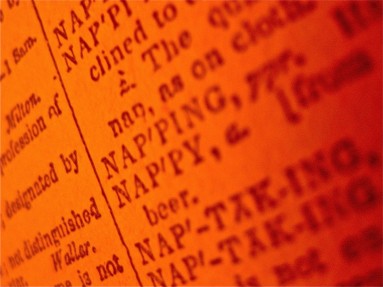 Nappy is, at the very least, to be handled with caution. It may mean diaper in some parts of the world, but that's not the case at all, in these our United States of America. Here, nappy is combustible. Not everyone can say it and come away unscathed. Say it to, or even just near, the wrong person and it might just blow up in your face. In 2007, shock jock Don Imus found that out, and reminded us all about it, when he called the Rutgers University women's basketball team "some nappy-headed hoes." The firestorm that ensued left him jobless in its wake. At the time, Lanita Jacobs-Huey, an associate professor of anthropology and American studies and ethnicity at the University of Southern California, expressed a view common among many African-Americans when she said, "When I hear it from someone who doesn't understand the depth of pain, they just don't have the right to say it." See, nappy is a huge snag in the idea that we live in a post-racial society, because in large parts of the African-American community, nappy is a deep, deep wound rooted in slavery and Jim Crow.
To understand the sensitivity that nappy requires, one must understand how the word went from its original meaning to this explosive place. Nappy came from nap, a noun that refers to a fuzzy raised surface on fabric. In the beginning, nappy was a texture, and that was the whole truth. During slavery in the United States, however, nappy became a tool in dismantling self-esteem in the slave population. In a world where the feminine beauty ideal revolved around long straight hair, fine features, and fair skin, slave owners, supported by so-called "scientific" claims, pathologized African people's dark skin, broad facial features, kinky hair textures—basically, everything about them. In order to oppress people you must believe that they are inferior, somehow less human than you, and you must convince them that their (supposed) inferiority is the truth. The message—that their woolly, nappy hair was proof that they were sub-human—was naturally and tragically internalized by black people during slavery. To understand the button that nappy pushes among many African-Americans today, one must consider the overwhelming force of cultural power, and how unconsciously it is passed down through generations.
Nappy's trauma still lingers, even now in the midst of what seems like a natural hair renaissance in the African-American community. I still hear fellow African-Americans throw around the term "good hair" to reference, compliment, and/or envy straight or loosely curled hair, as in not nappy. I have an aunt who, during one of those family moments when my choice to wear my hair in long dreadlocks was being questioned, heartily defended me with "Leave her alone, one day she'll decide to fix her hair!"
Nappy is easily misconstrued. People who don't understand nappy often think it's another word for unkempt. Hence, nappy has been accused of having an unprofessional appearance, and deemed inappropriate for many a workplace.
In 1998, all hell broke loose when a New York City parent found copies of pages from the book Nappy Hair by Carolivia Herron in her third-grader's folder. Alarmed by what she saw, and without reading the whole book, she made copies of the pages and passed them out to her community, with a note about the white teacher who was supposedly teaching their black and Hispanic kids racist stereotypes. Parents who didn't even have children in Ruth Sherman's class protested and demanded she be fired. At a public meeting they shouted over her, threatened her, and cursed her, rather than let her speak. She had to be escorted out by security. When the dust settled, Sherman, who had been ousted, was offered her position back. The shouting died down. The book had always been a celebration of nappy hair. Nappy is that loaded.
My relationship with nappy is complicated in its own way. While I didn't grow up hearing or using the word, I can't say I didn't know it. It was just not used to demean me. I did, however, grow up around relaxers. I came into the world surrounded by black women who straightened their hair. I idolized my mother and aunts as a child, and joined them in the practice as soon as I could. By the time I was 12, I could do my own touch-ups. Every 6-8 weeks, from childhood to my early twenties, my roots got "relaxed." Maybe that's why I busted out laughing when my aunt threw her arm around me and planted a kiss on my cheek after her passionate defense of my dreadlocks: I remember what it was like, before I got curious about my own hair texture and stopped using relaxers, when fixed and relaxed meant the same thing to me. So I know how deeply she meant no harm with her words.
I suppose my semi-neutral background with nappy is why my views on the word continue to be semi-moderate (I think). I am not offended by nappy per se. At the same time, I can't unknow what a hot potato it is in our society, so it would give me pause if someone addressed me with nappy, in reference to my hair. My reaction would ultimately depend on who was addressing me and my perception of their intent in using the word, because with nappy, context is everything. I can't foresee it happening, though. I mean after all, nappy is the elephant in our societal room, and we, the ones who circle it, go under it, and make our way around it every day, are well versed at leaving it out of the conversation. It's so much easier to get through the day that way. We are far from being at a point with nappy where it can slide by whimsically in a sentence, unnoticed.
Most of the time, we tip-toe around nappy, leaving it out of conversations, especially in racially mixed circles. There are those who want to see the word gone from the dictionary. To some people, nappy is the other n-word, the utterance of which is at least cause to feel offended, or even bad about themselves. Others, like natural hair crusader Linda Jones, founder of A Nappy Hair Affair, celebrate nappy. Fighting word or reason to smile, nappy has a long ways to go to find peace among us. It can, however, be an opportunity to communicate, and to learn about each other, and ourselves. That's my favorite way to think of nappy these days.