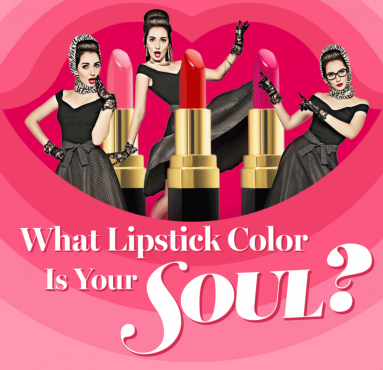 The thing is, she's right. Beauty companies come up with these intensely long names for their products; you've got to get the brand name in there, then the name of the line, then the name of the shade. Even a pretty reasonably named product winds up being something like—and I'm just grabbing the nearest magazines here—Clarins Colour Quench Lip Balm in Strawberry Shimmer, or Laura Geller New York Eye Rimz Baked Wet/Dry Eye Accents in Enchanted Forest, or...Lancôme Blush Subtil Shimmer Shimmer Mocha Havana. Even without trying to be ridiculous, they become exactly that.
I'm tempted to immediately finger the absurdity as being gendered, but before we get to that, allow me to point out that men and women alike succumb to the allure of evocative color names. According to this study, shades like "Mocha Almond Fudge" and "Meadow" were rated as more appealing than plain old "brown" and "green" by both men and women. The colors were exactly the same, but Meadow just sounds...greener, somehow. With makeup, though, it's a gendered product, so of course the marketing around it is going to be gendered. It's not hard to come up with a feminist analysis of shade names: We're given permission to liberally use products whose namesakes we're supposed to use with restriction. Food, of course (cherries, plums, chocolate, coffee), but also sex (Nars Orgasm), alcohol (Urban Decay's Bourbon and Whiskey), adventure (Smashbox's Nude Beach), and even freedom itself (Tarte's Young, Wild & Free). That's not even getting into shade names that spring from cultural co-opting (MAC's Dervish, Illamasqua's Berber).
All that said: I love them. At their most elegant they're fantastically seductive; at their silliest they highlight the playful aspect of beauty products that makes them a source of connection. I'm also a sucker for any two-minute quiz that purports to tell you something about who you really are—what designer are you? what Game of Thrones character are you? dog breed? (Diane von Furstenberg, Khal Drogo, and shar pei, for the record.) So when my friend Mary Potts (who has worked on ad campaigns for beauty brands and other assorted ladystuff) came up with the idea of a site that would tell people what lipstick their soul was wearing, I called her a genius and spent the day cackling in her living room while we dreamed up ludicrous lipstick names and watching her computer-programmer husband develop the tool. We wanted them to be outlandish, nearing the point of grotesquerie—but the thing is, there are actual beauty products out there that aren't far removed from these, you know? Urban Decay gives us shades like LSD, Roach, Mainline, and Uzi; Essie gives us Nama-Stay the Night; Obsessive Compulsive Cosmetics lets us choose from Strumpet, Stalker, or Grandma. And while the thought of a company mocking the Supreme Court desegregation ruling of Brown vs. Board of Education by coming out with Greige vs. Board of Education is monstrous, it wasn't that long ago that Rodartenamed a makeup collection after Ciudad Juárez, notorious for its hundreds of women who have been violently murdered, with little to no police attention.
The lipstick tool is fun, and you can certainly use it without going deep, but since it is essentially a book promotion device for a book that's fun but that aims to get women talking about the role beauty plays in their lives, I also wanted it to raise questions about what it actually means when the beauty industry gets fanciful. What are these companies trying to evoke in you? Is it an acknowledgment of the complexity of women's lives—that some women enjoy LSD, or smoke roaches (or just live with roaches), or mainline other drugs, or use Uzis? Is it an assumption that its buyers don't do those things but romanticize them, letting the brand seem edgy at the expense of people who really are mainlining heroin and living with roaches? Was Lancôme telling us to wear mocha blush because we're not supposed to be eating chocolate, or is it a way of saying we have every right to have as much mocha as you like, or is it just another way of saying brown? Should we be feeling a naughty little pleasure at buying Nars Orgasm when sexist, heteronormative assumptions about orgasms still run rampant?
Check it out, tell me what color lipstick your soul is wearing (today my soul is wearing Pap Smear Luster, a change from yesterday's We-Get-It-You-Hate-the-Word-Moist Papaya), and if you're so compelled, share it. And if you happen to be a cosmetic chemist who wants to help me actually make Slut-Shaming Velveteen lipstick come to life, let me know.