Stand here and look out at the steady fact of the sea. Like a closed door, it gives you little. Behind you is the museum, and between you and the sea are a number of sculptures. The sculptures are like ancient rocks that have sleepwalked out of the water. Now they rest.
What is hidden between here, where you stand, and there? Here is Denmark. The museum, its sculptures—Henry Moore, Alexander Calder—the bank leading down, the North Zealand coast of which it is a part. And then a narrow episode in the life of a great body of water and, further, beyond all that, Sweden. What is hidden between here and there is space as well as time; and it is width as well as depth.
The year is 2013. I'm in Sweden for the first time, in an apartment with a view of the city below. A bright clear day. I'm speaking with a kind old man. We talk about Brahms, and he responds with joy. This is the man who wrote:
Growing hard to see, nearly dark.
Stones lie about on the moss.
One of the stones is precious.
It can change everything.
It can make the darkness shine,
It's the light switch for the whole country.
This man, Tomas Tranströmer, makes me ask myself: what can change everything? How do you open the door to the sea?
The year is 1943. The grief that is visiting all of Europe becomes ever more intense. The Danes receive word that Nazis wish to deport Danish Jews. And so, surreptitiously, at great personal risk, the fishermen of North Zealand, here, along this line, on this coast, begin to ferry the Danish Jews across to Sweden. Small groups of passengers, a great labor, in October when the water is cold, day after day for three weeks, until more than 7,000 people, the majority of the Jewish population in Denmark, have been taken to safety. It's the light switch for the whole country. Here, the darkness shines.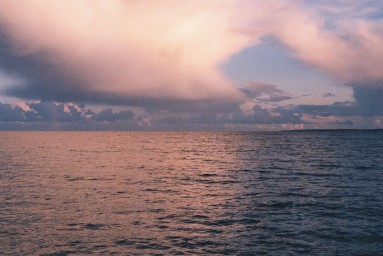 Tranströmer also wrote this line: Friends! You drank some darkness and became visible.
And out in the open water north of here is something else visible only in the darkness, something older than me, older than the poet, older than those grief gondolas of 1943 and their worried passengers, older than the sculptures here at the museum that are like something rescued from the sea. Out in the open water are certain species of whales, the Bowheads, massive and secretive, that have been swimming under the ice, full of their whale life, for a hundred or two hundred years, since before the time of Brahms.
[Photos: Teju Cole, Humlebæk, Denmark, 2014. Audio recording: Pejk Malinovski/ Louisiana Museum of Modern Art, Humlebæk, Denmark, 2014]