On the night of December 7, 1964, Vladimir Nabokov dreamt that he had tea with Leo Tolstoy. "I do not like his Lolita," the great 20th century Russian-American novelist hears the great 19th century Russian novelist saying to a third man, "but how well he describes the Russian landscape!" We are privy to this little review because from October 14, 1963, to January 3, 1964, Nabokov recorded his dreams, on his customary index cards, in an effort to see if they foretold the future. Now the Nabokov scholar Gennady Barabtarlo has compiled them into Insomniac Dreams: Experiments with Time by Vladimir Nabokov. The commentary with which Barabtarlo rounds out the slim stack of Nabokov's dreams is of questionable quality. But the book makes us wonder just why we invest so much in the life—and the sleep—of the author.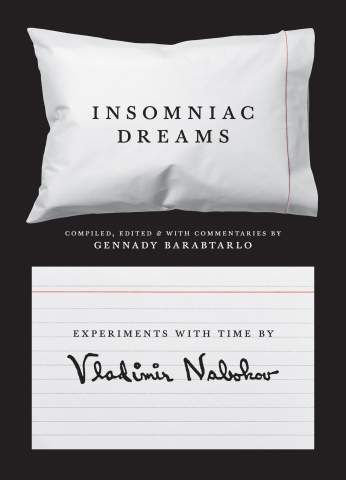 Gennady Barabtarlo, ed.
Insomniac Dreams: Experiments with Time by Vladimir Nabokov
. Princeton University Press, 2017. 224 pages.
Barabtarlo's main interest is in Nabokov's fascination with An Experiment with Time, an obscure dream treatise published in 1927 by the oddball British philosopher John W. Dunne. Dunne's theory (briefly) is that time is curved and multidirectional road, not a one-way street. Dreams thus respond to stimuli in the future as opposed to memories of the past: They see around the bend, into the future. Borges wrote about Dunne, and Joyce was said to have enjoyed him; in 1963, somewhat late to the party, Nabokov decided to test Dunne's ideas. Nabokov was 63, already the author of Lolita and Pale Fire and only 14 years away from his death. He was also a terrible insomniac. It is in this context that the novelist wrote down his dreams, as well as some of his wife's, for the better part of 80 nights.
As Barabtarlo points out, Nabokov began to lose steam with the experiment even before he gave it up entirely. He was neither as consistent nor as meticulous as Dunne, who insisted on recording dreams right after waking, would have wanted. But Barabtarlo sees in these scattered dream notes the seeds of Nabokov's treatment of time in his late novels—in particular Ada, or Ardor (1969). More broadly, he sees evidence of Nabokov's interest in nonlinear time throughout the writer's work, which often complicated the easy flow of past into present into future.
This argument unfolds in the introductory and concluding sections of Insomniac Dreams. The three chapters in between contain Nabokov's records of his dreams, dreams that Nabokov recorded elsewhere in his diaries or letters, and the dreams that appear in Nabokov's published writings. This last category—excerpts from Lolita, Despair, Invitation to a Beheading, The Real Life of Sebastian Knight, etc.—seems like a placeholder for a scholarly argument that would tie together Nabokov's private dreams and published fictions. But Barabtarlo does not provide this, just as he does not fully elaborate his argument about Nabokovian time. He is too interested in demonstrating the plausibility of Dunne's fortune-telling theory.
Barabtarlo labors to suggest, in a book published by a major university press, that one of the century's most important novelists could tell the future. In Lolita, for instance, Humbert and Lolita have a fight on "Park Avenue, Little Rock, near a school." There is in fact a school on Park Street in Little Rock, Ark., and two years after the publication of Nabokov's novel the Little Rock Nine needed military protection to attend class there. But does Barabtarlo actually mean to suggest that Lolita proleptically figures this famous act of desegregation? What about when he observes that the year Nabokov died, 1977, is the same year that, in 1957, the author jokingly claimed would see the long-sought publication of the final volume of the Lexicon of Pushkin's Language? Or when he lingers over a dream from November 18, 1964, about getting bronchitis? (Nabokov died of bronchitis). On what oracular authority does Barabtarlo stand when he claims that Nabokov "would likely find the brilliant shifting of time frames in the television show Lost . . . fascinating"?
Putting aside Barabtarlo's distracting carnival of coincidences, the reader is left with the slim but charming portfolio of Nabokov's dreams. Sometimes he dreams of famous writers (Tolstoy) or famous friends (Edmund Wilson). Sometimes, as befits a man who in his spare time was a world-famous lepidopterist, he dreams of famous butterflies. But mostly he dreams as the rest of us do. "Deliberate with myself should I take my butterfly net. Decide not to. Am wearing white shoes with heels," he writes on the morning of November 3, 1964. A month later he records a "vague tender erotic dream in a curiously stylized landscape with pale trees." On another night a "ruthless agent," a "Russian or Spanish general," chases him through a house. His father appears often, as does his son.
Nabokov does not dream differently from the rest of us, or better. But he is a better writer. In 1936, he wrote to his wife, Véra: "I dreamt that my little boy was sick, and stepped out of the dream as if out of hot salted water. I love you." No one before or since has leapt from a nightmare into the arms of love like a lobster escaping a stockpot. There is little room in Nabokov's published work for the vagaries of the dream. His novels and his memoir, Speak, Memory, are clockwork machines. It is moving to watch Nabokov apply the resources of his multiple languages to that rudest of artistic materials—the products of his sleep.
Freud imagined dreaming as a midnight industry—the factory of the unconscious meticulously wrapping our desires in the memories of the day. This process of pinching, folding, and compression he called "dreamwork." Nabokov detested Freud and Freudians, but we need not lie on the couch to see that dreams are a kind of nocturnal labor. Dreamwork has an affinity to artwork: Dreams are our only involuntary creative act. No wonder, then, that the dreams of writers and artists—of professional daydreamers—have a special pull.
So what do we want from Nabokov's dreams, now that we have them too? In a monograph on dreaming in 20th century literature, the literary critic Herschel Farbman describes the dream as a restlessness that both demands and exceeds the author's ability to string words together into text: "In the depths of sleep, the world continues to come to us in the form of writing that not even a god could do." But if the mystery of the dream propels certain writers—a list that for Farbman includes Freud, Joyce, Blanchot, and Beckett—what drives certain readers to want to know the contents of Nabokov's dream on his birthday in 1965? (If you needed to know, that night he had a vision of buying the New York Times at a newsstand.)
Dream diaries are part of the paratextual detritus that authors and artists leave behind, a subsection of the genre that includes correspondence, drafts, notebooks, and laundry lists. Publishing these documents restores to writers' lives the meaningless clichés and banalities they try hard to strip from their art. It seems to me that we look to all of these quasi-literary and often unformed items in part to assure ourselves that writers are real people. Dreams persuade us, however falsely, that we share in the work of those whom culture deems the great creators. At night we all go to the same cinema. Our brains whir when submerged in sleep, just as Nabokov's does. Like Nabokov I, too, can buy the newspaper in my sleep.