Fans cheer and wave flags in the front row during the Eurovision Fan Club concert on the Bulvar seaside promenade in Baku, Azerbaijan on April 29, 2012. Photo: Amanda Rivkin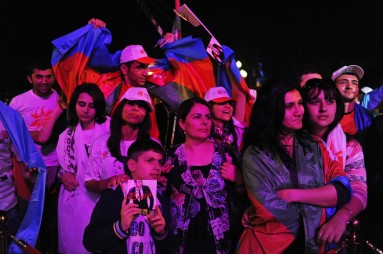 Eurovision began in Switzerland in 1956. The European Broadcasting Union hoped that that bringing the countries of the continent together for a night in song might pave the way for a more harmonious future, free of the wars and genocide that comprised Europe's darker past. At the time, "Europe" meant a handful of West European countries.
Today, the contest has turned into a bright, shiny, sequined alternative to the present afflictions of a Europe adrift, one that helps Europeans imagine a new and different continent. Much of Eastern Europe participates and Eurovision has proved itself to be more than a flamboyant bonanza of continental gay tourism, but a sort of imaginary revolution.
The spirit of Eurovision is exemplified by past winner Dana International, a beautiful Israeli transvestite, who won in 1998 with her pop anthem, "Diva," earning her, among other high level honors, a place on the shortlist of global millennium icons. Viva la vida! Viva victoria! Dana International belts out before her finale pose, a poised take on Michael Jackson's "Thriller" claws, as if to say, watch Europe will never be the same. And why should it be? Who wants to live in the Europe of Anders Behring Breivik when there exists another, better Europe that has wagered that Loreen, a Moroccan immigrant to Sweden, will win this year's contest with the sensual dance track, "Euphoria"?
A decade or so later, the contest continues defy its staid Western European roots. Alexander Rybak, a young Belarussian immigrant, won for Norway in 2009 with his song Fairytale. Ukraine, Serbia, Russia, and Azerbaijan have all held the title of Eurovision Song Contest winner in the new century. And this year, by virtue of being held in Baku, observers have labeled the contest the most controversial since Eurovision was held in Generalísimo Francisco Franco's Spain in 1969.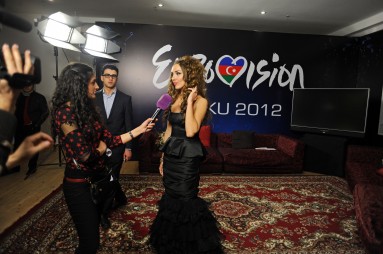 Sabina Babayeva gives an interview to Ictimai TV after being named the winner of Azerbaijan's national Eurovision Song Contest finals at the Heydar Aliyev Palace in Baku, Azerbaijan on February 12, 2012. Photo: Amanda Rivkin
In Baku, Eurovision is not fashionable among the intelligentsia. Intellectuals are too busy pondering the real problems of their country with great seriousness. But the government is overjoyed. Who needs intellectuals and their litany of complaints – human rights, corruption, dynastic politics, kleptocracy, rigged elections, troubled health care, social services and education systems - if they cannot support their nation's "brilliant victory?"
These are the words of Azerbaijani President Ilham Aliyev after Ell and Nikki, or Eldar Gasimov and Nigar Jamal, brought the contest home after their 2011 victory in Dusseldorf with their song, "Running Scared." The title of this power ballad has been lifted for an Amnesty International report on conditions within Azerbaijan.
Before Eurovision, Nikki, or Nigar Jamal, was a London housewife with two children who starred in a Turkish soap opera and yearned to represent her nation. Thanks to Eurovision, her dream came true - and so did the dreams of the leaders who are responsible for much of what transpires in Azerbaijan. Winning has topped the list of the nation's foreign policy goals since Azerbaijan entered Eurovision for the first time in 2008. It is akin to state religion with the leadership pouring in millions to build a mausoleum, Crystal Hall, for the contest - a first in the history of Eurovision. Ell and Nikki are icons.
The peculiar afflictions of small, newly independent countries cannot cannot fully explain modern Azerbaijan's obsession with Eurovision, but they can provide some clues. Azerbajian was a khanate that became incorporated into the Russian Empire (and then, the Soviet Union) after centuries of Seljuk Turkish and Persian rule. Between 1918 and 1920, Azerbajian was a legitimate, autonomous republic, but then fell quickly into Soviet hands.
The Azerbaijan Democratic Republic is nowadays described by officials as a secular, parliamentary republic - a first for the Muslim world. But Azerbajian's staggering defeat and loss of 20 percent of the nation's territory in the Nagorno-Karabakh conflict, which erupted some 20 years ago, still weighs heavily on peoples' minds. The Azerbaijani opposition looks back on its two years of autonomy with a level of nostalgia that cannot match the genuine chaos of any interregnum from imperial or foreign rule. Victory in song has provided an alternative narrative to Azerbajian's unflattering past. If you cannot occupy your own lands, you can still aspire to - and succeed in - occupying the European stage.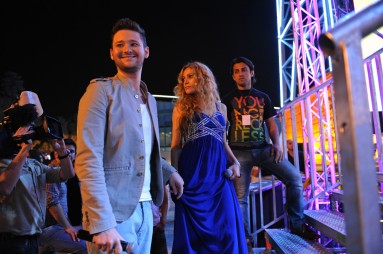 Eldar Gasimov and Nigar Jamal of "Ell and Nikki," winners of the Eurovision Song Contest in 2011 which earned Baku the right to host this year's contest, stand side stage before performing at the Eurovision Fan Club concert on the Bulvar seaside promenade in Baku, Azerbaijan on April 29, 2012. Photo: Amanda Rivkin
Azerbajian is not North Korea. Even though discontent persists among the elite and lower ranks of society, there is genuine support for the current leadership. Earlier this year, when several hundred men took to the streets to protest against corruption in the regional government of Guba in northern Azerbaijan and set fire to the governor's house, the largest internal reshuffle in Azerbaijani politics in recent memory took place. Rather than fire on the people, the city was sealed off by the end of the day and then regional governors were swapped across the nation. And then things quieted down quickly.
Now that the country is finally in the spotlight, Azerbaijan is making cosmetic alterations to its image. But it is not changing the substance of its problems. Instead, Eurovision is giving activists a chance to expose them. In Azerbaijan, everything is a facade. The front is made of limestone but the city behind reveals Soviet-style housing blocks.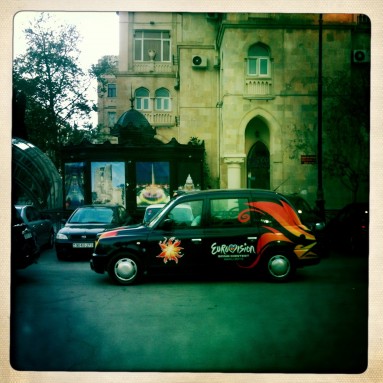 A London purple taxi advertises Eurovision in Baku, Azerbaijan on April 19, 2012. Photo: Amanda Rivkin
In March, Khadija Ismayilova, an Azeri investigative reporter, was secretly recorded in her bedroom and then blackmailed with still images from the video. A few days later, the recording appeared online on a dummy site set up to look like it belonged to Musavat, the opposition party. She refused a convenient path of exile, quitting, or keeping quiet. Her case would not be known to Europeans who read their newspapers and watch their televisions if it were not for Eurovision.
Ismayilova isn't alone to have her plight broadcast thanks to the song contest. Rock musician Jamal Ali was arrested and said he was beaten repeatedly while in police custody. His crime appears to have been an impudent decision to curse the president and his mother at what was the first sanctioned opposition rally in years. He was released because of the embarrassment it would cause to have a musician in jail as Eurovision took place. Ali has fled after warnings from the authorities that they did not wish to see him in Baku after Eurovision.
What remains to be seen is what exactly will happen when the media hordes pack up and leave. Will the outspoken be taken in as the curtain closes on Eurovision, and the city awakens in a hangover? What happens, as is the title of the song of Azerbaijan's entry sung by Sabina Babayeva this year, when the music dies?