On the edge of oblivion
And all the world is Babylon
And all the love and everyone
A ship of fools sailing on
—Wang Chung, "Everybody have fun tonight"
Wang Chung would perhaps still be around today if they didn't leave it at "Everybody have fun tonight." If they described in detail what this fun entailed, what you had to wear to have it, who you were supposed to do it with, and where, they could have been a branding sensation at least as successful as American electro hip-hop duo LMFAO, the savvy purveyors of patented Party Rock.
On April 23, the crowds at the Marquee nightclub inside the Cosmopolitan hotel-casino in Las Vegas celebrated the homecoming of LMFAO front man RedFoo. For the past several months, LMFAO had been on a world tour, and now Sin City's animal-print-clad prodigal son had returned for a one-night performance. RedFoo and his crew took the stage at around 1 a.m. "Sexy ladies, let me see them titties bounce!" he yelled. Every few minutes, cannons shot out confetti. The screeching of gym-coach whistles preceded the trainlike entrance through a side door of hired women wearing fishnets and neon, perched on men's shoulders. "#Pandemonium," one Twitter user wrote of the show, even though the night's performance was a well-oiled routine, the result of a year of repetition. On nearly every Monday night of 2011, RedFoo hosted "Party Rock Mondays" at the Marquee.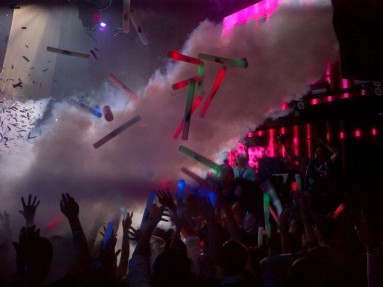 The show opened with LMFAO's hit "Party Rock Anthem." My friend Veronica, who attended the show at my request, told me, "People lost their damn minds when they heard it. Like their faces melted off." Though the bulk of the "Party Rock Anthem" is forgettable — "Party Rock is in the house tonight / Everybody just have a good time" — its staying power rests in its screeching synth hook, which heard once can go on repeat in your head for hours. This hook — which marks the periodic release of built-up tension throughout the song — has become the glue of countless remixes, and upon its initial activation and subsequent reprises in their live performances, it cues LMFAO to "shuffle," which is their version of the Running Man. In the song's video, the earth is infected with a party disease after exposure to the "Party Rock Anthem," leaving all of humanity mindless and able only to shuffle. Fittingly, LMFAO calls their fans "shuffle zombs" or zombies.
LMFAO is acutely aware of how their lyrics, performances, and products create a parallel reality. LMFAO describes their music as instructional, a how-to-party-rock guide, and their performances offer no shortage of cues to perform various party actions. The night at the Marquee included calls to take shots (following the performance of their song "Shots") and incitements to shout "I'm in Vegas Bitch" (after performing "I'm in Miami Bitch"). Blow-up zebras and foam party fingers were passed around, and nearly everyone in attendance was dressed in a neon Party Rock uniform.
How did this happen? How was this party disease incubated? RedFoo was born Stefan Kendal Gordy, son of Motown founder Berry Gordy, and made the rounds as a DJ at Los Angeles clubs. Then, in 2006, he formed a band called Sexy Dudes with his nephew Sky Blu, born Skyler Austen Gordy. Upon telling Sky Blu's grandmother the name of their band, she responded, via online chat, "LMFAO."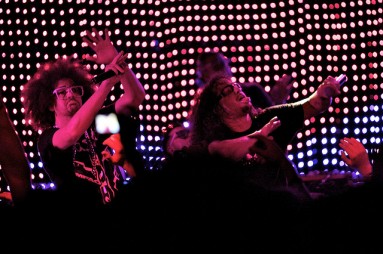 "I'm in Miami Bitch" — the group's first single — is a slow drone of a song set to a beat meant to evoke a bouncy jaunt down a Miami avenue. LMFAO wrote the single before setting foot in Miami for the much-hyped Winter Music Conference, yet the song projects how things would play out once Party Rock arrived. One lyric imagines: "I've got a plan, what's your cell? We playing naked Twister back in my hotel." RedFoo explained after arriving in Miami, "We actually brought a Twister board, and we played the first night. Because it's something, now it's in a song, it's something that we do, it's not weird."
Like LMFAO's idea of Miami, the idea of Party Rock has little meaning outside the network of LMFAO-branded products and lyrics. But the group was not the first to brand "Party Rock." Once, Party Rock was the trademark of Ruby Records Ltd., a Canadian record label that produced decade-themed compilations of 1960s rock with titles like Cruisin': 1969. Its trademark expired in 1984, and Party Rock became an unowned signifier until 2008, when LMFAO snatched it up and divested it from its earlier history. The group then set out to create its own system of meaning for the term that did not rely on history or the present. Party Rock is now LMFAO's official, trademarked brand and has come to represent everything from the duo's fashion sense — neon, animal print, and spandex — to its party ethos, what RedFoo describes as a mix of Halloween and New Year's.
LMFAO's is a peculiar, insular world where they evoke the "New 80s," their phrase for a time of perceived prosperity and frivolity where you can "lose your mind." The group is keen on marketing not just their albums or countless cross-branded products but an entire immersive party experience. With the endless party supplements and staged environment, the show at the Marquee was less like a party than a simulacrum of a party: the careful work of LMFAO to simulate larger-than-life party moments. The nonstop confetti never marks a climax, just the continuation of an epic party with no real cause for celebration.
Commodification and the creation of a simulacrum go hand in hand, and LMFAO's world is no different. RedFoo, a former day trader and the brains of the LMFAO enterprise, has noted that movie theaters make their money not from movies but from "$9 popcorn." With label Interscope's assistance, he has set out to master the art of hawking the $9 popcorn. Case in point: His signature Party Rock Frames go for $9.99 on the Party Rock Clothing website.
The financial system might've failed others, but it has brought about the right conditions for LMFAO's Party Rock world to flourish. "We have been able to go against the recession grain," RedFoo boasted in 2010. "You know, the economy is going down, and, like a salmon swimming up-stream, while the economy is going down, LMFAO is blowing up." LMFAO are the victors of the downturn, not because of their particular talent but because of their marketing and financial savvy. RedFoo appeared on CNBC's Money Market in August 2011, decked in a drooping jersey to explain his stock portfolio: Apple and producers of Apple components. Five months after his Money Market appearance, RedFoo released his own Apple product: the Beat Rock DJ app that allows for automatic beat synchronization.
But behind LMFAO's endless marketing and relentless self-promotion is a palpable sense of insecurity and an acknowledgement that their time is limited. Selling the all-encompassing party is a survival technique for the duo — they know they must fight to maintain relevance in an era where attention is scarce. Sky Blu summed it up: "It's like Monopoly. We're still the same players playing Monopoly except now we're winning the game. And now we're in 'protection' mode, and there's 'let's get more' mode. You know? We own these properties so let's put some houses on them so when people walk by, you know? And by properties we mean 'Miami,' 'I'm not a whore' and so on."
LMFAO's second album, Sorry for Party Rocking, brings Party Rock full circle by rehashing all the signature tropes. The music video for the album's eponymous single is set in an otherwise quiet suburb where the Party is taking place. Inside the party house, there is a breakdance circle, a party crew decked in cheetah patterns, and funnels. RedFoo collapses after partying so hard and is taken away on a stretcher. An iPhone falls from his limp hand; the camera zooms in to show us his Beat Rock app on the screen. The prominent display of the Beat Rock app — like the closeups of the labels of Cîroc vodka — doesn't seem like a clunky, out-of-place product placement. The appearance of alcohol brands and items from LMFAO's clothing line is natural, even reassuring. They suggest that maybe LMFAO's is not some distant universe but just an enhanced yet attainable version of our own reality, like the Disneyland of parties.
Baudrillard's Disneyland remains the ultimate simulacrum: "a real without origin or reality" — in other words, a hyperreality. According to Baudrillard, Disneyland exists to conceal the fact that our "real" surroundings beyond Magic Mountain are "no longer real, but belong to the hyperreal order and to the order of simulation." The LMFAO party works the same way. Just as people go to Disneyland to immerse themselves in a fantasy world, people go to an LMFAO concert to get lost in a "party" experience that supersedes the average party both on scale and spectacle. The duo may as well have taken cues from Baudrillard when creating Party Rock:  "It is no longer a question of imitation, nor duplication, nor even parody. It is a question of substituting the signs of the real for the real..."
One might argue that all parties to some extent exist somewhere between the real and the artificial since they are a departure from the everyday, suspend some norms of human interaction, and institute a regimen of "fun" through things like party hats or thumping club music. But LMFAO's efforts to build a party simulacrum on a mass scale inverts the effects of the carnivalesque, leading not to a suspension of norms for a period of liberation but instead normalizing a commodified pseudo-liberation that cannot be terminated and precludes the possibility of catharsis. The LMFAO party simulacrum at their performances masks the way our ordinary lives have become an endless, joyless elaboration of the same party principles: want more, consume more, no amount of confetti can be too much. The ethereal, carefree nature of the party is over and the days of the nonstop, numbing Vegas party are here.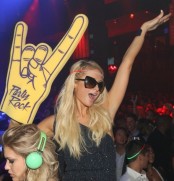 At the Marquee, LMFAO's party simulacrum helped some reach a palpable peak: "Tonight we are young, so we set the world on fire," was one Twitter user's nihilistic cry. Yet the disjunction between reality and the epic party simulation resulted in uncanny moments. During the show, a bouncer approached a man in a business suit wearing sunglasses and forced him to pop out the lenses. RedFoo is never seen without his trademark oversize lens-free glasses. It wasn't clear whether the bouncer's actions were the enforcement of some LMFAO party code or the Marquee's dress code, or whether it made any difference one way or another.