As Orwell points out, Hitler's appeal was largely symbolic, and, just as with every American president from FDR to Nixon to Reagan to Obama, he understood that public presentation has to be carefully staged and place a premium on non-verbal, one might even say precognitive aspects to politics and ceremony. In the preface to Mein Kampf, Hitler wrote, "I know that men are won over less by the written than by the spoken word, that every great movement on this earth owes its growth to orators and not to great writers."

Hitler understood the power of oratory, and his success in that arena was not accidental; it was the product of a great deal of practice and careful adjustment. Heinrich Hoffmann was Hitler's personal photographer, who took an astonishing two million pictures of the Führer. Here we see a series of photographs by Hoffmann of Hitler practicing his exaggerated hand gestures to be used in future speeches. Hitler actually characterized different effects for the various poses, such as "gebieterisch" (domineering) or "kämpferisch" (pugnacious).

After he saw the negatives, Hitler ordered that the photos be destroyed, but Hoffmann hid them away. After the seizure of his archives, they were released to the public.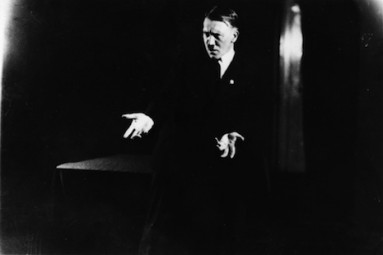 Read More | "Weird private photographs of Hitler practicing dramatic gestures for his speeches" | Martin Schneider | Dangerous Minds