Welcome to the online home for our Issue Two: Youth celebration! We're pleased to present one of the buried gems of late 60's youth-power exploitation cinema, Wild in The Streets.  Over four decades before "The 99%," rock star and later president Max Frost told America's youth they were "The 52%" - a majority that should act like it. In the run up to Occupy Wall Street's declared May 1 general strike, we've assembled a panel to discuss the film, pop music, and revolutionary politics featuring:
Cosmo Bjorkenheim, a New York based controversial-film maker and anthropophobe.
Sara Marcus, a freelance writer, poet, and musician. She is the author of Girls to The Front: The True Story of The Riot Grrrl Revolution.
Greil Marcus, a legendary rock critic and author of Lipstick Traces, Mystery Train, The Shape of Things to Come, and most recently, The Doors: A Lifetime of Listening to Five Mean Years.
Andrew O'Hehir, the head film critic for Salon.
Laurie Penny, a UK columnist and activist, and the author of Meat Market: Female Flesh Under Capitalism and Penny Red.
and moderated by TNI editor Malcolm Harris.
Livestream Starts at 9:00 EST
Full screen for maximal viewing pleasure.
Live broadcasting by Ustream 
If you like what you're seeing, want more, and want to keep TNI going, subscribe.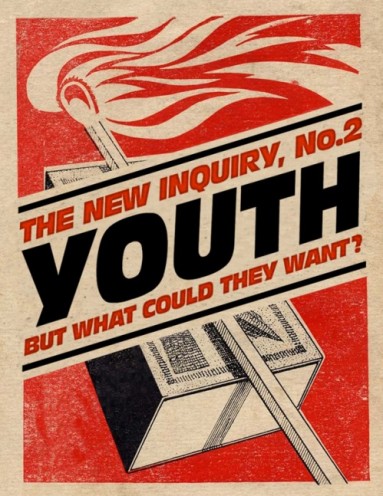 Issue 2: Youth