Roy Lichtenstein and Frederic Tuten goofing around on a bench in L A, circa, 1968
John Haskell: : The thing about that was, you were almost destined to write Tintin. But hadn't you already written…
Frederic Tuten: My first book was The Adventures of Mao on the Long March. Roy Lichtenstein did the cover for me. Roy was really the reason it got published because no one wanted to take it. Nobody, nobody, would take the book. They all said, "This is not a novel." Time and again, rejections would say: "This is not a novel, why are you sending me this?" And finally I said, "OK, I'll publish it myself." I don't know where I got the idea to go to Gibraltar and print it there. And I asked Roy if he would make the book jacket for me. I left him the manuscript and after a few days he phoned and said he would do it. I don't know why I even had the nerve to ask him. And then this small publisher said, "Well, if Roy Lichtenstein will do a special edition with a lithograph we'll publish a trade edition," and Roy agreed. I'll show it to you one day. An image of young Mao Zedong with a kind of cloud bursting behind him. It's very beautiful. That was two years before Andy Warhol made his first Mao.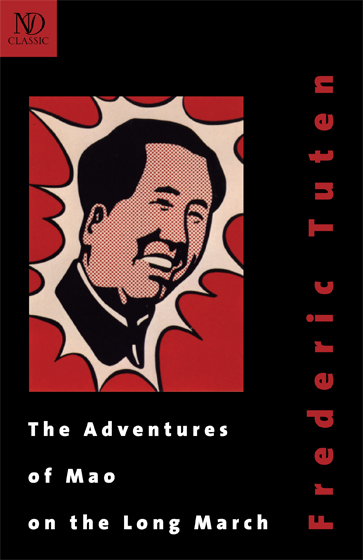 JH: What gets me is that, historically, the whole time, in New York, I mean you mentioned Susan Sontag. I imagine it was a small, close-knit, artistic world in which everyone…
FT: It was a very small world and everyone knew each other. I can't say—it's ridiculous—to say "everyone"; it sounds so pretentious. But most of the artists and writers I knew lived downtown. I lived in the East Village, between Avenues C and D on Eighth Street. Most people, like Susan Sontag, lived in the West Village. I met Susan through the painter Joe Raffaele, as he was known then, who was a friend of Peter Hujar and Paul Thek. They were all friends. I met Susan through them, and we'd go dancing together. I didn't like to dance, I was embarrassed. When I was a kid it made me nervous if I had to go on the dance floor, and I hated it. But when I saw Susan dance, I thought, if she can do it, I can do it. (laughter) She taught me to do the Twist. After that, I became a dancing fool.
Excerpted from NYFA Current.