Editor's note: The following is a piece from way back in the TNI archives, Malcolm Harris writing about Chuck Klosterman in 2001. When we saw the similarities between Klosterman's take-down of tUnE-yArDs and Harris's article – well, we're not accusing anyone of anything, we leave it to you to draw your own conclusions.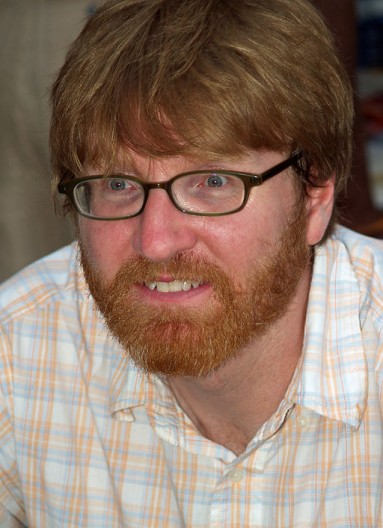 Chuck Klosterman and the perils of critical adoration
The book Fargo Rock City by Chuck Klosterman was just named winner of The ASCAP-Deems Taylor Award.
I'm guessing this doesn't mean much to more than (maybe) 10,000 people in the entire country. In fact, if you effortlessly understood 100 percent of this article's opening sentence, you can probably skip the rest of the piece. But there's something about this situation that I find pretty fascinating, even though it's speculative and only partially related to books. When (and if) you read Fargo Rock City by Chuck Klosterman, you are reading two things: a book that's pretty good, and/or a book that will someday seem way worse than it actually is. And logic suggests the latter is more likely than the former, even though that's no reflection on the value of the writer.
I'm not really in a position to argue for (or against) the merits of Chuck Klosterman, simply because I've barely read any of Fargo Rock City. Had it not won the ASCAP-Deems, I might not have read it at all. It's been on my shelf since whenever it came out, I know my brother loved it, and I had no problem with it ideologically. I just never got around to reading it. Somehow, I hadn't read a single story about Fargo Rock City, so I wasn't even sure what genre of writing it was supposed to exist alongside. The only thing I knew was that the book was sold at Urban Outfitters which seemed like reason enough to ignore it (not a  good reason, but a reason nonetheless). But then it won this prize, which made me think, I should at least know what it is. So I started reading it, totally uninformed and with no motive beside sincere curiosity. If you don't feel like reading it, here's enough information to pretend like you did:
1. Chuck Klosterman is a somewhat fuzzy American man. This is his first book. I get the sense that plaid and round glasses are parts of his hipster aesthetic.
2. Klosterman is from North Dakota, if that sort of thing matters to you.
3. The writing in Fargo Rock City is focused around its conversational elements. You could read much of it aloud, but I can't imagine a social situation in which anyone actually would. There are adjectives, but they're not overused. It doesn't read anything like Fight Club, but it reads like a book written by someone who believes Fight Club was awesome. It's a sophisticated interpretation of primitive music, vaguely akin to Nick Hornby (but less funny and with more looping).
4. I have no idea what these stories are supposed to be about. They are impenetrably nostalgic. There's one part where Klosterman briefly and convincingly writes like David Foster Wallace. There's another part where he repeatedly defends Ratt and it might be the single most grating music-writing moment of 2001.
5. Fargo Rock City is not avant-garde, but it is experimental. It has a cultic, chaotic, stand-alone quality that makes it worth investigating. It's smart. But it will never really be popular.
The takeaway from all this, I suppose, is that Fargo Rock City is a creative book, written by an author with (at least a modicum of) irrefutable talent. But the fact that this subjective opinion has now been validated by the only sector of the media that cares about such qualities puts the 29-year-old Klosterman in a strange cultural position. It's possible that he's an authentic genius, and that Fargo Rock City will mark the "breakthrough" beginning of a major career punctuated by intermittent moments of meaningful innovation. He could end up like Norman Mailer or Tom Wolfe. But it's just as possible — in fact, more possible — that this will not happen. He will probably just write a bunch more books of varying quality, none of which will get the collective adoration of Fargo Rock City. And then Klosterman will end up with this bizarre 40-year-old life
Chuck Klosterman turns 40 in June 2012.
, where his singular claim to fame will be future people saying things like, "Hey, remember that one winter when we all thought Chuck Klosterman was supposed to be brilliant? Were we all high at the same time? What was wrong with us?"
This will be his retrospective penalty for resembling a potential genius, assuming he never actually becomes one: Klosterman will become the punch line for engaged readers who want to make jokes about how they themselves were wrong about him.
At this point in his existence, I can't imagine that Chuck Klosterman has been able to reap much tangible benefit from his talent. I'm sure he's not rich, unless he was born that way. He is, at least within the idiom of popular non-fiction, a semi-serious writer. So the only things that matter are (a) his reputation among other semi-serious people, and (b) how he views his own work and identity (which is, of course, partially dependent on the reaction of his audience). In other words, his real career starts now. For the next 11 years, he must validate other people's belief in his own brilliance. There is no other option. Because if he doesn't, those same people will view his inability to become transcendent as hilarious. They will look back at Fargo Rock City and talk about it like it's The Tipping Point. And they'll technically be making fun of themselves, but he'll be the only person being criticized by name.
I am rooting for you, Chuck Klosterman. I like your book, and I hope you make many more. I want you to be a genius, and I have no reason to believe that won't happen. But maybe don't start waiting for the MacArthur call, because maybe you are already dead.