Doom metal, one of the oldest and heaviest types of metal, dates back to the early 1970s albums of Black Sabbath. It is characterized by slower tempos, low-tuned guitars, a heavy, thick sound, and the use of dissonance through the tritone — described as "the devil's own interval." Among the first doom-metal bands in the U.S. was Pentagram, led by Bobby Liebling, the subject of Last Days Here, a 2011 documentary directed by Demian Fenton and Don Argott (The Art of the Steal, Rock School). Pentagram formed in the early '70s in the suburbs of D.C., where Liebling and Geoff O'Keefe bonded over their shared interest in vinyl, Black Sabbath, and alienation.  Only in the past 10 years has Pentagram's work been re-released officially; until then Pentagram was "less of a cult band than a secret," according to metal historian Ian Christie, though the band's influence did help pave the way for other American doom-metal bands like St. Vitus, Trouble, and Witchfinder General.
Liebling doesn't break many rock'n'roll stereotypes. In the film we meet him on the couch in his parent's basement, 53 years old and wasting away after decades of hardcore drug use. Last Days Here manages to not romanticize or exploit Liebling's behavior, which helps the documentary transition into a complex portrait of a human being grappling with one last chance. As uncomfortable as it is to watch Liebling's struggle, it seems dismissive not to watch and listen. But Last Days Here's sympathetic portrait of Bobby underplays elements that have led to his nonsuccess. Shrouded by his state of addiction, his egoistic behavior and primadonna tendencies may have compromised his band's potential success as much as his drug use.
One of the trailer clips for Last Days Here shows the filmmakers and his manager forcing Bobby to sign a contract stating that if he smokes crack again they'll take possession of his "kick ass" record collection. The clip is a bit of a sensational cheap shot — it draws people to the premise of what they expect to see: a sorry, washed out, drug-addled musician whose exploits and embarrassments are caught on tape for people to watch, shake their heads at,  and say, "Thank God I'm not that fucked up." But in the film, that crack-contract scene ends with the cameraman saying, "We don't want your records, Bobby. We just want you to stop smoking crack."
Liebling says in the documentary he will not die from an overdose of crack or heroin but rather succumb to the parasites he says are burrowing into his skin. This is not metaphoric. He copes with the help of a self-mutilation routine of "debreeding" involving picking the skin off his arms to the point of acute bleeding.
In Last Days Here, Liebling is killing himself along with his pain, but the result is not one-dimensional music. Even cracked out on his couch, he conveys a terrible lucidity and hunger, a clarity and drive in his eyes. There is a faint hope that he still wants to answer the questions of his pain, even if that means putting down the crack pipe and leaving the sub-basement. "I want to live!" he tells the camera, his voice cracking with desperate sincerity. "I've been a Peter Pan my whole life. If you guys want me around, I'll stick around for just guys like you guys."
As affecting as Liebling's story can be, the most compelling trajectory traced in Last Days Here is that of Sean "Pellet" Pelletier's love affair with Pentagram's music. It is hard to imagine the kind of devotion and determination involved in resurrecting the career of someone who says they're "not supposed to be alive," but Pellet, a bearded, mild-mannered indie music label guy, devotes himself to resurrecting Liebling's career. When Pellet relates his discovery of Pentagram's 1985 album Relentless or his exposure to their 1970s material on a CD-R, his face lights with palpable excitement. Pellet orchestrated the release of Pentagram's early demos as First Daze Here in 2002. His attraction to the music is pure, profound, and convincing. "It was like nothing I'd heard before," he says. "Like bumping into Jesus, and he knows your name and shakes your hand, and he asks you over for dinner and drinks and he calls you on weekends to hang out."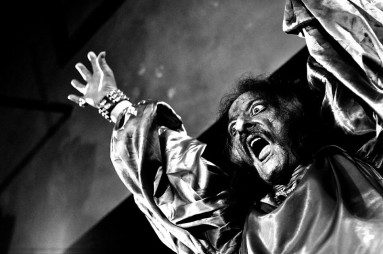 But serving as someone's personal Jesus must take its toll. The progression of Bobby's addiction from his youth to the present is not explicitly explained or traced in the film. From the voices of his parents upstairs, you'll learn that Bobby has "a lot of pain."
Liebling's self-sabotage through drug use might be as much a symptom of alienation and despair as it is a fear of success and growth. Ian Christie says, "He didn't live a hard life and then come back and try and write love songs. He wrote songs from the perspective of someone that is metaphysically in the sub-basement." It's clear from the film that Bobby's position in the metaphoric sub-basement is as much a matter of innate disposition as it is of choice. His perfectionism in his music manifests as an inability to function or grow outside of it.
An artist's tendency to feel dissatisfied and unfulfilled can produce genius as well as preemptive self-destruction. Sometimes, these can seem inseparable. As anthropologist Lewis Hyde notes in "Alcohol and Poetry,"
It turns out that the idea of a 'pain-killer' is a modern one. This phrase appeared in this country only a century ago. In the Middle Ages it was the belief of doctors that if you killed the pain you killed the patient … The idea is that if you get rid of pain before you have answered its questions, you get rid of the self along with it. Wholeness comes only when you have passed through pain.
But refusing to pass through means drugs become a cop-out. In his essay, Hyde writes about poet John Berryman's alcoholism and how the substance became his sole subject. Berryman's decision to anesthetize himself killed both the pain and the patient, leaving only the booze talking.
Liebling's addiction clearly compromised his ability to perform. Footage from various events shows him overdosing, having to be propped up on stage, or arriving during the last set of his own band's show. In the opening scenes of Last Days Here, Bobby shows the camera the clothes that he's saved since the '60s and '70s to some day perform in. "I was saving them for when I got big, so I saved them forever."
***
Unlike many other doom bands, Pentagram's lyrics range from expository to confessional. While they maintain a level of symbolic heaviness traditional to metal, they're also surprisingly direct in both the lyrics and in Bobby's vocal delivery. This is especially true on First Daze Here, where Liebling's lyrics lack some of the abstract pretension you find in other bands of the era. His subject matter is love, which comes across metaphorically ("Lady of the dark star I love you again / And we'll go on together in our caravan of sin") and directly  ("Your love is more than a tease / And I'm gonna give it all of my heart"). Such lyrics reflect Liebling's obsessiveness in relationships. A third of the way into Last Days Here, Liebling starts seeing a young woman named Hallie, and before we know it, he is moving from his parents' home to an apartment in Philadelphia to be closer to her. "Apparently they're in love, or whatever," his mother says.
Transformed by his love for Hallie, Liebling achieves some measure of independence and stability: Look, he's going into a check-cashing place! He's in the city! He's taking a cab! Yet Bobby's revivification depends on Hallie, who seems to use his mystique as a fashion accessory. What could be more authentic, for a fledgling 20-year-old searching for an identity, than a washed-out drug-addict rocker on your arm?
Music is built on obsession: the obsession for sonic absorption and an obsession with gear — particularly in the case of metal. It is disquieting, though, to see the same obsessiveness play out in a love story, to see the same drug-addled, shaky crazy eyes in Bobby when he says Hallie's "gonna be my Liebling."
The vitriolic possessiveness that fans hold over the music is strikingly similar to obsession, as the sheer rage expressed over Liebling's failures to perform reveals. This is part of the contradictory relationship between fans and music. Especially with metal music, fans are drawn to the musicians' exploration of the dark matter — reflections on death, malaise, despair, hopelessness, and even drugs — but they don't tolerate the consequences of living out these explorations. The fans love you until you can't put on a good show.
This hypocritical dynamic is nothing new. The audience and the performer experience a quasi-cathartic release of energy and emotion. This relationship endures unless the rapport shifts into parasitism. In the case of Bobby Liebling, he became his own real (and imagined) parasite.
Last Days Here totters between admission of a self-romance with the music and Liebling's personal demons as though the two are one and the same. Today, Liebling is married with child, and continues to be active with Pentagram's renaissance of the past 10 years. For old fans or new fans discovering Pentagram, Liebling's tentative balance might be as good as it gets.
The documentary makes clear that Pentagram, the band Liebling has haphazardly kept alive for 30 some years, is also the one thing keeping Bobby Liebling alive. The music enables a preoccupation with the self that operates out of a place of deep vulnerability, which is a surprise to those who think of metal music as ensconced in some extreme form of aggressive masculinity — or to those who think aggressive masculinity is not vulnerable. This vulnerability is an ugly, immature, and unsatisfying place, but it's clear that Liebling's faults are also his musical strengths. They all resonate from this core: a man-child who is capable of being quite eloquently loud when he chooses.