image by imp kerr
With high theory and unstable irony, Not Vogue strives to liberate us from the seductions of corporatized fashion 
"THINK ABOUT THAT" is underlined thrice in the bottom-right corner of my notebook page. The date at the top is November 14, 2012. "NOT VOGUE" is printed carefully at center. The rest of my notes are barely legible scribbles, dashed like Dickinson:
Celeb intellect vs. human intel — History, herstoryonics — Who watches the Watchmen? — Anna Wintour got Obama re-elect? Look in2 power complex behind mechanisms!!
The man talks too fast for my made-up shorthand.
The man is Steve Oklyn, or that's his nom de guerre adopted to protect his anonymity as he performs his avant-garde takedown of the "fashion-industrial-media complex"—it's a blog, Not Vogue.
I can't recall how I first came across Not Vogue, but I gather it was around November 2, 2012, because that day I published a rushed article lauding its writer as the "World's Greatest Fashion Critic," a statement I still believe. Not Vogue dissects the fashion powers that be with the network sociology of Pierre Bourdieu, the protest politics of Guy Debord, the irreverent humor of Marcel Duchamp, and the chops of Brion Gysin.
Not Vogue's structure is simple: a standard white background, five posts per page, each post consisting of one image and a caption. 367 pages and counting. Not Vogue is all caps, strewn with highbrow references to Virginia Dwan, William S. Burroughs, J.G. Ballard, Joseph Kosuth, Chris Burden, etc. etc. Some samples:
"IT'S FROM THE DEPTHS OF IMPOTENCE THAT FASHION DRAWS ITS VANITY" captions an image of Karl Lagerfeld with his Spring 2013 Chanel 2.55 hula hoop "it bag".
"WE ARE ALL THAT MONEY CAN BUY 1985 BARBARA KRUGER" accompanies a party snap of Guinness fortune heir and couture collector Daphne with the red-soled-shoe designer Christian Louboutin.
"BODIES DEVOID OF MIND ARE STATUES IN THE MARKETPLACE EURIPIDES," reads a portrait of Kate Moss, topless in a waterfall in Jamaica, shot by Terry Richardson for Harper's Bazaar. 
"THE RESULT IS ALWAYS THE SAME ADDICTION WILLIAM S. BURROUGHS," undercuts an ad for a Saint Laurent Paris flagship store.
Not Vogue uses fashion's currency—­images divorced from referents (e.g. camo chic)—to map what Steve calls the "social web" of the high-fashion world. Repeat figures on Not Vogue include French editor and stylist Carine Roitfeld, photographer Terry Richardson, LVMH chairman Bernard Arnault, Saint Laurent designer Hedi Slimane, Purple magazine founder Olivier Zahm, Kering CEO François Pinault, Karl Lagerfeld, Kanye West, and, of course, Vogue editor Anna Wintour. "It's basically Page Six of the 1 percent of the fashion industry" was how Steve once explained Not Vogue to me.
Whereas fashion uses textual anchorage to produce visual tautology and brand belief (bold shoulders = power dressing, Ralph Lauren = classic Americana), Not Vogue uses titles to translate the underlying ­messages and structure of the fashion system. Borrowing heavily from French cultural theory (Debord, Baudrillard, Virilio), Not Vogue proclaims that fashion is a "fabricated society of the spectacle" owned and managed by "a network" of a wealthy few whose "single operative purpose" is promoting "addictive consumption" in order to produce capital. Vogue, the world's leading fashion publication, with 23 international editions, is the emblem of this "propaganda platform."
This is Consumerism 101, Adbusters stuff. Not Vogue's anticonsumerist analysis isn't new, but its application is. High fashion has largely escaped such scrutiny, perhaps because it's a feminized field, Young-Girl territory, imagined as frivolous and so innocuous. Perhaps also because fashion does a good job at gatekeeping—keeping the insiders happy and outsiders disarmed. The fashion system's central myth is that it's a bastion of liberal mindedness and creative individuality, which it maybe once was, a place friendly to queers and shoe fetishes, to voyeurs and exhibitionists. That's how I fell into this field. Fashion turned me on from a young age.
I was drawn to work in fashion because I'd been playing dress-up since earliest consciousness, because I believed in the power and beauty of performativity, because something about the way fabric moves on the body made my head throb heartlike. But one season covering international fashion weeks as a ­journalist—four weeks of daily runway reporting, plus the people and parties in New York, London, Milan, and Paris—­confirmed something I'd suspected but wished away: that fashion (or at least the fashion system, as opposed to the pure act of putting symbolic material on our bodies) is a business first and foremost, a multitrillion dollar global industry run by a group of power players and conglomerates. I learned that ad buys are traded for editorial coverage, that a critical review can get you banned from the runways, that press gifts are not just commonplace but often counted as salary, and that, Cathy Horyn aside, it is near impossible to make a living as a critic in the industry but if you're game to write press releases portending as journalism, you can fashion a handsome life for yourself.
More than the dress-up or the fabric-­inspired mindbeat, fashion compelled me because the field is underwritten. Very little in the way of popular writing considers both the material reality and symbolic worth of fashion and dress, considers the field as we consider other cultural fields as worthy of critical discourse. What crushed me most about my foray into fashion journalism was a Word document I titled "EDITED OUT FUCK" (EOF), where I collected my writing that had been cut due to advertiser conflict. Finding Not Vogue was like discovering a Wikileak of my EOF.
***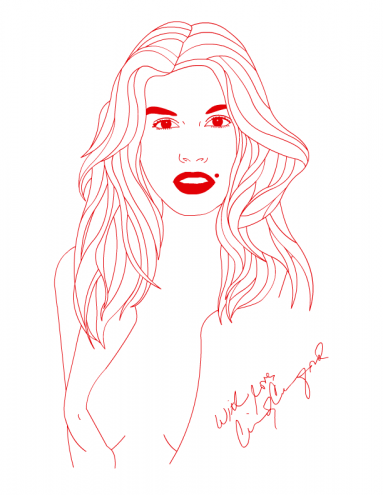 Not Vogue's authorship eluded my Google inquisition, so I made a plea in my November 2 praise piece for a contact. Within hours of posting, my inbox held three cryptic notes from strangers telling me they knew the man I was looking for and would alert him to my request. He contacted me. He said he liked my article and offered to meet. Less than two weeks later, there we were, in the basement of McNally Jackson, an independent bookstore in Nolita in New York City, his voice too loud, my hand too slow.
That first meeting, Steve—white, male, and over 60, in standard American dress (jeans, windbreaker), as visually anonymous as one can be—said that he was born and raised in New York, that he once worked at an indie bookstore, that he was several times over a junkie, that he had frequented Andy's Factories. He told me I looked like Molissa Fenley, a dancer he had been, at one time, well-acquainted with. He told about how, through her, he went to Japan in the early '80s and met Comme des Garçons designer Rei Kawakubo. "Have you been to Japan? They would love you in Japan."
He explained what prompted the blog. In 2010, Steve heard Paris Vogue's then editor in chief Carine Roitfeld tell a journalist, in response to a question about her editorial process, "You are Vogue or you are not Vogue." Those two last words, not Vogue, "just clicked," and when something clicks for Steve, he checks if the domain name is available. Steve bought ­notvogue.com immediately without any project in mind.
Months passed, the URL lay dormant. In February 2011, as the Fall/Winter 2011–12 fashion weeks were getting underway, the Libyan civil war broke out. Flipping between the two continuous streams of news coverage, an image came to Steve: Colonel Muammar Gaddafi, known fashion plate—"you know, with his signature big sunglasses"—next to American Vogue editor-in-chief Anna Wintour—"dictator of taste"—in her own classic shades. Not Vogue now had a logo.
Steve had a handful of flyers and 10 T-shirts made with the Not Vogue name and new logo (designed by someone who Steve will only call "collaborator No. 1"). They were distributed around New York. One made its way onto an billboard for the eyewear company Moscot starring fashion photographer Terry Richardson. That image would become the website's first entry: July 8, 2011; the post is titled "NOT VOGUE 1 TERRY 0". Over the next year-plus, Not Vogue's fashion commentary grew increasingly complex, detailing all levels of the fashion industry, from its CEOs to its models. By November 2012, Not Vogue had posted nearly 200 pages of entries.
During our first meeting, Steve mostly talked at me. I listened gleefully, believing everything the man said. Steve speaks with authority—loudly but down to a hush when it's important, as with the need to know intel. He is an engaging storyteller with claimed firsthand accounts of the who's who of New York's cultural elite from the mid-'60s through today, from Joseph Beuys and Richard Hell to Keith Haring, Halston and Alexander Wang.
Later, when I started recording our conversations, I would discern that, more than all that, my conviction in Steve's convictions likely had to do with his repetitive use of the segue "you know":
You know, Michael Jackson was enamored of Gaddafi. All of the militaristic aspects of his dress — that came from Gaddafi ... 

You know The Sartorialist? He's just a failed Valentino showroom salesman ... 

You know Kanye is gay, right? Riccardo Tisci is his lover, Givenchy's Creative Director, you know ... 
One of Steve's most memorable rants came during our first meeting. This was November 14, and everyone was still on about Barack Obama's re-election. "You know, I'm not one for conspiracy theories," Steve began, "but it is my firm belief that Anna was responsible for Obama's re-election."
The theory goes like this [story by Steve Oklyn with additional reporting by Fiona Duncan]:
Anna Wintour is one of Barack Obama's top fundraisers. In 2012, the New York Times listed her as the President-elect's fourth top "bundler," having raised an estimated total of $5,448,371 in campaign donations since 2007.
During this most recent election campaign, Wintour was rumored, in a story almost exclusively reported by right-wing news media, to have blacklisted Republican Presidential nominee Mitt Romney's wife Ann from designer donations. That story was never verified, but its flip side is well-­documented: Wintour has regularly exercised her media power to support the Obamas. She arranged, for instance, for top American designers Marc Jacobs and Thakoon Panichgul to design pro-Obama products.
Under Wintour's direction, in the years since Obama's first campaign announcement, Vogue published more on the Obama family (mostly Michelle) than any other political figure, the most prominent piece being the September 2007 election lead-up feature on Michelle Obama, "The Natural" ("To the role of would-be First Lady, Michelle Obama brings modesty, dedication—and a reputation for truth-­telling"), and the March 2009 post-­inauguration Michelle Obama cover story, "The First Lady the World's Been Waiting For."
"Now, we know that the American voters that carried the election for Obama were women." I remember Steve leaning in to me, lowering his voice somewhat, and switching to the even more authoritative pronoun we. According to the 2012 American election exit polls, women made up about 54 percent of the electorate, with 55 percent of them voting for Obama. "Compare those numbers to the demographics of Vogue readers," he said: 980,298 confirmed subscribers, 11,037,000 estimated readers, 87% of them female, median age: 37.9.
"Think about all the issues of Vogue," Steve continued, "the stacks at every grocery-store checkout line, the back issues in every hair and nail salon across the country!" Think about Anna Wintour's assertion that, "It's no secret that I worked very hard for the president this campaign." Think about her publication, which women buy for its aspirational content, persuading its readers that that Fall/Winter 2012–13 Doo Ri dress will go great with Michelle Obama as ­FLOTUS for 2013–2017.
"Think about that."
***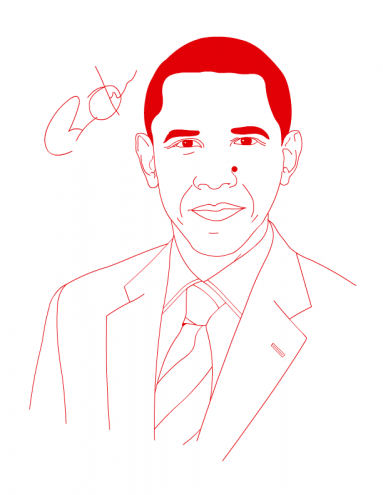 During our first meeting, Steve praised every aspect of the article I'd written, "except there's one thing—you missed the humor." Not Vogue is supposed to be funny. Steve, in conversation, is funny. His speech is peppered with violent "ha"s. His Wintour rant ended in one. Both IRL and on Not Vogue, Steve will put things out there just to get a reaction. Because of this, it's hard to tell what Steve believes in, if anything.
He has never voted. By my estimation, he's a Libertarian. Self-interested and motivated, he moves through the world taking what he wants, including wealth; he is a financial success. He doesn't have kids or health insurance. He doesn't exude luxury, but he is comfortable around it. He is neither attractive nor unattractive. Steve has that kind of neutral male physicality I envy as a woman—the kind where your personality can make you categorically hot. By the book, Steve is Jewish, but he'll say he's, "you know, not." His work isn't in fashion, but it's related.
Not Vogue is an anonymous project, and Steve has been vehement that I preserve his anonymity. He insists that the anonymity is in place because Not Vogue is not about him. "Our society is based on some unsaid formula that defines a person's importance by a series of standards based on visibility," Steve wrote to me when I asked him to defend his anonymity. "NOT VOGUE is a message, not a personality. As an intellectual challenge and subsequently a social provocation the appropriate approach was to develop the project anonymously ... NOT VOGUE is fundamentally a process, not a product."
Steve has recently started to refer to Not Vogue as "a deprogramming tool," designed for the fashion dropouts and precarious believers like myself. Like the cultural theory it cites, Not Vogue makes the fashion follower work for his liberation. It's not condescending, but it is demanding—Not Vogue requires an understanding of anticapitalist and postmodern theory, but it gives you the tools to acquire that knowledge. (Follow the citations.) When Not Vogue's message does reveal itself to you, it's like, as Steve likes to say, "taking the red pill."
Not Vogue is garnering attention in and outside the fashion world. In the past year, Steve has fielded press from Hunger magazine, Idol magazine, The American Reader, The Wild, and PSFK. Most recently, Steve agreed to be filmed (in a ski mask) in a Q&A with the personal-style site StyleLikeU. Not Vogue has also collaborated with the German erotic magazine Tissue and the fashion-criticism journal Address. Last fall, Steve took out an ad on Garage's inside front cover: black and red text on a bright-yellow ­background that read free pussy riot followed a reproduction the 1991 Riot Grrrl Manifesto. This was directly across from a Prada ad.
For all his action in fashion, Steve doesn't actually care much about it. Whereas I want to critique the industry in order to better it, Steve wants to "liberate" individuals from the addictive regime of fashion consumption so that they can define selfhood on their own terms. I would like to see the industry become more inclusive in its beauty ideals, more ­conscientious in its environmental impact, more fair in its ­labor practices, and generally a more hospitable place to the designers and consumers I believe in—in other word, slower paced and less commercial. I believe this can happen. Steve is not so socially conscious. He once told me that if he were my age, he would try to create an elite, expensive art object, a Hirst- or Koons-type good—a handbag was his idea. He would give the art market exactly what it wants, "play their game," and, as he's repeatedly advised me to do when considering a commercial contract, "take the money and run!
 ***
In early 2013, I interviewed Vogue contributing editor André Leon Talley on the phone. Knowing he was an Obama supporter, I was curious: What policies would he like to see Obama pursue in the next four years? He jumped on the question enthusiastically ("I am so happy you asked"), but his answer was shrouded in fashion speak. "It's just fabulous! Just wondrous," Talley pronounced, "Obama's re-election was just the best thing to happen in 2011 [sic]. I hope he can accomplish everything he wants to."
When I suggested to Steve that Talley and Wintour's superficial politics may be veiling some other, more serious agenda, he cut me down: "No, their interest is purely visual. They don't know the issues. Why would they care? They're rich. They have health insurance forever. They have life insurance forever. They have multimillion-dollar salaries. They get to fly around the world in private jets."
If they're so vacuous, I responded, why do you spend so much energy deconstructing their ways? "Look," he said, "the community that is at the inner core—the biggest problem is that they're not visually interesting and they don't seem to be particularly intelligent, and yet the amount of visual time they take up in the world is enormous. The only truly interesting thing is how much influence fashion, which is completely corporately controlled, has incurred on people's sense of self. That's where the politics are. That's the big political issue!"
"This is an interesting era," he continued, "because there are a few of us left—I'm 63—who can genuinely say that there used to be small groups of creatives in cities around the world, communities of criminal intellectuals. I mean, the drugs alone! We could've been arrested at any moment. I saw some 25-odd years where independent youth were living their lives, building their subcultures, with very little or no corporate involvement. It was great. It was healthy. It was fun. It was crazy. A lot of ideas. A lot of visual intelligence. And then all of a sudden these corporations got involved—it's deadly. There is very little work today that is genuinely outlaw. Almost everything is commercial. I guess I'm just hoping, in the end, that Not Vogue might inspire some kids to go off and create their own self-determined project, to not be so guided by the predigested structure that's out here now." Steve gestured around the luxury-class courtyard of the Bowery Hotel where we were sitting, fixed his gaze back on me, and then went, for the umpteenth time this recording, "Ha!"