On Monday, the African Union passed a resolution urging the International Criminal Court to drop the crimes-against-humanity trials of Kenya's recently elected President and Vice-President, Uhuru Kenyatta and William Ruto.
The ICC Witness Project is a collaboration between Kenyan poets to imagine and amplify the voices of some of the missing witnesses for the ICC trial. We want to make sure the victims and survivors of the Post-Election Violence that rocked Kenya in 2008 are not forgotten.
The idea was sparked by a BBC article, "Claims of Witnesses in Kenya ICC Trial 'Disappearing'":
 "What is clear is that alleged tampering with witnesses or those who may offer important leads about Kenya's violent past, is worrying the chief prosecutor at International Criminal Court (ICC) at The Hague."
The full collection of poems can be accessed at http://iccwitnesses.tumblr.com/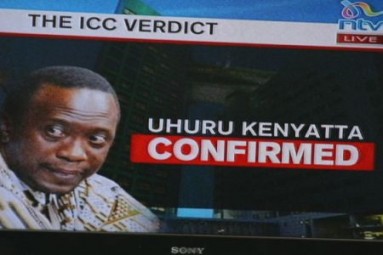 "Kenya needs us to work together;
Kenya needs us to move on."
--Uhuru Kenyatta, Kenyan President-elect, currently under indictment for crimes against humanity, March 2013
Kenya needs a great many things.
It needs Post-Election Violence to unhappen:
Those who were killed need to undie, need to
crawl from their graves in solidarity.
Ashes need to burn backwards, float in air,
gently unfuse themselves from wooden church doors
and melted glass windows.
women need to guard their wombs, begin the process
of being unraped, erase their memories
as they become whole, unbirth those children who
were begotten from violence.
And those displaced people! They need to move,
redisplace themselves back to their original locations.
Retill their lands, watch the stones
jump magically back into houses.
The pangas need to flake off the blood,
replace themselves quietly,
claim back the rust that spotted them before.
Kenya is moving on.
Kenya is moving on.
Why this? 
The project is fundamentally a way to make sense of the craziness we've recently gone through, and are geared to go through in Kenya's foreseeable future. Even within our communities as artists and intellectuals, there have been moments when I felt alone, suddenly without a framework to process the many densely loaded things that are happening.
Would it have mattered so much if these witnesses hadn't been crucial to a case brought against the alleged perpetrators of the violence? Would it have been newsworthy if the case hadn't been before the International Criminal Court? Would anyone care if witnesses vanished, died, recanted, just like that, if their testimony did not involve very important people?
It probably would. The message being sent is very clear. If something happened, keep silent. Move on. Forget About it. But how can we be silent?
Suddenly, for the first time in a long time, we couldn't assume we still officially possess the freedom to speak. The ICC Witness project is a way to take - and test - that freedom.
I have been told that this is our secret.
Our secret is shameful and should not be shared.
Shared instead is the feeling of being one.
Being one is more important than the truth.
The truth is something that should be buried.
Buried in the grassland we left behind,
behind the old stone wall where I fell.
I fell as I was running, my dress caught up.
My dress caught up, pulled from my body,
my body torn apart, turn by turn by turn.
By turn, they claimed each part of me:
Each part of me, a pretty piece of flesh.
Flesh met dirt met blood met metal.
Metal slicing through me, hands holding me down.
Down, under all the pain, I felt a hand on my ankle.
My ankle turned; I felt the bone break.
Break this illusion, that I am to blame.
I am to blame, I have been told.
I have been told that this is our secret.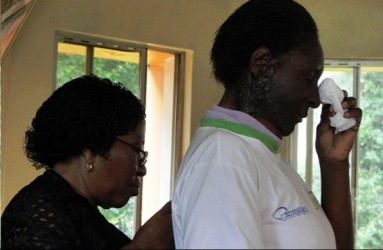 Why Poetry? 
Poetry is what we did because it's what brings some of us together in the first place. The suggestion was posted on the Kenyan Poetry Catalyst google group, and on the Concerned Kenyan Writers listserv, which was started during the trouble following the last election.
In response came a lot of poems. Poems that use imagination to recreate scenes that, while not real in the strict sense, most probably happened. Poems that explore what those involved may have felt.
It was also a creative challenge – how much can you express in this form? It's not always easy, given how confronting the subject matter is. And yet, poetry also lends itself to scenarios that border the unreal – like things 'unhappening' (Witnesses No. 47 and 101) which give us a way to address forgetfulness, and the admonishment to 'move on' without acknowledging what it is we're moving on from.
Flash prose and single thought microblogs are now making their way into the project. Other voices are coming through as well – 'other' witnesses, telling what they saw or experienced, second- or third-hand; and the poets themselves, debating their actions and responsibilities.
The diversity of voices is great. Our different approaches to language, style, tone and everything else helps people capture many possible scenarios that could have occurred. Not just the victim's point of view, but the perpetrator's too. How might a killer have felt? This has led to talk of the project being contradictory in terms of the message. Well, life is contradictory.
Say their names:
Ali, Ben, Susan, Beatrice, Lucy
Say their names:
Brother, Friend, Wife, Sister, Girlfriend
Say their names:
Kiptoo, Onyango, Achieng', Nyambura, Cheruiyot
Say their names:
missing, burned, raped, decapitated, insane
Say their names:
scared, criminalized, hated, feared, intimidated
Say their names:
forgotten, erased, error, error, error
Why Now?
There have been many projects addressing the post-election violence. Most of them talked about promoting peace, and in that way, they were successful. The elections took place 'peacefully'. People lined up for hours and hours to vote. Kenya's populace was determined to show that we could 'get along', that we weren't going to descend into the darkness that we had seen before.
But the peace seemed a bit odd, forced. A friend said 'we talked of peace, with guns to our head.' That's what it felt like, a militarized situation: 'be peaceful, or else'. The implied threat of violence, ironically as a reaction to anyone daring to engage in violence, seemed to be what kept people in check.
And still the wheels turned. The elections were held and it looked like "Team UhuRuto" was setting up for a first round win.

Then one of the four ICC cases, against civil service head Francis Muthaura, was dropped. The only witness for the charges against Muthaura confessed that he had been paid off. All other witnesses for this set of charges were said to be dead or had refused to testify.
I am tired
and it continues not to end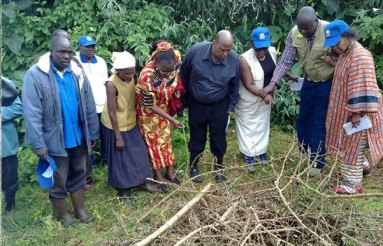 What is the witnessing? And what is its work? 
Witnessing in the project is many tiered. There's witnessing to the past - particularly the 2007-2008 election crisis and related death and violence. And witnessing the present - the ICC process and its flaws, what's happening in the back ground to the real people involved, victims, perpetrators and others. The project has been a way to interrogate the 'official story' and the new propaganda and try to reach the truth.
And, just what, is the truth? To be honest it may have turned into the murkiest concept in our country. We witness to say what happened, trying to recall without bias, but also without leaning towards any specific underlying motives as they are many and complex. We paint the picture.
We aren't the actual ICC witnesses. We watched as Kenya burned, as our compatriots tore each other apart; we took to the internet and interrogated our responsibilities as artists and writers.
We came from different backgrounds, ethnicities - even different countries. But we were all concerned. So watching ICC witnesses disappear was like watching the systematic erasure of our past. We were afraid that if everyone turned away, as many were doing, then we would forget.
We don't have access to the witness statements, but we do have access to a range of media that focuses on the post-election violence and the subsequent trials. We have lived through the nightmares in our neighborhoods and on television, watched the footage, seen the pictures, heard the stories. These are translated into the forms we choose to write in, make up a body of work that draws heavily from what did happen and moving beyond the statistics and general records to bring back the basic 'humanness' of what happened – show the people who were affected.
We refuse to forget. We cannot afford to forget.
Dholuo:
Pi wang'a chwer achwera.
Naneno gik malich miwuoro.
Chunya nogik.
Atarora atara.

English:
My eyes keep leaking. keep leaking.
They saw things too terrible to voice.
My heart stopped.
Now I merely exist. merely exist. 
Why are the poems not attributed to individual poets? 
When the project went online for public view (as opposed to being created and shared on listserves) the general consensus was that the work speak for itself, without attributions detracting from what was said and shifting focus from witnesses to poets. This was a collective exercise of memory, to piece together stories that we had heard, watched, read about, viewed photos of… at some point, the poet, while being the viewfinder, needs to step back.
It's important to note that we're not working with verified testimonies. We have nothing to do with actual ICC witnesses or witnesses to any local case. We are not working with people who knew enough to become real witnesses. We're working with our own present, our own memory, with the energy of our neighborhoods, the media and conversations with friends over tea and biscuits - or goat meat.
Violence is a very real part of our national narrative.
By not having any names, I suppose we are enacting or playing a more traditional folk role through the project, akin to traditional ceremonies of old where masked members of the community, through trances or otherwise, reflected the present or coming future of the community to itself. The identity of the masked ones was not important but the listeners (participants, really, as everyone was involved in the telling) accepted the message - knowing and trusting the truth of it beyond the particular identity of the messenger.
Names
would shift focus from what we were trying to say to who was saying it. Plus, some of the poets are writing views that are the polar opposite of what they "should" be thinking. Anonymity gives writers space to say what needs to be said.
There was also an unspoken, but implied sense of caution around the project, as the works were wont to describe the actions of people who would not be happy with their representations in the project. Having no attributions has freed up the creative space – I feel those poems that come through are more outspoken and tackle stronger themes than they would if the poet was being named.

Security aside, the funny thing about Kenya is, for most people, it's easy to tell what part of the country you hail from just by your name. And it's never harder to read text on its own terms than at election time, and harder still when the subject is so charged. It was useful to prevent people from reading anything but the text. It was also probably easier to hear the content, shorn of the ego-laden questions of who wrote it, and how good a poet do I think that person is.


Yenyewe Sir God hutujalia jo.

kama si ukame au wanadamu

kufanya vita wenyewe

hatujawahi kufa njaa

Sielewi. labda ni sacrifices

wanatolea mashetani yao.

Kama ni sisi tunafaidika,

labda ni sisi wanaombea?

--Witness #88: Vulture VeeVIKAA

I do hereby make oath and swear as follows:
1. THAT I am a male adult individual of sound mind hence competent to swear this affidavit.
2. THAT I once said something about someone, but I've changed my sound mind.
3. THAT I now revoke my testimony because I'm terrified of what might happen instead.
4. THAT I never expected those I moved against to come into power.
5. THAT both bribery and threats are effective tools to buy a witness.
6. THAT if you are reading this, I might be in a shallow grave somewhere.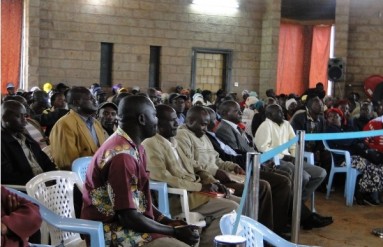 What Are The Prevailing winds in Kenya now?
In 2007/2008, following the announcement of election results, there was widespread violence across the country - but especially in the Rift Valley, in Nairobi, at the Coast and in Kisumu. More than 1000 people died, about half a million were displaced.
It is widely accepted that the violence was organized.
The ICC process sought the persons responsible. It indicted sets of suspects from the two historically warring factions. There has been a lingering gangrened sense that some persons who were not indicted bear the greatest responsibility; that they wiggled out of the ICC's net, by accident or by design.
Two of the ICC defendants, newly elected President Kenyatta and his running mate, William Ruto decided to pool their support around the country and run together. This was presented as a reconciliation of their communities. But in the run up to the election, the international community warned against voting for accused persons. This backfired spectacularly as the ICC process and its uneven delivery of justice came into question.
So Kenya just elected two of the men standing trial for crimes against humanity. No one really knows how this will play out. The country is split right down the middle - between euphoria and bitterness. Even walking down the street, you pick up residual tones of feeling.
Online, we will violently attack anyone who dares even suggest that Kenya is not okay. We will pull statistics about how our good country is growing economically. We will insult them, their mothers and even their dogs. We're a ruthless lot you see. But the truth is we're scared inside. So we'll say anything to cover ourselves up.
Local media was reluctant to report anything that could cause unease – they ignored what was right there, whether out of patriotism or fear… I'm not sure that was the way to go about it. There have been two narratives about Kenya running concurrently, one local, the other foreign. Foreign journalists have been reporting about us longer than we've been reporting on ourselves, and have often provided 'the model.' We've tended to use it, but with increasing critique. In recent years we've started to see that change; local journalists reporting on Kenya with more thought and personal investment. They've learned since the last election that they literally defend their homes every day they are at work (especially at election time). It's like when CNN or even Fox News reports on (white) American issues – there's that sensitivity, care and sometimes willful blindness in the reporting. Our media might have been more wilfully blind during this election, but the stakes were also higher for us.

Will Uhuru be a good president? Will I die tomorrow? Will the new Superman movie hit? All hypothetical questions. At this point only one thing is real, and that's our fear.
tell me about
the screams of old men
it was a job
just a job
tell me about
the smell of your neighbor's burning flesh
it was a job
just a job
tell me about
raping women
it was a job
just a little fun

tell me about
becoming a monster
--Witness #13
Response And Challenges?
It hasn't been easy for the poets. Some reactions, from people who identified themselves as victims of the post-election violence, were angry. 'How dare they claim to speak for us,' and truly, how dare we. That said, there are contributing poets who were also directly affected by the violence, who recount what they experienced. It was never our intention as poets to replace the voices of ICC witnesses and 2008 survivors with our own, but more to amplify them. So that those voices don't get drowned out in the peace celebrations and 'moving on' that occupy centre stage in Kenya right now.
If you think about it, who is a witness? A murderer? A corpse? And what is it to witness? To see, to hear, to think, to imagine, to remember, to create, to feel, to fathom, to smell, to craft? If one was to write a poem about the war in 1945 today, who would question their right to write it? Something happened – and it may continue to be happening – and we absolutely cannot go prancing around as if it didn't (as if it isn't).
Others who have criticized the project claim that it is meant to be an destabilizing force, targeting our 'peace' and aligned with Western interests – and perhaps, with the lack of attribution, it may be read that way even though that is not the intention. Those who are made uncomfortable by the project need to examine what it is about these witnesses that makes them uncomfortable, what gives rise to this feeling that the poems are 'anti-Kenyan' (when all the people involved in the project identify very strongly as Kenyan).
And then there is the enemy that is ourselves. Writing the witnesses can be emotionally taxing for the poets – discussions between those involved can be quite charged as accounts are reconstructed, as we sometimes question what we are doing. Going back over accounts of the violence reveals flaws in our own thinking, moments of questioning humanity.
It occurred to me that I've never been more aware of ethnicity than I have been in this election. Not always in the best way. That awareness has come from interacting on a very personal level with everyday people across Kenya . I worry whether that awareness will recalibrate itself into something more reliably positive.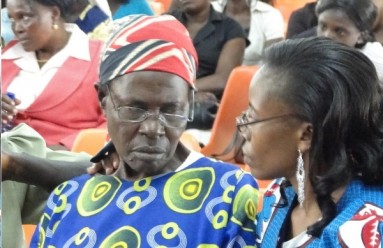 What Next?
There's no solid way forward. When we began I didn't even think it would be around for this long. We may incorporate other art forms - there have been whispers of photography.
We just need to keep writing, get more people to join the project and more people to read.
And the unfolding itself is absolutely fascinating. Having different poets with different views, who are also changing their own lens keeps it fresh. But life is quickly going back to business as usual and it is harder; there's a sense of responsibility - of owing it to the universe not to get too distracted.
Right now the message is painfully clear. No matter what else happens we can't let ourselves forget. We just can't.
If we stay silent, and if the witnesses are silenced, then all we will have to say when the post-election violence is mentioned is: " It was a dark time for Kenya. Something bad happened. The end."
I lost my strength on a garden path
peopled with clovers and
mukengeria creepers thick
as a conspiracy.
I lost direction in the market
haggling down the price of tomatoes,
fantasies of omena in red, red sauce
keeping my silent pain company.
I lost courage in a harambee
raising funds for a child with leukemia,
the family flush with money for the first time
just before the burial.
I lost my heart in a jua kali shed.
It wasn't a sudden heart failure,
but a daily robbery in small doses,
like the progress of death.
My resolve went with my spouse;
with my two little girls –
pinpoints of light in a long night.
Three pillars knocked down in one flight.
My memory washed and wore
The way clothes might change colour
from orange to pink to almost white
with daily laundering.
I lost hope the way a leaking roof
drives sanity away, drop by drop.
Fix the iron sheets or buy uniform
or save for school fees?
It's the way a couple of weevils
ruin a bag of cereal.
Too many small weevils,
too many fights.
I lost.