The Ten Commandments monument at the state Capitol was destroyed Thursday night by a man who reportedly told authorities that Satan told him to do it.

Gov. Mary Fallin said the monument will be rebuilt.
A vehicle ran over the monument, knocking it into several pieces, said John Estus, a spokesman for the Office of Management and Enterprise Services.
After crashing the vehicle, the suspect went to the federal building and allegedly made threatening statements about the president, said David Allison, assistant special agent in charge of the Oklahoma City field office of the U.S. Secret Service.
(via)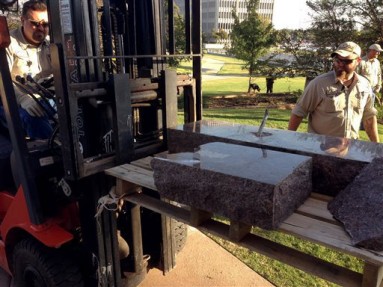 • • •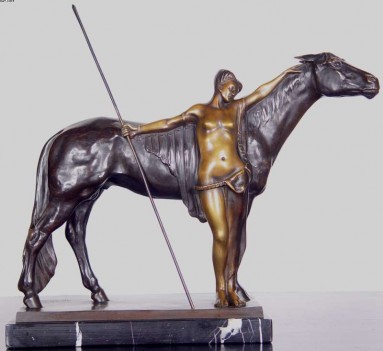 Marius Martens, a Dutch art dealer, said art from Karl Walther or sculptor Georg Kolbe, whom Hitler liked and whose work he displayed in Third Reich buildings, has finally caught the eye of collectors because the World War II period is now popular.

"This is only the beginning," Martens said, adding that he has received death threats for selling the artwork. Panagopulos said he is already planning a sale of the works.

Martens told Secrets that the popularity of Hitler's favorite artists sprang to life in just the last 12 months.

"Last year, the market was awakened by the sale of a painting by Karl Walther for 23,000 euro. It was an extremely scarce piece as it once hung in the New Chancellery of Adolf Hitler." he said.

"It seems now that this was not a one-off occasion. Recently works of other artists popular in the Third Reich have been sold for considerable prices," he added.
(via)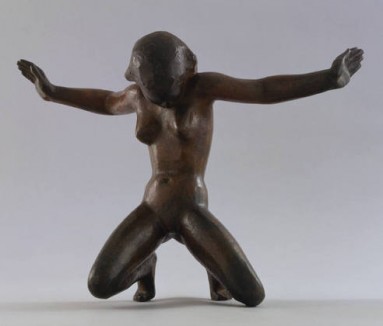 • • •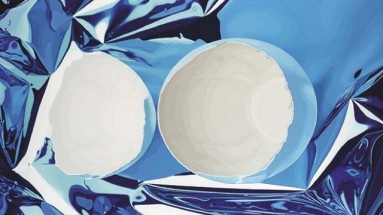 It was October 1995. Koons was making the "Celebration" series. Produced by dozens of assistants, the group of paintings and sculptures were snapshots of a child's party, a colorful bonanza of balloon dogs, frosted cake and pin-the-tail-on-the-donkey. He was a perfectionist who promptly fired assistants whenever they failed to meet his standards. I never had to worry. I'd always had a careful eye and steady hand.
I was assigned a new work, a painting called "Cracked Egg." The cleaved halves of an empty eggshell were photographed against a backdrop of reflective Mylar. The photo was projected onto a blank 80-square-foot canvas and traced by hand. In the center of the room was a glass-topped table surrounded by spotlights, staffed by four painters whose sole responsibility was mixing hundreds of colors to match the original image. Each custom-mixed hue and tint was assigned a name, like cool cyan magenta nine or warm cobalt blue four. Once the drawing was complete, the sections were coded accordingly with abbreviations like CCM9 and WCB4, a taxonomy of color.

My job was simple: Paint by numbers. The most intricate sections required miniature brushes, sizes 0 and 00, their bristles no longer than an eyelash. The goal was to hand-fashion a flat, seamless surface that appeared to have been manufactured by machine, which meant there could be no visible brush strokes, no blending, no mistakes.
(via)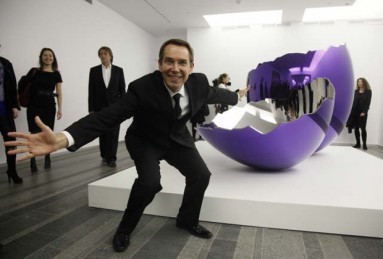 • • •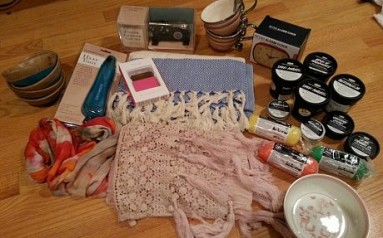 Despite hitting the headlines in April and May this year, members of Tumblr, the microblogging platform and social networking website, are continuing to share images of their stolen goods and advice on how to shoplift under the hashtags #shoplifiting and #stealing.
"I had all of those undies in my purse in that picture I posted yesterday", wrote one blogger recently, "I didn't realise I had grabbed so much stuff. If you have any questions about where I got anything feel free to message me! I'm always willing to help."
Totalling up the retail value of the stolen goods, the blogger added, "Total: $520. I made sure to use the sale prices and still ended up with a crazy total so I guess this goes to show how overpriced everything is".

[...]

Anonymous bloggers have started advising one another on how to avoid the "faux moral outrage" levied at them by online critics. "It's long since been unnecessary to make any introduction/announcement posts about, 'Hi I'm a new lifting blog', you'd be better off following your faves and trying to interact with them", suggested one.
(via)