Clear Channel ad fixtures in the capital were hijacked by activists who opened the fixtures and inserted their own authentic-looking ads featuring the branding of the Metropolitan police.

The ads were designed by Strike! Magazine, although the publication denied responsibility for their distribution.

One ad, posted outside of New Scotland Yard, said: "You're 28 times more likely to be stopped and searched in London if you don't have white skin, because we're still really racist."
(via)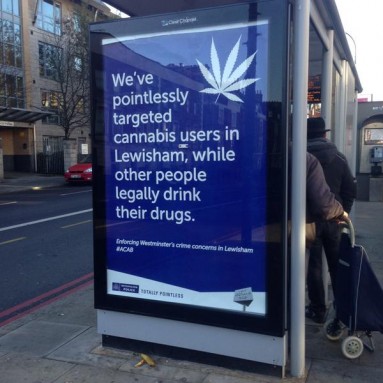 • • •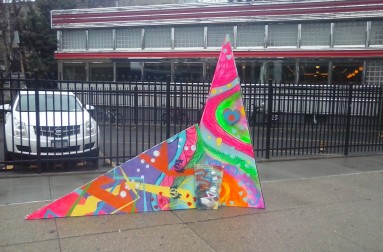 The piece was a response to the $450,000 commission awarded to Israeli-born, Brooklyn-based artist Ohad Meromi for his sculpture "The Sunbather" by a panel picked by the city's Department of Cultural Affairs (DCA). The anonymous plywood sculpture, which loosely resembled two connected triangles, one tall and narrow and a second long and low, was roughly the same dimensions as the proposed proportions of "The Sunbather." The piece was sprayed psychedelically with swirling, vibrant colors and covered with hearts and bubbles, a possible parody of the bright pink hue of "The Sunbather." The protest sculpture was placed in front of the Court Square Diner on Jackson Avenue, possibly due to the its proximity to MoMA PS1.

A statement outlining the unknown artist's grievances was written in black magic marker on a plank of wood left leaning against the sculpture: "This sculpture is in protest of the spending of $450,000 on a sculpture to be placed on Jackson Ave. in Long Island City. This is not against the artist. It is against the misuse of our TAX DOLLARS. It cost $350 Dollars to make this sculpture which we are donating to Long Island City and there are many local artists that would do the same so this money could be spent on something constructive like EDUCATION… #streetArt" A five dollars bill was wheatpasted to the bottom of the message.
(via)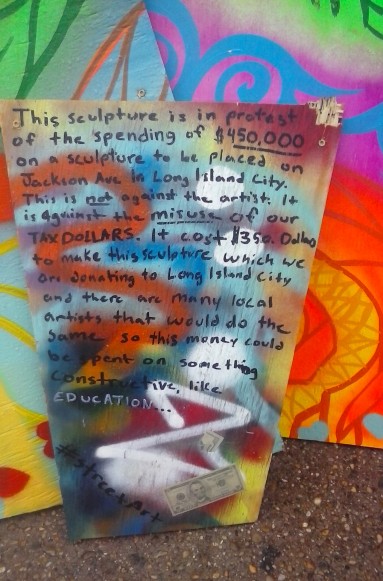 • • •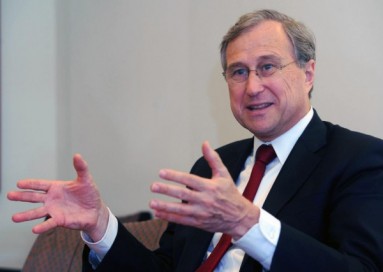 At a swanky breakfast hosted by Bank of America CEO Brian Moynihan at the bank's corporate headquarters, Chairman of the New York State Republican Committee and Richard Nixon son-in-law Ed Cox accidentally knocked over an antique vase valued at $70,000, smashing the work to pieces.

According to the report, "[the vase] fell to the floor and shattered with a terrible, piercing sound which stopped the entire room," a source revealed. "Ed nervously tried to edge away from the wreckage while the event staff looked mortified. One exclaimed, 'Oh my God, that was a $70,000 vase!'"

The breakfast was held to raise support for restoration of artworks at St. Patrick's Cathedral, and the guest list included Home Depot billionaire Ken Langone and Blackstone's John Studzinski, as well as Cardinal Timothy Dolan.

Bank of America's art collection is considered to be among the top corporate collections in America, though little is known about the specific artists or works represented.
(via)
• • •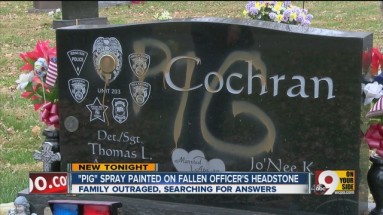 Lawrenceburg law enforcement officials are looking for leads into who vandalized the grave of one of their fallen police officers.

The wife of Lawrenceburg officer Detective Sgt. Thomas Cochran filed a report with the Dearborn County Sheriff's Office Saturday after the word "PIG" was found spray painted in yellow on his headstone

The crime that took place in River View Cemetery in Aurora where the officer was laid to rest was discovered at 10:49 a.m., according to the sheriff's office report.
(via)
• • •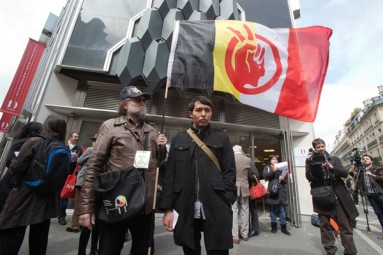 HARP Chairman Ori Z. Soltes emphasized that "The Conseil des Ventes has the power to suspend this sale on two grounds. First, the presumption of good faith of the seller, which is the legal rule in France to challenge these sales, is eradicated by the numerous regulations and statutes which have been in effect in the U.S. for years. Furthermore, the Conseil must seek the provenance information for these objects from the seller. These objects cannot be sold or disposed of for legal, cultural and moral reasons."

Pierre Ciric, an attorney representing HARP told artnet News, "The goal is not to seek the restitution of the objects but to suspend the sale." According to Ciric the Hopi tribe has previously filed three unsuccessful civil lawsuits in French courts. On this occasion the tribe is hopeful that taking the case to the Conseil des Ventes will yield a more successful outcome.

A representative of the Hopi Tribe, Marilyn Fredericks, said "The outcome we would like is long term education of Hopi perspectives, and an understanding of our way of belief. Although it does not reflect the European type of belief and religions, we would like the world to respect us as Hopi people." She added, "We call on the french government to do the right thing and listen to our petition that we have sent to the ministers of culture, foreign relations and justice."
(via)