In a video of the performance posted on YouTube, the two young men are shown carrying 5-litre bottles of holy water marked with a cross from a church across the square.

They move aside barriers in front of the mausoleum and throw the water at the doors and steps, shouting "Rise up and leave!" several times before being detained.

On Monday, Orthodox Christians celebrated Epiphany, a holiday marking the baptism of Jesus in the Jordan river that people commemorate by immersing themselves in icy rivers and lakes.

A spokeswoman for the Blue Rider group, Irina Dumitskaya, quoted by OVD Info, said that the aim of the performance was "to demolish the myth that Lenin lives forever by attempting to resurrect him on the Epiphany holiday just as Lazarus was raised from the dead."
(via)
• • •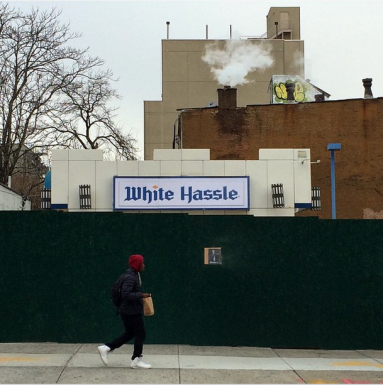 "I think, like all my work, it has a satirical angle to it. It's just a commentary on what's happening in the neighborhood," Specter said. "You can call it gentrification, you can call it anything you want. This consistent change is happening everywhere." Specter confirmed that he installed the piece yesterday, but denied any deliberate connection to Martin Luther King Day.

The piece is more than just waggish wordplay—Brownstoner reported that the Myrtle Ave spot where you could once score some gnarly Fish Nibblers™ will become shiny new luxury apartment buildings in the very near future.

The process of putting up the piece, for Specter, was itself a study in Clinton Hill gentrification. "No one was ever concerned about what I was putting up. They kept coming up to me wondering what's going on, instead of bothering to look at [the White Hassle sign]," he said. Passersby seemed thrilled with the idea of something new being built in the now derelict space. "A guy pulled up in a Porsche Cayenne and stood there, staring at me."
(via)
• • •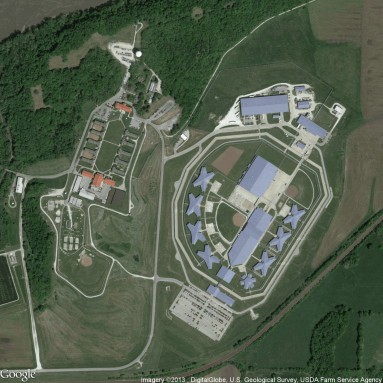 "Prison Map is about visualizing carceral space," says Begley. "We have terms like the 'prison industrial complex' but what does that actually look like? If you were to stitch together all these spaces of exception, how might they appear from above?"

To create Prison Map, Begley coded a script that plugged the known coordinates of prisons and jails nationwide into the Google Maps API. When he ran the script, it snapped a photo of every county jail, state prison, federal penitentiary, immigration detention facility and private prison—more than 5,300 in all.
Since 1980, the US prison population has exploded from fewer than 500,000 to more than 2.2 million. That's prompted a prison building boom, mostly in rural America. As a consequence, many of these facilities are located in small towns, deserts, and remote corners of states with lots of space. They're out of sight, and out of mind.  Prison Map reveals this vast hidden infrastructure.

The rapid expansion of the country's prison system has brought with it the rise of the supermax prison—austere facilities designed specifically to keep prisoners in solitary confinement for indefinite periods. The first modern supermax, Pelican Bay State Prison at the northernmost end of California, was built in 1989. It provided the model for 60 others across the nation. In recent years, public debate about American prisons has focused particularly on the psychological trauma caused by prolonged isolation.
(via)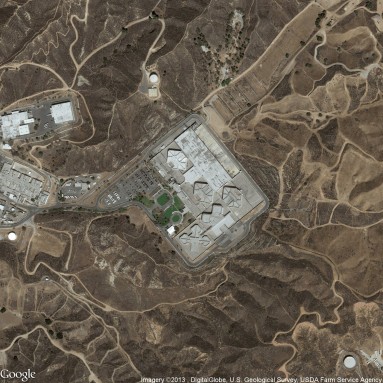 • • •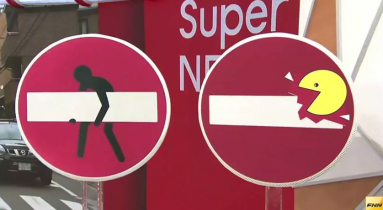 Urakawa is suspected of breaking the road traffic law by altering several road signs in Chayamachi, in Osaka's Kita Ward, at around 1 a.m. on Jan. 3.

Apparent surveillance footage obtained and broadcast by Japanese media appears to show two individuals climbing a post to reach the sign. Police are thought to have identified Urakawa from the video.

Abraham earlier told his Facebook followers he was in Japan over the New Year's holidays. Osaka police have not confirmed the second suspect's identity but say the investigation is ongoing.

"If police ask me whether I did it, I would say 'Yes,' " the Fuji News Network television channel quoted the culprit as saying, although it stopped short of naming the individual as Abraham. He told the network that he had tampered with 90 signs in Japan on the grounds that they are symbols of authority that he seeks to challenge through art.

FNN showed examples of the sticker graffiti, including images of a sign that had been altered to look like an arrow piercing a heart, and one that showed a bar being eaten by Pacman, the video game character.
(via)