Spanish Police have arrested two brothers from Girona, Spain, who attempted to sell a fake Francisco de Goya painting to a purported sheikh, EFE reports. But the "sheikh" was no victim: he paid the pair with photocopied money.

The con artists realized they had been tricked when they tried to deposit 1.7 million Swiss francs (€1.5 million) in a Geneva bank and were told that the banknotes were mere photocopies.

Spanish police officers found out about the scam in December 2014, when the Avignon customs warned them that they had intercepted two Spanish brothers trying to smuggle 1.7 million fake Swiss francs.

The sheikh had purportedly agreed to pay a total of €4 million for the Goya painting, entitled Portrait of don Antonio María Esquivel. The first batch of cash was to be collected in Turin, and was delivered by a middleman from the prince's entourage. Apparently, the brothers verified the cash was legit with a machine, but the middleman managed to switch it before they left for Switzerland.

To add insult to injury, the brothers had also given a €300,000 premium to the middleman who had introduced them to the sheikh. In order to do so, they had asked a friend to lend them the money, promising to give it back the following day, with an extra €80,000.
(via)
• • •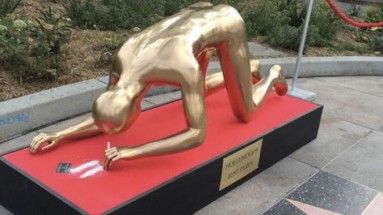 Street artist Plastic Jesus placed a life-size Oscar statuette on Hollywood Boulevard at La Brea Avenue on Thursday morning, at the edge of where the street will be closed ahead of Sunday's awards.

In addition to being big, this Oscar is far from the reserved gentleman movie buffs might expect: He's on all fours and snorting two lines of cocaine.

The statuette's appearance comes a year after Plastic Jesus pulled a similar stunt, putting an eight-foot Oscar with a needle in his arm on Hollywood Boulevard. That statuette was a commentary on the death weeks earlier of Philip Seymour Hoffman due to a heroin overdose.
(via)
• • •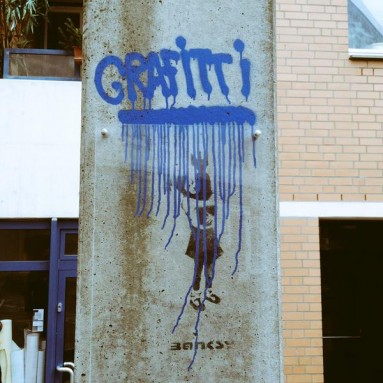 An unknown vandal has destroyed Germany's last remaining Banksy mural, Süddeutsche Zeitung reports. The elusive street artist sprayed the stencil Bomb Hugger, which depicts a little girl embracing a bomb, on a concrete pillar in Hamburg's city center in 2003. A local arts foundation installed a protective plexiglass covering over it in 2011.

Not discouraged in the slightest by the plexiglass covering, the perpetrator sprayed the words "GRAFFITI" above the piece, adding a heavy underline which dripped underneath the protective glass to deface the artwork. The case is being treated as an act of deliberate vandalism based on the "dripping" technique used.
(via)
• • •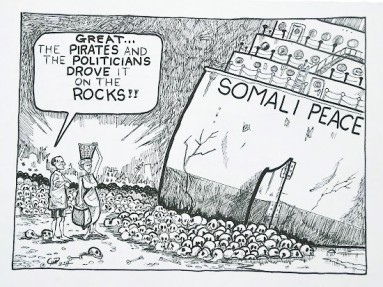 "When I worked for the agency, I was frequently called upon to use my cartooning skills during the Cold War with the communists," he said. "Beyond that, I can't say any more without going through the publication review board process."

Though the article remains vague on this point — despite being impressively long-winded on so much else — the CIA did set up a division in 1947 called the Propaganda Assets Inventory that, at its height, influenced more than 800 newspapers, magazines, and public organizations. Throughout the war years, the agency used art to fight Communism; in the 1950s, it developed a policy called Militant Liberty that encouraged movie studios to explore themes of American freedom in their films.

But Beck's artistic career under the government extended far beyond the Cold War. He served as an army combat artist for the US Navy during Operation Just Cause in Panama and Operation Desert Storm in Iraq. "I was pretty much on my own in the desert, covering Navy, Marine, Army, Air Force, and Coalition Forces during the entire 47 days of the war," he recalled.

Beck created 500 cartoons about military security for the navy during the 1990s, many of them featuring a character called Kiljoy, based on Kilroy, a World War II character that was never copyrighted. Then, after September 11, the Pentagon asked him to organize Cartoonists Against Terrorism, an effort to promote democratic themes in comic strips, along with a similar program in Baghdad between 2003 and 2005. Most recently, in 2013, he spent a couple of months in South Africa, "[drawing] editorial cartoons in the opposition campaign to oust [Robert Mugabe,] Zimbabwe's aging president (i.e., dictator) from office."
(via)