• • •
Behind every work of art lies an uncommitted crime -Theodor W. Adorno
• • •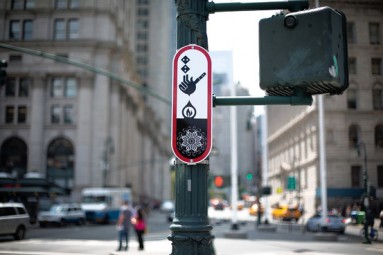 In an official partnership with the New York City Department of Transportation, Ryan McGinness has erected 50 signs throughout Manhattan. The red-and-black compositions are the approximate shape and material of a standard street sign, but feature abstract visual language intended to delight and inspire passers by.

Some people have been inspired differently than others. Since their arrival three weeks ago, as many as 40 of the signs have been stolen in a kind of highbrow street crime that has the artist and the DoT miffed, reports the Wall Street Journal.

McGinness's faith in the community and the notion of public art is understandably shaken. "When I caught one of the first few disappearing, I was mildly amused. [But later], it felt a little more aggressive. It made me just plain angry," he told the WSJ, noting that the installation didn't make it more than three days before it was largely dismantled by thieves.
(via)
• • •
Cecil Taylor, the jazz pianist known for his wild improvisations and free-form performances, was sitting next to the Brooklyn district attorney on Tuesday. The stated purpose was a news conference on the arrest of an acquaintance who was accused of bilking Mr. Taylor of $500,000 in prize money.

But Mr. Taylor did not want to talk about the case.

He wanted to talk about the quality of trees on the train ride between Tokyo and Kyoto, the Kabuki dancers he had once seen in a Balanchine ballet, the conductor Pierre Boulez.

As he riffed and the reporters, with their notepads and video cameras at the ready, tried to get a more linear response, the resulting give-and-take was a piece of performance art in itself. The money accompanied the Kyoto Prize, administered by Japan's Inamori Foundation, which last year described him as "one of the most original pianists in the history of jazz," praising his "distinctive musical constructions and percussive renditions."

How did you know this man, Mr. Muir? one reporter asked.

"I don't want to talk about that," Mr. Taylor, 85, said.

How did you find out about the fraud? one asked.

"I had friends working on it; they're here right now," Mr. Taylor said. "I've had a good time in my life. Mostly I did because I asked my mother for piano lessons when I was 5, and she said, 'I'll think about it,' "
(via)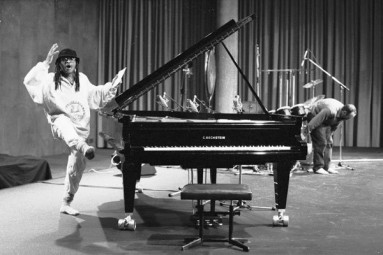 • • •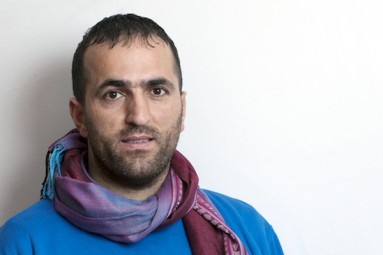 The New Museum's sprawling "Here and Elsewhere" show of art from the Arab world, opening to the public on Wednesday, July 16, is the result of more than a year of research by star curator Massimiliano Gioni and his team, and promises to introduce "urgent questions and new aesthetics to US audiences." It will, however, be missing one voice.

Ramallah-based Palestinian artist Khaled Jarrar was scheduled to be in New York for the festivities, and was supposed to play a key role in the opening days of "Here and Elsewhere" as part of a panel discussion moderated by curatorial associate Natalie Bell. Instead, Jarrar says he remains trapped in the West Bank after being turned back by Israel on Sunday while trying to travel to Jordan to catch an international flight to the event.

In an email, Gioni confirmed the story to artnet News: "Unfortunately there isn't much to comment about the sad news that Khaled Jarrar was not allowed to leave Ramallah and travel to NY. His work is so invested in witnessing reality and capturing history as it unravels in front of his eyes, that sadly it is only too appropriate that reality and history would get in the way of his life."
(via)