In an ongoing case, Australian artist Paul Yore is facing child pornography charges following complaints concerning his work in a group show on view last year at Melbourne's Linden Centre of Contemporary Arts. The art in question is part of Yore's site-specific, large-scale installation "Everything is Fucked," a tottering mountain of colorful bric-a-brac that viewers could enter. As part of the work, seven photographs of children's faces were overlaid on images of male bodies engaged in sexual activity, prompting a gallery visitor to file a complaint to the police, The Age reported. The exhibition, Like Mike, is a tribute to Australian artist Mike Brown, who was the only Australian artist ever convicted of obscenity. Brown was sentenced to three months of hard labor for a group of paintings he exhibited in 1966, but it was late reduced to a $20 fine on appeal.

In response to the protests, Australian police, armed with a warrant and a box cutter, cut out the images last May; however, the Melbourne Magistrates Court ruled on the first day of Yore's hearing that the exhibition was actually suitable for viewers 18 and older according to standards set by the Australian Classification Board. Yore has pleaded not guilty to both charges of producing and possessing child pornography.
(via)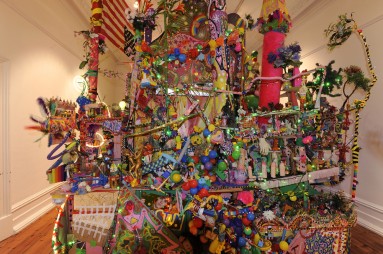 • • •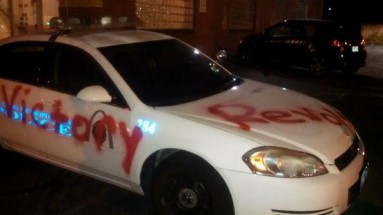 A St. Louis city police unit was vandalized overnight. The words on the car read, 'Victory' and 'Revolt.' The vandalism occurred on the Hampton Village parking lot around 2:30 a.m. Wednesday morning.

The Mazda Road Runner Bobby Hughes captured this photo while on the scene.

The car has been towed to a garage for repairs.
(via)
Cops were scanning surveillance camera footage Wednesday of a tagger who spray-painted his feelings on a police car near the 94th Precinct stationhouse in Greenpoint, a van and the exterior of PS 31.

"NYPD = NAZI," one message read. "NYPD Picks on Harmless People," said another. The suspect also wrote "NYPD" next to a swastika.

"A wrongful arrest is a crime NYPD 94 curse you," the tagger wrote on the exterior of the school, which is near the stationhouse on Meserole Ave.
(via)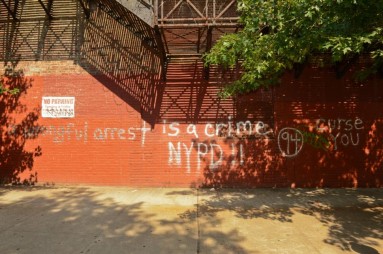 • • •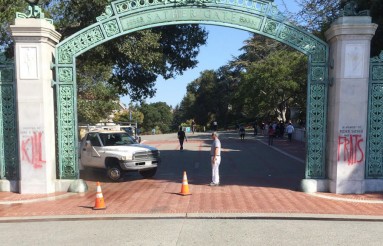 UCPD received several calls early Wednesday morning about the vandalism and responded to the scene around 2:10 a.m. Officers apprehended [one] student and three men who do not attend UC Berkeley...The four men were allegedly carrying red paint.

The words "KILL FRATS" and "Kill ASUC" were spray-painted onto the pillars of Sather Gate, and the message "KILL REGENT$," along with a hammer and sickle sign, were graffitied onto Haas Pavilion. "FULL COMMUNISM" was spray-painted beneath a bridge over Strawberry Creek, and "Frats = Rape" was also spray-painted onto the side of Cesar Chavez Student Center.
(via)
• • •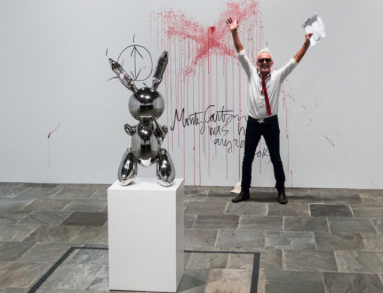 On August 20, Canadian performance artist Istvan Kantor smeared a white wall on the third floor of the Whitney Museum's Jeff Koons retrospective with his own blood, and signed the impromptu mural with the name "Monty Cantsin," and Hyperallergic reported. He was photographed by a passerby, ecstatically raising his arms and holding a piece of paper.

Kantor was removed from the scene by security and sent to a mental institution for evaluation. The exhibition was closed off, but quickly reopened. No artwork is reported to have been damaged...

The Hungarian-born Canadian artist Kantor is one of the founders of the Neoist art movement, which began in Montreal in 1979, and whose acolytes regularly adopt the moniker Monty Cantsin to carry out performances and exhibitions.

Kantor's Koons attack is the latest in a series of radical performances begun in the 1970s, in which the artist throws his own blood on artworks, exhibitions, or members of the public. The most infamous recent entry in the series came in 2004, when Kantor threw a vial of his blood at the wall near a Paul McCarthy sculpture of Michael Jackson at Berlin's Hamburger Bahnhof.

Not everyone has responded to Kantor's bloody performances so negatively. In 2004 Canada gave him a Governor General's Award in the visual and media arts category.
(via)