As part of our This Week in Art Crime series, and in partnership with Oscilloscope films, next week, on Thursday, September 18th at 9 PM, we will be holding a premiere screening of the new film Art and Craft. The film is about Mark Landis, a prolific and philanthropic art forger who donates his forgeries to museums and galleries rather than make money from his work. This NYC preview screening will be free, and will take place at Videology in Brooklyn. Facebook event here. Seats are first come first serve. Hope to see you there!
• • •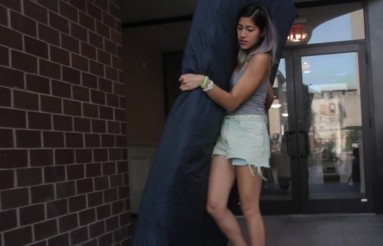 Now a senior majoring in visual arts, Sulkowicz has devised a senior thesis rooted in performance art that will allow her to protest the fact that her rapist continues to study on campus. She has committed to carrying around a twin-size dorm mattress everywhere she goes on campus, to classes and appointments, "for as long as I attend the same school as my rapist."

"I was raped in my own dorm bed, and since then that space has become fraught for me," she says in a video about the piece, called Mattress Performance or Carry That Weight, published by the Columbia Spectator. "And I feel like I've carried the weight of what happened there with me everywhere since then."
(via)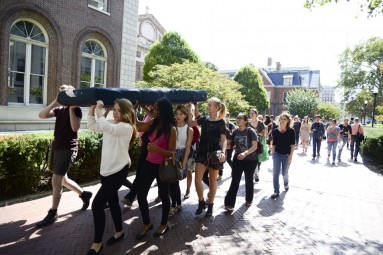 Responding to the call to "carry the weight together," fellow students helped Emma Sulkowicz, the Columbia senior who is lugging her mattress everywhere while her rapist remains on campus, carry it from the courtyard to her class yesterday.

The collective carry was organized by students and alumni who want "to help Emma carry the weight of the physical mattress, give her and other survivors of sexual assault in our community a powerful symbol of our support and solidarity, and show the administration that we stand united in demanding better policies designed to end sexual violence and rape culture on campus."
(via)
• • •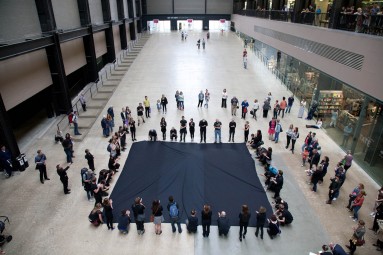 Over a hundred members and supporters of art collective Liberate Tate today (6 September 2014) carried out an unsolicited interpretation of Malevich's iconic Black Square in Tate Modern's Turbine Hall.

Liberate Tate's 'Hidden Figures' was a dramatic reference to Tate's refusal to disclose information about its controversial sponsorship relationship with BP. In April 2014, the UK's Information Commissioner ruled that Tate was breaking information law by refusing to remove a series of black squares covering information about the sponsorship deal in meeting minutes of Tate's Ethics Committee and Board of Trustees. The painting 'Black Square' by Kazimir Malevich is currently on display as part of the Malevich exhibition at Tate Modern.

The Liberate Tate performance started at 1pm when a 64 square metre black cloth was unfurled having been smuggled into Tate Modern. The hundred performers gathered around the edges of the giant Black Square and in unison raised the material up into the air. Individual performers then took turns to enter underneath the material making a series of shapes and poses while the material settled on top of them.
(via)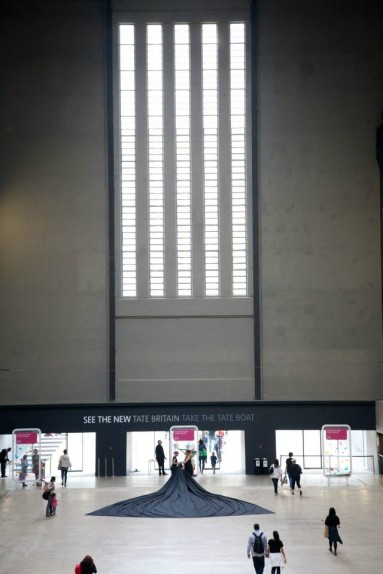 • • •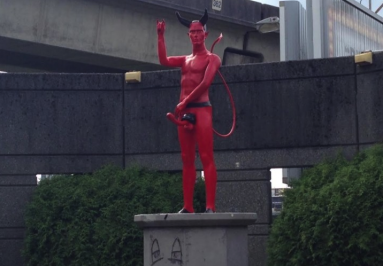 Vancouver officials say a nude statue of Satan was removed from a park near the Grandview Highway because it was not officially commissioned by the city.

The statue depicted a nine-foot-tall, anatomically-faithful figure of a red-skinned Satan, complete with horns and a visibly prominent representation of a phallus. The statue holds one hand up in a devil-horn salute.

Passersby first noticed the statue on Tuesday morning.

The sexually explicit statue was visible to commuters riding the SkyTrain route nearby.

No one has claimed responsibility for creating the statue.
(via)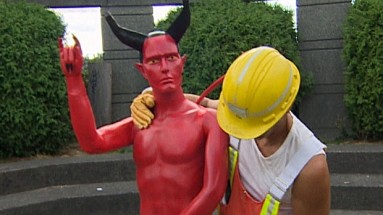 • • •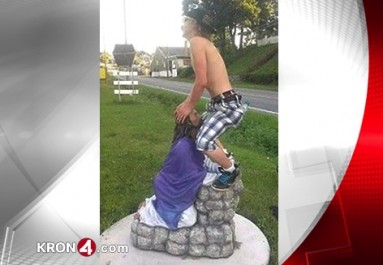 An Everett, Pennsylvania, teenager is facing two years locked away over some offensive photos posted to his facebook account.
The photos depict him in mock sexual positions with a Jesus Statue.  The statue does not appear to have been harmed during the incident.

KRON4 reports that the photos were taken and uploaded in July in front of the "Love in the Name of Christ" Christian organization in his hometown of Everett.
The young man is charged with "Desecration of a Venerated Object.", which is defined as "Defacing, damaging, polluting or otherwise, physically mistreating in a way that the actor knows will outrage the sensibilities of persons likely to observe or discover the action."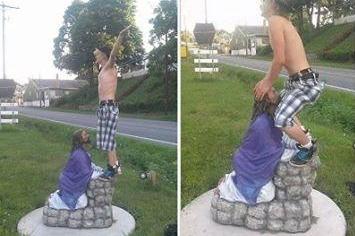 • • •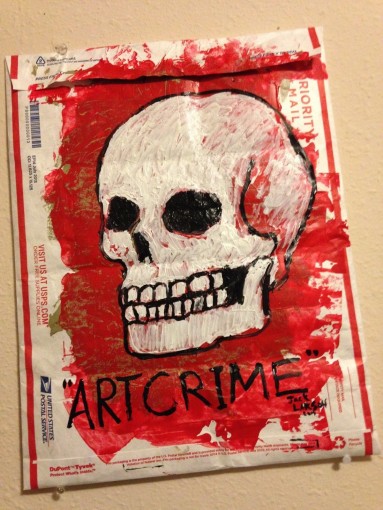 "ARTCRIME" original art on ILLEGALLY repurposed Priority Mail Label 12"x16"
(For Sale)