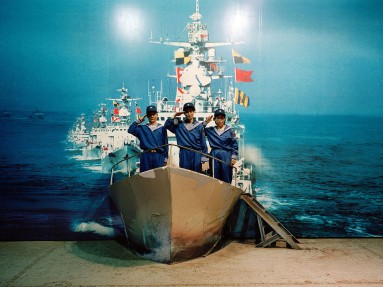 Reiner Riedler's Fake Holidays series documents vacation spots from around the world, and they're all a mirage. There are crystalline tropical beaches, built inside a resort in Germany. Guests get their picture taken in front of replicas of Mount Rushmore in China, and dine next to Mayan ruins in Florida. In Dubai, there's an indoor ski resort—with snow.



"I was fascinated first by temporary city beaches," Riedler says. "They are now common all over Europe, but at the beginning of my work, this was new. After work people went to these artificial beaches and enjoyed the feeling of being on holidays. I wondered why people were so easily manipulated, as if sand, drinks, music, and a tub of water are the ingredients for happiness."
(via)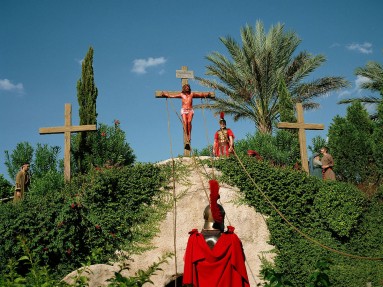 • • •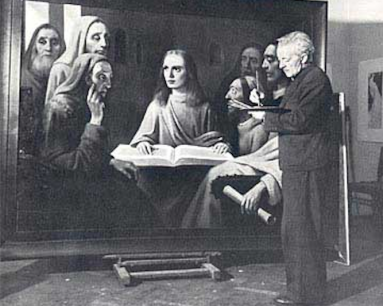 As Allied forces pushed into Nazi territory, the van Meegeren Vermeer, along with 6,700 other looted pieces of artwork, was uncovered in an obscure Austrian salt mine. Göring had kept immaculate paper trails for all of his paintings, and the Vermeer was traced back to Miedl; when Miedl was questioned, he pointed to van Meegeren.

When asked by police where he'd acquired the painting (still thought to be an original Vermeer at this point), van Meegeren was unwilling to admit to his life as a forger, and unable to explain himself. It was only when he was accused of being a "Nazi plunderer" that van Meegeren revealed his story.

"The painting in Göring's hands is not, as you assume, a Vermeer, but a Van Meegeren!" he told police in May 1945. "I painted the picture!"

Van Meegeren's story was immediately met with skepticism. Facing charges of fraud and aiding and abetting the enemy, the artist found himself in a peculiar situation: He had to systematically prove he had conned the Nazis through forgery. As preliminary trials began in 1945, he got his chance.

After being confined to the headquarters of an Amsterdam military command for a few months, van Meegeren offered a proposition to prove this innocence -- he'd forge one last Vermeer before a panel of reporters and court-appointed witnesses. The court agreed, and the man was brought his paints and brushes. Over the course of six weeks, a drunk and high van Meegeren (he claimed this was the only way he could work) slowly crafted his last Vermeer, "Jesus Among the Doctors." Forgery experts subsequently determined that it was of such a high quality that van Meegeren couldn't possibly be lying, and his abetting the enemy charge was dropped. (The painting was later sold for $7,000, astronomically lower than the millions his other forgeries had commanded.)
(via)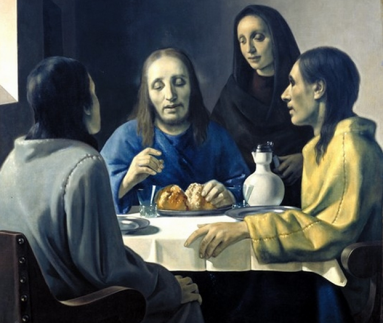 • • •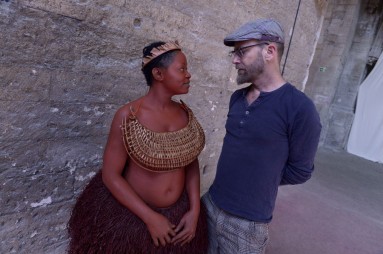 Are we to lament Bailey being censored? The kind of critic who seeks to make this sort of claim is one who understands very little about racism, and yet those who defend Exhibit B as a piece of anti-racist artistic provocation have rallied to cry that art has been censored and freedom of speech has been curtailed. Of course this ignores that censorship is not simply a case of pressing the mute button on something you don't like – it is a relation of power, much like racism itself. In the art industry it has everything to do with who gets to make the systematic decisions about who is exhibited where and nothing to do with black protesters boycotting an event.

Only in thought experiments do equal acts of free speech collide with one another to produce harmonious discourse. In reality one act of free speech is toured around the world's prestigious galleries and discussed and reviewed in the pages of art magazines. The other act of free speech is decidedly ignored by gallerists and has the police called on it when it gets too close to the first. This imbalance is a problem that all those committed to art as a political act must contend with and in the Bailey controversy the intersection between race and the politics of art is brought into stark relief.

It seems the case that Exhibit B can be offered its platform because it engages the question of race precisely as objects fit for a gallery. The 'human zoo' turns its black participants into those objects and audiences into spectators of those objects. Rather than appearing as the critical intervention Brett Bailey may claim it to be, the human zoo is recreated and ends up representing the horrors of those 19th century and more contemporary injustices. The problem is representation is no neutral act – it takes a great amount of piety to display painful histories of oppression as merely controversial objects for consumption in a gallery.

Political artists working from positions of privilege should ditch the piety of their own freedoms to be creative and pay more mind to what it means to be fundamentally less free. Racist oppression is met with the anti-racist struggle against it and it is about time we concentrated on producing works that are a part of this struggle – not so distant from them that they end up calling the police on protests. The systematic exclusion of black struggle from the art industry is the real censorship.
(via)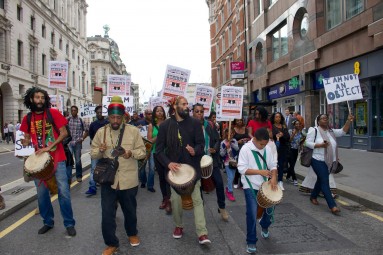 • • •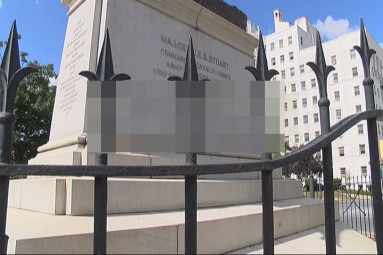 Richmond police are working to track down a suspect who spray-painted graffiti on the J.E.B. Stuart statue on Monument Avenue.

The expletive "F--- Work" surfaced on one side of the monument on Labor Day. What appears to be a sickle and hammer, a commonly held communist symbol, appeared on the other side. Apparently, the sharp, metal spikes atop the metal fence surrounding the statue couldn't deter someone from doing their own decorating to the J.E.B Stuart statue.

"I just think it's beyond belief," said Jussara Damon, who has lived in Richmond for 25 years.

Chris Jones, a major history buff, stopped with his family to view the statue. He scoffed at the vandalism.

"Growing up, this was really considered hallowed ground," said Jones of the Monument Avenue statues. "[Monument Avenue] is a tourist point to the city, and we need to keep it as it is, not destroy it." [...]

Still, it's the historical statues which seem to be a coveted spot when it comes to graffiti. The famous Robert E. Lee statue was vandalized with graffiti in 2011 and 2012. Now, it's J.E.B. Stuart who needs a cleaning.
(via)