Municipal crews in Vancouver took the statue away Tuesday after it mysteriously appeared near a highway, atop a pedestal that used to have a commemorative statue of Christopher Columbus.

The life-size red devil has black horns, a forked tail and an anatomically faithful -- and naked -- physique.

But plenty of people want the "Beelzebub-With-a-Boner" statue re-erected, according to a Change.org petition which had more than 1,500 signatures as of Thursday evening.

"(It) should be reinstalled as a piece of public art and serve as a reminder that art is in the eye of the beholder and nothing more," Darryl Greer, who started the petition, wrote.

Greer points out the statue cost the city nothing, unlike a "cartoonish" porcelain dog on Main Street that cost nearly $100,000.
(via)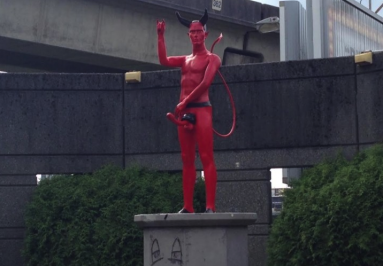 • • •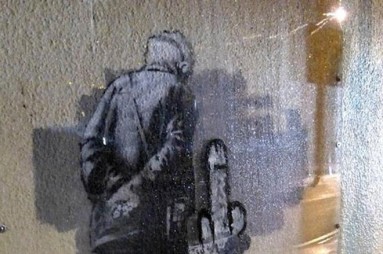 A mural by infamous graffiti artist Banksy has been vandalised with a spray-painted penis. The piece, entitled Art Budd, appeared just two weeks ago in the seaside town of Folkestone, Kent, and originally depicted an old woman starring at an empty plinth while wearing headphones. The penis has been added so it appears to be sitting on the plinth.

A Kent police spokesman said: "We were called at 8pm on Sunday to a report of criminal damage in Rendezvous Street, Folkestone. It was reported that artwork on a wall had been painted on and officers attended the scene. Inquiries are ongoing.

The damage is not expected to be permanent.
(via)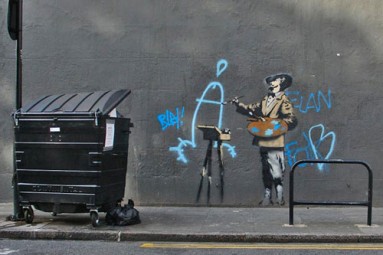 • • •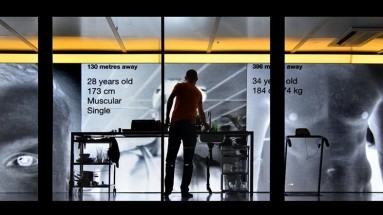 Dries Verhoeven's controversial Berlin art installation "Wanna Play?" has been scrapped just five days into its run. The Dutch artist was heavily criticised for publicly broadcasting private messages with other Grindr users – including photographs and profile names – as a comment on the dating app. One man, Parker Tilghman, described the experience with the artist as "digital rape".

German avant-garde centre Hebbel am Ufer (HAU), which commissioned the piece, announced the closure of "Wanna Play?" on Twitter last night

It's an abrupt U-turn for HAU, which initially responded to criticism by saying it would blur all Grindr profile photos broadcast "to the point of complete unrecognisability" and ensuring that Verhoeven gained consent from his chat partners before broadcasting their correspondence.

The 38-year-old artist was accused of violating the safety and privacy of Grindr users, with many pointing out that anonymity on Grindr actually helps protect men who are not yet out of the closet.
(via)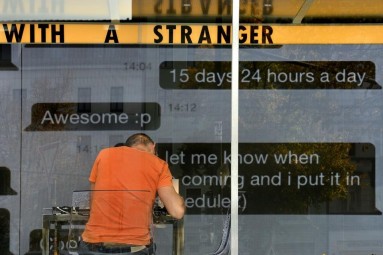 • • •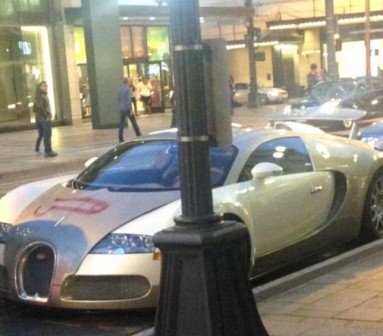 An amateur psychologist seems to have been at work as a vandal on the streets of Seattle, painting a penis on a £1.5million supercar which some might say functioned as a substitute for the real, fleshy thing.

Anyone looking for a metal substitute for their own organ could do worse than the Bugatti Veyron 16.4 Grand Sport: it's the world's most expensive production car, and does nought to 60 in 2.6 seconds.

The Veyron boasts 1200hp, more than many dedicated racing cars, but is street legal.
(via)