Kingscliffe, Australia: A senior vandal led police on a 300m chase on a toy scooter after allegedly scrawling graffiti across the Kingscliff police station.

Police intercepted the man a few blocks from the station after spotting the 61-year-old spraying 'Kingy Boyz Rule' and other illegible slogans in orange paint on the building early yesterday morning.

Despite his age the man put up quite a fight, injuring two officers while they tried to arrest him, with Detective Inspector Brendon Cullen saying one officer suffered a shoulder injury.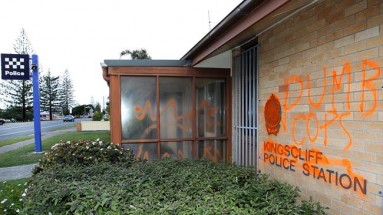 • • •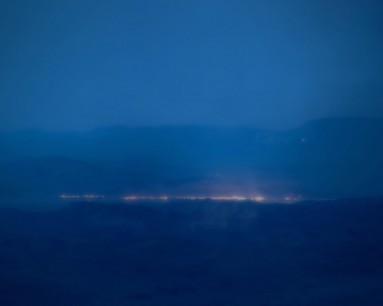 Above our heads more than 200 secret American surveillance satellites constantly orbit the Earth: with the help of fanatical amateur astronomers who track their courses, [Trevor] Paglen has photographed them. A secret air force base deep in the desert outside Las Vegas is the control centre for the US's huge fleet of drones: Paglen has photographed these tiny dots hurtling through the Nevada skies. To carry out the extraordinary rendition program which was one of President George W Bush's answers to the 9/11 attacks, seizing suspects from the streets and spiriting them off to countries relaxed about torture, the CIA created numerous front companies: grinding through flight records and using the methods of a private detective, Paglen identified them, visiting and covertly photographing their offices and managers. The men and women who carried out the rendition programme were equipped with fake identities: Paglen has made a collection of these people's unconvincing and fluctuating signatures, "people," as he puts it, "who don't exist because they're in the business of disappearing other people".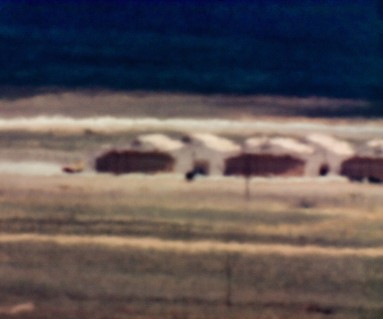 It sounds like the work-in-progress of an extraordinarily determined investigative journalist. But while the dogged tracking of a Seymour Hersh will culminate in a 5,000-word piece for The New Yorker, blowing the lid off, say, alleged American plans to seize control of Pakistan's nuclear weapons or the origin of the sarin used in the Syrian civil war, Paglen is not interested in such narratives. Not that he is uninterested: he describes the extraordinary rendition programme, for example, as "incredibly evil", and has worked closely with human-rights activists. But rather than a charge sheet of the guilty men or calls for government action or popular insurrection, he presents us with a succession of enigmatic images: boring suburban offices, middle-aged men getting into American cars, shimmering lines in the sky, aircraft waiting to take off.