Online, the Named garment is your friend.
The fact that she didn't know it made Minnie even more of a knockout. In one strut she was timeless; In the next, entirely of the moment. Minnie was an enigma made all the more spectacular by contradictions. The cut she struck was both structured and lithe; daring but demure; forgiving yet unforgettable. She existed to make others look better despite her own unknown glamour. She flirted with the sensibility of one who was not shy about her curves but understood the power of imagination. It wasn't her intention to intimidate most who met her. For those who kept her close, she was something special: trousers.
Anyone who's met Minnie will tell you she is not simply a pair of pants.
"A commodity appears, at first sight, a very trivial thing, and easily understood. Its analysis shows that it is, in reality, a very queer thing, abounding in metaphysical subtleties and theological niceties." — Karl Marx, "The Fetishism of Commodities and the Secret Thereof"
One Google search for "Minnie Pants" reveals pages of devout worshipers who "must have" her. Minnie's maker, J.Crew, touts her magic qualities: "If you buy one pant this season, make it Minnie,"
says her online description.
"She's chic and slim fitting…with a vintage-inspired cropped leg we love." Although Minnie fits surprisingly well, her tailoring isn't what makes her special. It's her name. A dream pant's moniker is easier to remember than a SKU number,
Though this essay focuses on the implications of the Named garment, shelter brands often use monikers to identify products. As a dyslexic, IKEA founder Ingvar Kamprad discovered that giving his company's products proper Swedish names made them easier to remember. Garden furniture is named for Swedish islands; carpets are named for Danish places. However, IKEA has stereotypically engendered certain product ranges, dubbing chairs and desks — typical working and office structures — with the names of men. Domestic items, such as fabrics and curtains, are given women's names.
 but J.Crew's reasoning for bequeathing its "magic pant" with a
prenom
is not driven by mnemonics. A proper name suggests qualities beyond cloth. Minnie represents a social shift in our concept of personal relationships.
Because many of our daily interactions occur virtually, we connect to and identify with people and material goods differently from their physical compatriots. While our pants don't have Facebook profiles, bestowing certain garments with a proper name suggests that pursuing a relationship with trousers might not be completely bonkers. In personifying the inanimate through unique monikers, brands like J.Crew and Warby Parker are capitalizing on our search for authentic relationships with the Named garment. Buying into Named garments like Minnie reflects a vulnerability perpetuated by lives spent in the virtual world. As we abbreviate ourselves down to scheduled tweets of 140 characters, we long for something that feels just real enough. And what is more quintessentially human than a proper name?
Fashion is a compass that points to cultural change. Originally, the emergence of pants for women signified vaguely modernized attitudes towards traditional domestic roles. The rise of the catalog illuminated a wealthy and aspiration-oriented middle class whose shopping schedule could not be dictated by store hours. The potential for virtual, personal tête-à-têtes now drives our motivation to engage online. Caitlin Barrett, a senior naming consultant at Interbrand writes: "Naming trends have come to reflect the way we share experiences with our friends, fans, and followers in a world we're constantly constructing together. Names have gone back to basics, reflecting truths about humanity and the world around us and in the process, they're delivering a whole lot more authenticity." Admittedly, most of Barrett's report is littered with PR jargon, but she highlights the need for humanness in fashion. In order for us to connect with clothes as we connect with each other, she notes that companies must rethink the elements that affect our decision to fill imaginary carts. In a post-digital world, the Named garment achieves something our social networks cannot. We may never meet the three-dimensional version of our complete online cohort. But Minnie has a name. Order her. She'll arrive at your door. Touch her. Smell her. She's real. She's yours.
In "Meat, Mask Burden: Probing the Contours of the Branded Self," information and media studies professor Alison Hearn writes, "The degree to which a brand is able to embody human attributes is dependent on the degree to which it is able to insinuate itself into the lives of consumers in profound ways." The success of J.Crew has been fueled by reasonably sincere but virtual representations of the physical. Unlike other mall-type brands that rely on seasonal mashups of anonymously beautiful models to showcase clothes, J.Crew's creative director Jenna Lyons functions as the face for the company. Because of this presence, she's become no small celebrity. While Loft and Banana Republic employ generic bodies to fit into sample sizes, Lyons, "doesn't look like anyone else in fashion," writes Molly Young in last year's profile of the creative director in New York magazine. "She has an emphatic jaw, flower-bud mouth, and warm eyes," and she's developed credibility with J.Crew's flock by insinuating elements of her real life into the online realm. In a regular feature called Jenna's Picks, Lyons curates a visual list of faves that mix what one might buy online with real life. For-sale pumps, chambray shirts, a favorite shade of coral lipstick and a personal photo of her son portray Lyons as a down-to-earth fashionista who knows her shit, not someone trying to hawk it. Lyons' online visibility has enabled the company to make names, both real and imagined, a standard part of the online experience. Visitors can email [email protected] to schedule online or in-store appointments with personal shoppers. While you probably won't meet anyone named Erica, a pseudonymed address lends humanness to a help desk. The company's Tumblr, 770 Behind the Line, gives aspirational 20-somethings (or bored housewives) a daily dose of life at headquarters all through the voices — signified by a first name only — of the J.Crew fam. And what of Minnie? Her name injects personality into an otherwise mass-produced pair of 80 dollar, wool-spandex blend, ankle-length pants.
In the physical environment of a J.Crew store, the Named garment plays a minor role in our decision to choose, try on and purchase. How we engage with the three dimensional object (seeing color, touching fabric and examining fit) matters more than a proper name; we trust our senses to help us determine whether the garment is worth buying. But strolling into a J.Crew store is no longer the initial step in our interaction with garments. Our first impression with that sweater or those shoes begins online, through tweets, blogs and inbox blasting. The crispness of twill and the punch of a color fade in an online world of window-shopping. So we search for physicality elsewhere.
When it comes to reading clothes outside of the store, Barthes suggests we naturally trust two speech structures to weigh a garment's message, or chance of entering our closet. First, image-clothing results from the fashion photograph and forms an iconic speech structure. Another tongue — the written-garment — develops from description and represents verbal structure.
"In principle, these two garments refer to the same reality, and yet they do not have the same structure, because they are not made of the same substances and because, consequently, these substances do not have the same relations with each other: in one the substances are forms, lines, surfaces, colors, and the relation is spatial; in the other, the substance is words, and the relation is, if not logical, at least syntactic; the first structure is plastic, the second verbal… So we are dealing with two original structures, albeit derived from more general systems, in the one case language, in the other image." — Roland Barthes, "Written Clothing"
Together, they form the 'mothertongue' — the physical garment. In online retail environments, a series of photos and color swatches fulfill Barthes' iconic speech structure. Product descriptions fit the verbal. Both of these original languages support the physical reality of, say, a pair of trousers. However, when a proper name is attached to a product, it signifies the need to introduce a new speech structure within Barthes' system: an emotional one. The emotional structure of a proper name sparks a relationship with pants that transcends the physical interactions that would normally occur in a store. Verbal and iconic structures confirm the pants are real, but the emotional structure connotes a person-to-person exchange. Online, the Named garment allows us to establish trusting relationships with products through action that simulates clicking personal profiles, rather than transactions devoid of humanity.
That
sweater? She's Tippi.
Those
shoes? Mona.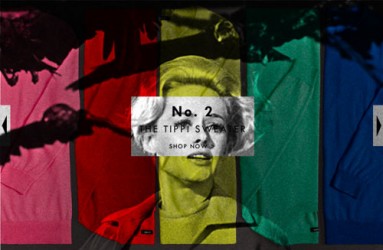 The Named garment isn't everywhere. Nor should it be. Interspersed between stripe sweater skirts and toothpick jeans are Jules, Blythe, Tippi, and a handful of others. J.Crew's selectivity suggests there's a method at work here.
 Lots of companies give their clothes proper names, but not every strategy succeeds. Martin, Jackson, Logan, and Sloan denote the fits of Banana Republic's trousers, and denote is all they do. They serve as nom de plumes rather than authentic characters to buy, bring home and live in. The proof of their inauthenticity is online. A search for Minnie Pant yields a cache of images and rave reviews from fanatical J.Crew blogs. Type in Sloan Pant, and the results are grim. Banana Republic's "sexiest" fit makes it into the first three links before getting lost among unrelated cargo-pocketed and draw-stringed pants of the same moniker. While the trouser's name probably can't be linked to Gap Inc.'s 36 percent decrease in revenue for its third quarter, their unimaginative implementation symbolizes a company's ill grasp of what we need.
The Named garment functions best within the framework of a few choice shirts, sweaters, pants, and every day accessories (a stylish pair of shoes, a bag and glasses). One need not possess a discriminate sense of style to note that decent versions of all of the above are difficult to find. Minnie has a name because J.Crew wants her to be your go-to — the flexible pant you trust for an interview, a first date and lunch with grandma. Of J.Crew's 72 wedding dresses (many of which are only sold online), 55 bear proper names, which suggests that the company's clientele of brides might want more than something that fits. While establishing a connection to the dress was certainly on her radar, my newly engaged friend Lauren was caught off-guard when she scheduled an appointment at J.Crew's bridal shop to try on gowns: "Casual as day," she told me, "upon confirming my registration the lady at the J.Crew bridal store asked me for the names of the dresses I'd like to try on. I knew, like, generally the silhouettes I was interested in, but I then had to scramble onto [the website] to find the names. I felt so silly, like when people ask you if you're wearing 'Candy Apple Green' or 'S.W.A.K.' and they're referring to Essie or O.P.I. nail colors." But referring to wedding dresses as Named garments (rather than less tangible design-oriented concepts such as A-line or mermaid) serves an explicit purpose. For a day many women believe will happen just once, gowns called Isabella, Taryn, or Larissa allow brides to develop a trust with the garment they order online and wear down the aisle. She's not your gown, she's your friend.
Recently, another friend purchased two pairs of glasses from Warby Parker, the socially conscious online retailer of spectacles, whose product names sound as if they're destined for jazz or literary pursuits. He ended up with Winston and used the glasses names to determine a tiebreaker between Sinclair and Japhy. (He chose Sinclair.) "I really wanted Griffin to work," he said. "I think that's my favorite of all the names. But they didn't fit my face very well." Buying glasses often requires an investment of not just currency, but time. Warby Parker's choice to bequeath each pair with an attractive name signals that one can trust these glasses to perform a a function beyond utility. They'll make you look good. Unnamed, a pair of glasses is simply a tool. But Owen? Finn? Sinclair? Those are visionaries to count on.
The Named garment is not a revolutionary idea. Hermès created the infamous Birkin bag for Jane. Jacqueline Kennedy fueled an entire genre of round, oversized sunglasses. Celebrity names connote the imagery and inspiration behind the articles we might buy. Others that begin as a proper homage become so popular that we may never realize a certain sweater was named after the Earl of Cardigan, who led the charge of the Light Brigade. We do not always carry the burden of history; we wear it.
More recently, retailers such as J. Peterman and Anthropologie have made a business of bringing our time-traveling and adventuring dreams to life by suggesting clothes can take us places:
 by way of intriguingly exotic garment names (such as
Sinewy Spots Wide-Legs
) or prosaic descriptions,
French Film Star Dress
: 
She gets off the plane pretending she doesn't look beautiful. He pretends to be surprised that she is. She pretends to be surprised that he is surprised.
 these garments elicit any number of fantasy-driven emotions. But the specificity of their names pigeonholes them into alternate worlds. These are escapist clothes. They reject the reality of modern life by suggesting that excitement exists everywhere besides here and now. Perhaps what a wearer wants is to feel right where she is.
Many Named garments are still vaguely recognizable. If you know who Hedren is, J.Crew's Tippi sweater might suggest an updated silhouette based on Hitchcock's leading girl in The Birds. J.Crew's CEO Mickey Drexler has cited the Jackie cardigan as a best seller.
According to J.Crew
, the Jackie cardigan is "Our own style icon — wear it alone or pair it with the matching shell as a classic twinset."
 Most names, however, rely on our personal canon of associations to connect: Tillary conjures visions of a Park Avenue Blair Waldorf-type. Even though Beckett looks nothing like the specs worn by Samuel, he sounds smart in a literary type of way.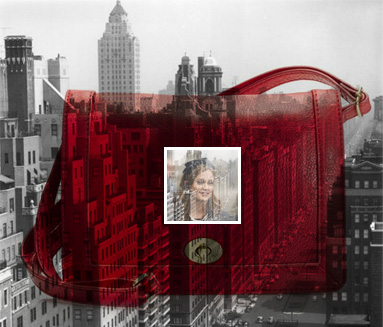 The Named garment highlights the fine line that is drawn when we invest trust in transformation. Try as we might, time and place simply don't allow one to feel like a bonafide Gatsby-era golden child in J. Peterman's 1927 Party Dress. More online retailers such as Shabby Apple and Modcloth have infused every garment with quippy puns or aspirations, but the obvious cliché cuts through: Clothes don't make the man or woman. In assuming acquaintanceship over connections that have conventionally been driven by celebrity or poetics, manufacturers aren't developing clothing that defines us but rather, supporting characters to include within our own stories.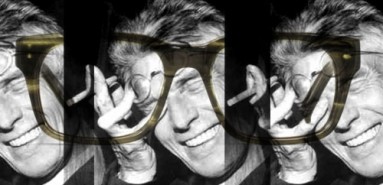 This association of implied friendship through fabricated trust, enables our connection to a Named garment to extend beyond the closet: "I love these names just as much as I love a handmade quilt, painting, or that perfect song at the perfect time," writes Kristin Gregg on her blog, Marginamia. In addition to regular updates, the writer and name consultant has documented 39 Warby Parker monikers and dozens of J.Crew garments in an ongoing list of "compositionally beautiful and creative names" for soon-to-be parents. "Where better to start instilling a sense of magic and beauty than with the sounds we will use evermore to call out to our children, the sounds that they will hear linked with their beings for the duration of their lives?" she writes. Gregg's passion to fetishize the Named garment is innocently (questionably?) extreme. However, her obsession signifies that personal rapport — not between brand and buyer, but buyer and product — has been established. We trust in the names and their possibility as much as the clothes themselves.
"Value, therefore, does not stalk about with a label describing what it is. It is value, rather, that converts every product into a social hieroglyphic. Later on, we try to decipher the hieroglyphic, to get behind the secret of our own social products; for to stamp an object of utility as a value, is just as much a social product as language." — Karl Marx, "Fetishism of the Commodity and its Secret"
The Named garment feels authentic because its identity comprises a larger brand ethos.
"The echo of cultural authenticity is in the origin of the name itself and its inflection of ethnic identity," writes Peter Trifonas on Barthes' Empire of Signs.
With Jenna at the helm, J.Crew's website, blog and pseudonymed personal shoppers maintain a first name basis with consumers. Various relationships can develop simply by browsing for clothes online. For those who buy into Warby Parker, two definite relationships form. First, a trusting, tangible partnership blossoms between a person and a pair of named frames. And because a pair is donated to a person in need for every pair of named glasses purchased, the second relationship to spark
is
authentically human. An effortless way of buying glasses ingrains the idea that this market values you. A charitable (albeit indirect) act between the consumer and the underprivileged deepens understanding that this market values what's real. The Named garment lets us be the arbiters of a socially oriented fashion we can maneuver, alter and change when we can't change much.
But who really cares what their pants or glasses are called? In "The Dressed Body," professor Joanne Entwistle writes, "We can understand dress as expressive of the concerns of the particular cultural milieu and social situation in which it is found. Dress conveys information about a situation" and provides feedback through our interest, use and perception of it. On the surface, we might mistake fashion's expressiveness as design-related. However the industry is, of course, about more than the aesthetics of what gets worn. Not everyone cares about names. People who hate shopping won't prolong the material-goods exchange by projecting character associations onto pants called Minnie. However, the success of the Named garment proves that what's on the inside certainly counts for something.