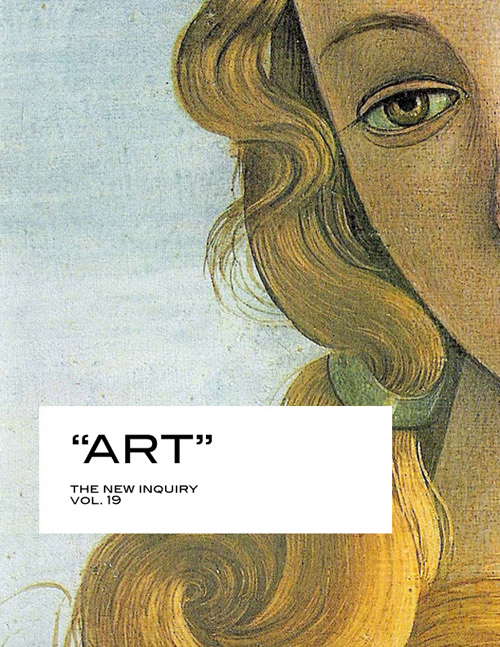 TABLE OF CONTENTS
Eine Kleine SpaceMusik
NELLY BEN HAYOUN interviewed by
DEENA CHALABI
U.S.Ai.
by MALCOLM HARRIS
Athletic Aesthetics
by BRAD TROEMEL
Flatland
by LONEY ABRAMS
Get Off
by NICK FAUST
Break it Down
by TEJU COLE
Giants of Boston
by MARYAM MONALISA GHARAVI
Creative Tyranny
by ROB HORNING
Leaving on a Jet Plane
by JESSICA LOUDIS
Unsolicited Advice for Living in the End Times
by MICHAEL SEIDENBERG
Central to the project of contemporary art—the discourse about it and the market for it—is the question of what actually constitutes art this year, this week, in general. The dialogue and dialectics generated by the asking and re-asking of this question account for most of this publication's content and a good percentage of all texts and artworks being circulated in and around the [art] world at any given time. Next year there could be more....
[subscribe]

 Now and forever, content on thenewinquiry.com will be available, online for free to all.
The New Inquiry has no traffic-seeking advertisers, no string-pulling benefactors, and no paywall.
Instead, we have a simple idea: Offer cheap and easy subscriptions for a monthly digital magazine to connect directly with our audience and build a broad base of support.
In February, 2012, The New Inquiry Magazine was launched. Thanks to our early subscribers, we've been able to keep TNI online as an reader-supported magazine and stand as one of the few independent journals to pay writers for their work.

It only costs $2/month to support TNI and subscribe. While all content is eventually available to readers for free and under a Creative Commons license, Magazine subscribers get the first look at what's coming out, in a convenient, fully illustrated, desktop and e-reader compatible publication centered around a given theme.
Issues arrive in subscribers' inboxes on the first Wednesday of every month.


Each issue features roughly 60 pages of original art and writing. Although the magazine can often be experimental, subscribers can expect to find each issue containing interviews, short features, long-form essays, book reviews and a monthly advice column, "Unsolicited Advice for Living in the End Times" by Michael Seidenberg.